New Food and Drink Sector Council meets for first time
Big players in the food and drink industry formed a new partnership with the Government to make the industry 'more resilient, sustainable and competitive.'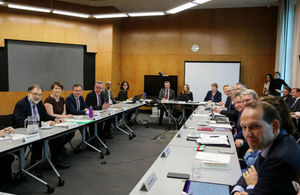 The council met for the first time on Monday 29 January and agreed that their priorities for the next 12 months will include: boosting skills, agricultural productivity and improving the nation's nutrition.

Iain Ferguson, Joint Chair of the Food and Drink Sector Council, commented that "it is exciting to see everyone in the same room working together to address the opportunities and challenges we face as an industry."

List of Food and Drink Sector Council members:
Iain Ferguson - Chairman, Stobart Group Ltd
Judith Batchelar - Director, Sainsbury's
Gavin Darby - CEO, Premier Foods
Leendert den Hollander - President, The Institute of Grocery Distribution and Vice President & GM Great Britain, Coca-Cola
Sir Peter Kendall - Chairman, AHDB
Dame Fiona Kendrick - Chairman, Nestle UK & Ireland
Nick Varney - CEO, Merlin Entertainments
Jo Whitfield - CEO, Co-op Food
Ian Wright - Director-General, Food and Drink Federation
Graham Hutcheon - Managing Director Edrington; Chairman, CBI Scotland
Lord Deben - Chairman, Sancroft
Ursula Lidbetter - Chair, Greater Lincolnshire LEP
George Weston - CEO ABF
Andy Richardson - Head of Corporate Affairs, Volac
Cassandra Stavrou - Founder, Propercorn
Nick Whelan - Group Chief Executive, Dale Farm
Sustain works with the food and drink industry to campaign for a Better Food Britain.
---
04/02/2018
Brexit
SHARE
---
Brexit: We stand at a cross-roads. When the UK leaves the European Union, will our leaders uphold good standards for our food, farming, fishing and trade deals? And will they agree a sensible deal with the EU? We need to make sure that they do!