Children are still seeing twice as many ads for junk food, as for alcohol and gambling, according to the Advertising Standards Authority's new figures. Children's Food Campaign responds.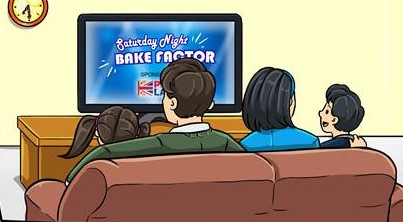 Photo copyright: Obesity Health Alliance
Children were exposed to an average of 8 TV adverts a week for foods high in fat, salt and sugar (HFSS) during 2018, according to the Advertising Standards Authority's latest review of children's exposure to TV advertising, who also say this was down from an average of 12.4 adverts per week in 2016.
Whilst the Advertising Standards Authority is today claiming this as evidence of the effectiveness of current regulations, the Children's Food Campaign highlights wider evidence that points to a slightly less hopeful picture.
The new report relates only to TV and not online exposure of children to advertising via online streaming, websites, social media and apps. In July 2019, the ASA revealed that five avatars designed to mimic children's behaviour were exposed to a whopping 947 adverts for HFSS foods in just two weeks, including many breaches of the current Committee for Advertising Practices regulations.
Whilst there may be a generic decline in exposure to TV advertising, there are still peak viewing hotspots for children that remain outside current advertising restrictions. Research by the Obesity Health Alliance in 2019 revealed that in just one episode of Britain's Got Talent, children were exposed to a total of four and a half minutes of advertising for confectionery, pizzas, burgers, ice cream, cake and biscuits.
During 2019, the Children's Food Campaign has reported over a dozen cases of unhealthy food and drink advertising in both outdoor and online spaces to the Advertising Authority, resulting in instructions to remove adverts from Babybel, Cadbury, McDonald's, Greggs, Burger King, Costcutter, Oatly, and Subway.
Exposure of children to HFSS advertising is more than double that for either alcohol or gambling, where the average exposure was 3.2 ads compared to 8 ads for HFSS products. Unlike junk food, alcohol and gambling are restricted products for under-18s, therefore children are more likely to be influenced by seeing junk food ads.
The drop in exposure to HFSS is no greater than the overall trend for TV advertising, which has also fallen by a third, suggesting current restrictions are not delivering significant additional levels of protection of children, or reduction in exposure beyond that.
Responding for the Children's Food Campaign, Barbara Crowther said:
"The Government should not swallow the ASA's latest spin on unhealthy food and drink advertising. It is clear that whether it is on TV, online, on our streets or in our shops, children are constantly nudged towards less healthy food and drink choices. There is overwhelming public and health professional support for tightening current HFSS restrictions. We call on the Government to stand firm and ensure 2020 delivers the promised progress on the Childhood Obesity Plan, including a 9pm watershed on junk food advertising, a ban on sales of energy drinks to children, and a clampdown on promotions of junk food cluttering up every shop entrance, aisle end and till location."
Support our campaign
Your donation will help us champion children's rights, parent power and government action to improve the food environment children grow up in.