Tesco wins 'Total Bull' award - and faces legal threat - for their 'fake farms'
Feedback are calling out supermarkets who sell meat under fake farm brand names. They have given Tesco a 'Total Bull' award for their fictitious 'Woodside Farms' brand - and the farmer on a real Woodside Farm is threatening Tesco with legal action.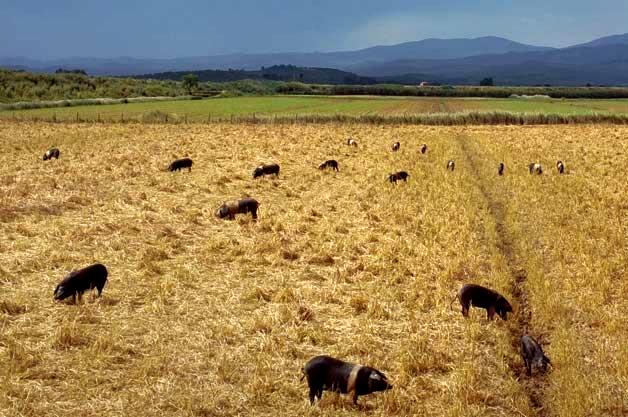 Sustain member Feedback are accusing UK supermarkets of misleading customers by creating fake farm names for their own brand ranges. The inaugural 'Total Bull' award is going to Tesco for their "unflinching commitment to fake farm branding."
Feedback say that supermarkets are deliberately misleading customers by encouraging them to believe that the meat is sourced from small-scale producers. Other supermarket "fake farm ranges" include Asda's 'Farm Stores', Lidl's 'Birchwood Farm', Aldi's 'Ashfield Farm' and Marks and Spencer's 'Oakham' chicken.
Richard Baugh raises free-range pigs on a farm with the real name 'Woodside Farm.' He has joined forces with Feedback to threaten legal proceedings against Tesco if the retailer doesn't stop using the name Woodside Farm to sell their products. In 2016 Tesco replaced their 'Tesco Value' brand with names like 'Woodside Farms' which have nothing to do with where the meat is procured from. Baugh says that for the past couple of years his customers have been confused about whether he supplies his top quality pork to Tesco:
"When it first came out customers were asking all the time whether we were supplying Tesco. Of course we don't, our pork is free-range - we think it's higher welfare and quality than the pork they're selling, and we're proud of that. It isn't fair that they profit from the associations that come with our farm name. Tesco think because they're big and we're small they can walk all over us"
Feedback wrote to Tesco on behalf of Mr Baugh, highlighting the risk that their labelling risks both profiting from their use of Mr Baugh's farm name and reputation, and misleading consumers about the origins of their meat. In their response, Tesco focused on the popularity of the brands with shoppers. The farmer and charity await a response to their follow up letter, pointing out to Tesco that the popularity of the brand means that large numbers of shoppers could be being misled and asking them to reconsider their position.
Feedback Campaign Director, Jessica Sinclair Taylor, says that supermarkets are deliberately encouraging consumers to believe that the meat is sourced from small-scale producers:
"We believe this is peddling a load of bull. For all shoppers know, behind the bucolic mirage could lie a high-intensity, unsustainable mega farm. Tesco is passing off this identity as that of their own products, while actually sourcing their meat from farms of all kinds, including some mega-farms and some outside the UK."
When contacted by the Guardian, Tesco said it was aware of the threat of legal action and declined to comment, but directed the newspaper to the publication of its interim results for 2017/18 when it said: "Our exclusive fresh food brands continue to be popular with customers – featuring in over 70% of baskets."
---
14/12/2017
Labelling for sustainability
SHARE
---
Labelling for sustainability: Sustain has worked on nutrition and sustainability labelling issues since the alliance was established in 1999.