Sourdough September tees 'n' stuff
Limited edition SAY NO TO SOURFAUX tees, aprons and mugs.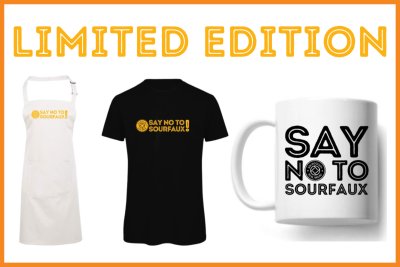 Say no to sourfaux. Copyright: Balcony Shirts / Real Bread Campaign
Our friends at Balcony Shirts are now taking orders for aprons, mugs and 100% organic cotton t-shirts featuring this exclusive, limited edition design.
A slice of each purchase will go to the food and farming charity Sustain to help it to keep running the Real Bread Campaign.
Hurry – only available until 30th of Sourdough September 2022!
Sourfaux? Just say NO!
Smile!
Please post photos on social media of yourself wearing/holding your t-shirt, apron or mug, tagged #WeAreRealBread. Even better if your friends/family/crew want to join in as well.
If you're holding genuine sourdough bread that you've made or bought, tag the post #sourdoughselfie
Hashtags we also encourage you to use for these photos (and relevant ones without people in them) include: #RealBread #sourdough and - during September - #SourdoughSeptember.
Sourdough vs. sourfaux
Rather than a look, shape, taste, style or trend, sourdough is a process. It's the oldest way of making dough rise.
Pretty much any type of bread in the world can be leavened using a sourdough starter culture. Crafted by a skilled, Real Bread baker, genuine sourdough bread is a damn fine thing and this special fermentation process might have health benefits, too.
The trouble is, some industrial loaf fabricators (and other crafty bakers) want a slice of the action without investing the time, knowledge and skills necessary to follow the process. If a product is named or marketed using the word sourdough, but made by a fundamentally different process using additives, baker's yeast or other raising agents, it's what the Real Bread Campaign calls sourfaux.
Being quicker and cheaper to make, sourfaux can be used to help undercut bakers who make genuine sourdough bread, with customers being led (misled?) into buying a fundamentally different product.
As part of its wider Honest Crust Act lobbying, the Campaign continues to call for a legal definition of sourdough bread.
See also
What we're fighting for 2023
Support our charity
Your donation will help support the spread of baking skills and access to real bread.