Sustain joined with eleven other farming and civil society groups to write an open letter on the need for the new Agriculture Bill to include powers to strengthen supply chain regulation. This featured in Farmers Weekly the farming magazine.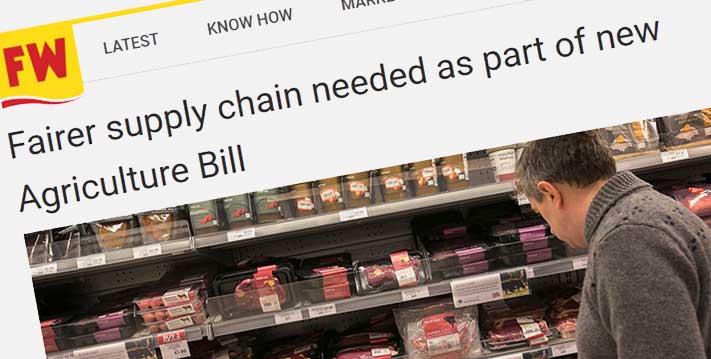 Fairer supply chain needed as part of new Agriculture Bill (Farmers Weekly 24 August 2018)
With the new Agriculture Bill, setting out the basics of a post-Brexit food and farming policy for England, expected to be published by government in early September, calls have been made for farmers to be given a fairer deal in the food supply chain.
In an open letter to Farmers Weekly, 11 lobby groups and representative organisations have criticised the government for failing to grant the Groceries Code Adjudicator more powers to stamp out abuse of farmers and small suppliers by larger food businesses.
The group of lobbyists is therefore making a final plea for the new Agriculture Bill to address this problem by introducing a statutory code of practice covering purchasing in the whole agri-food supply chain.
"The Health and Harmony consultation included a chapter on ensuring fairness in the supply chain. We now want to see this converted into firm action, for all sectors and applicable to all supply chains," said farming campaign co-ordinator for Sustain, Vicki Hird.
The full text of the letter reads as follows:
"We welcome the indications that the Agriculture Bill will include measures aimed at supporting fairer supply chains.
The outcome of March's review into the Groceries Code Adjudicator was disappointing and failed to resolve the urgent need for a code of purchasing that is properly enforced and stops large food businesses abusing their power, using unfair trading practices to saddle their suppliers with excessive risk and costs.
It is farmers and workers, whether in the UK or overseas, that end up bearing the brunt of cancelled orders, late payment of invoices or unexplained fees. This leads to uncompetitive and unsustainable supply chains that don't work for the consumer and push farmers around the world into poverty.
The Agriculture Bill presents the government with a rare opportunity to support farmers and small food businesses in the UK and around the world by tackling these unfair practices.
The piecemeal voluntary codes of practice governing the dairy and livestock sectors have fallen short and should be replaced by a comprehensive statutory code, enforced by an independent regulator and applicable to all agri-food supply chains and to the widest possible extent of the supply chain."
Signed by
George Dunn, chief executive, Tenant Farmers Association
John Breach, chairman, British Independent Fruit Growers Association
Ruth Segal, policy advisor, Oxfam GB
Tim Aldred, head of policy and research, Fairtrade Foundation
Vicki Hird, farming campaign coordinator, Sustain
Tom Wills, policy advisor, Traidcraft Exchange
Patrick Begg, outdoors and natural resources director, National Trust
Jacqui Mackay, national coordinator, Bananalink
Jenna Hegarty, head of land use policy, RSPB
Nick Rau, farming campaigner, Friends of the Earth
Anna Cura, programme manager, Food Ethics Council
Support our campaign
Your donation will help us work with farmers to push for policies to support farming fit for our future.