Bread and chat brings peace of mind
A team of 13 volunteers, trained by the 'outstanding' NHS Leicester Bread Clubs project, have begun to pass on baking skills in social events around Leicestershire.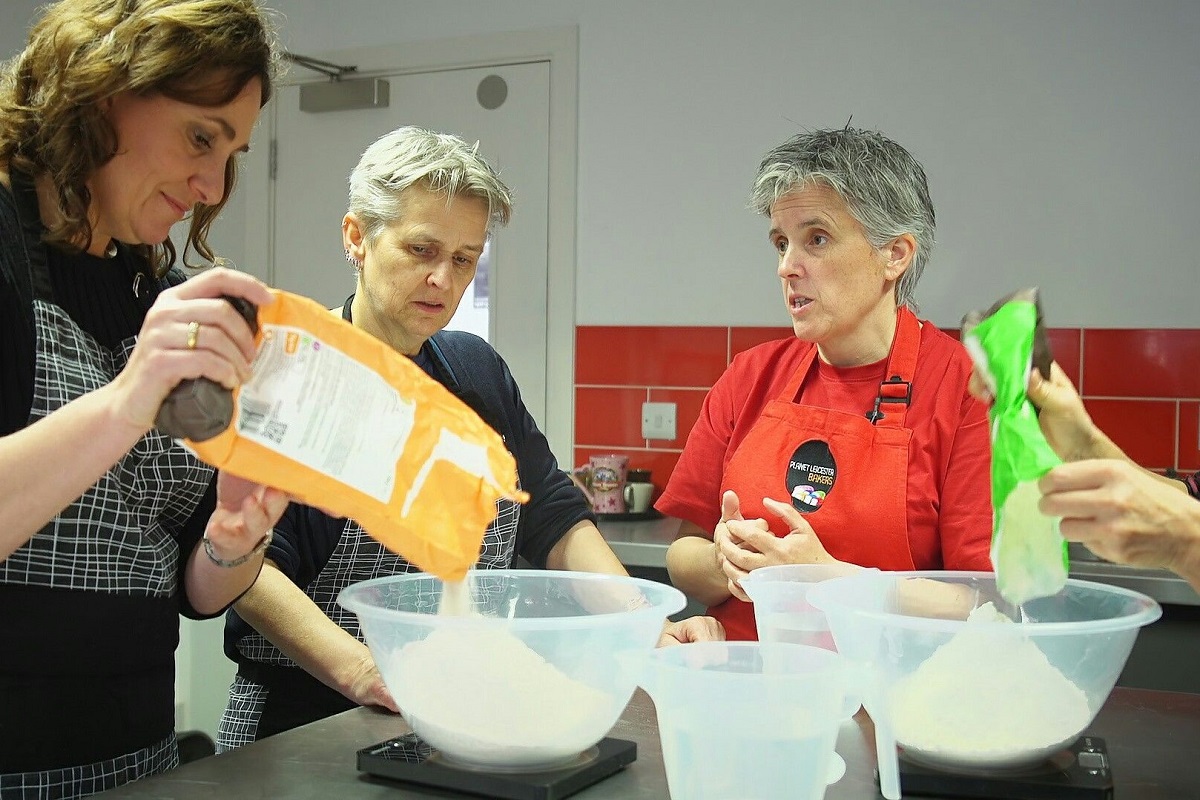 The project, launched in January 2018 by Real Bread Campaign supporter Planet Leicester Bakers and Leicestershire Partnership NHS Trust, trained 13 members of NHS staff and other local volunteers in simple bread making and conversation management skills. So far, eight of those volunteers have gone on to run four Bread & Chat sessions in community settings, including an NHS mental health crisis house.
In the project report, Leicestershire Partnership NHS Trust's reflections included that effects of the volunteer training workshops included:
Increasing confidence and skills
Increasing bread baking knowledge and skills
Feelings of positivity
Social cohesion and building social capital
Raising aspirations
Reducing loneliness and isolation
Rob Melling of Leicestershire Partnership NHS Trust said: "We are always looking for new ways to help people improve their mental and physical wellbeing – this project is proving to be a great way to do that."
Catherine Crook from Time to Change Leicester, which funded the project, agreed that the project has: "provided a safe space to speak about mental health and wellbeing. They are an outstanding example of the kind of work Time to Change Leicester hopes to promote in the city."
Planet Leicester Bakers founder, and Bread Angel, Michelle Stratford added: "This project has demonstrated the power of bread to bring people from across communities together to support each other. I am delighted the local NHS is embracing this kind of approach by equipping people with skills that can only help in building better mental and physical health."
Real Bread Campaign coordinator Chris Young commented: "This project further underlines our belief that making Real Bread has great potential to bring people together and support good mental health. We would love to see more NHS trusts and mental health organisations involved and, ultimately, see baking on prescription."
Leicestershire Partnership NHS Trust has committed to purchasing bread kits for volunteers to use in future sessions and, according to Planet Leicester Bakers: 'is hoping to introduce the activity in other NHS settings to aid people in improving their mental health and wellbeing.'
Read about the Real Bread Campaign's Together We Rise initiative
Download Rising Up and Bethlem Baking Buddies
---
20/08/2018
Real Bread Campaign
SHARE
---
Real Bread Campaign: The Real Bread Campaign finds and shares ways to make bread better for us, better for our communities and better for the planet. Whether your interest is local food, community-focussed small enterprises, honest labelling, therapeutic baking, or simply tasty toast, everyone is invited to become a Campaign supporter.