Labour pledges new legal standards for hospital food
Today, the Labour Party's Shadow Health Secretary, Jonathan Ashworth, will announce a new commitment that a future Labour government would place hospital food standards on the same legal basis as school food standards.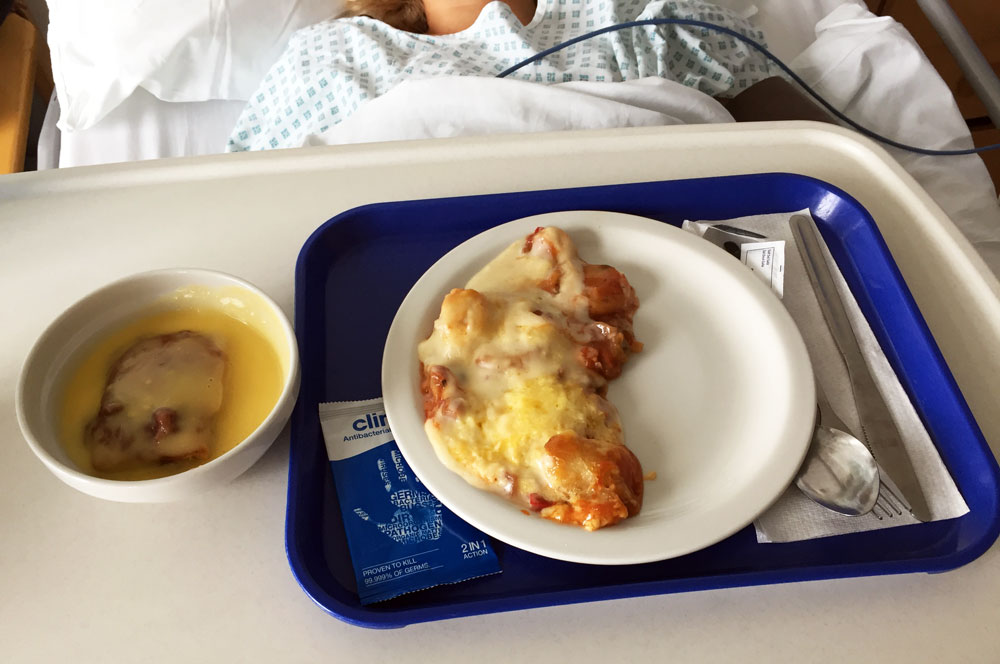 A plate of hospital food on a patients lap
Prue Leith, Campaign for Better Hospital Food Ambassador, said:
"Finally a major political party is waking up to the issue of hospital food. For the sake of patients' recovery and for their enjoyment, let's hope the government follows suit and commits to better food in our hospitals."
The pledge from the Labour Party would ensure hospitals have to meet minimum quality standards for the food served to patients, staff and visitors, as well as undergoing independent monitoring and enforcement.
Speaking to the Hospital Caterers' Association annual conference in Newport today, Jonathan Ashworth will say:
"When as a society we have seen a doubling of admissions to hospital for malnutrition in the last 8 years, when there are over 600,000 obesity-related hospital admissions, and indeed when we learn there have been 351 deaths where malnutrition was a factor, then it's time we look again at how we deliver food and sustenance to patients in hospital.
"Patient care isn't just about medicines, bandages, treatments and surgical procedures, it's about nutrition and hydration as well.And yet we have allowed a situation where some hospitals according to the official data are spending less than £3 a day on patient meals.
"Unlike schools and prisons there are no mandatory minimum requirements for hospital meals, so the next Labour government will substantially increase investment in our NHS to improve patient care including providing the nutritious meals patients deserve.
"Labour will place hospital food standards on the same legal basis as school food standards, to ensure hospitals meet mandatory minimum standards for the food served to patients, staff and visitors and these standards should be independently monitored and enforced."
In his speech to the Hospital Caterers' Association (HCA) at their National Leadership & Development Forum in Newport on 12 April 2018, Mr Ashworth is set to highlight the worrying trends in the nation's health and the increased impact of malnutrition for the NHS. Specifically:
There has been a 122% increase in the overall number of people admitted to hospital with malnutrition as primary or secondary diagnosis since 2010
There has been a 20% increase in the number of pregnant women admitted to hospital with primary or secondary cases of Vitamin D deficiency over the past year
Hospital admissions where obesity is a factor have more than doubled in England during the last four years
Katherine Button, Campaign for Better Hospital Food Coordinator, said:

"We warmly welcome today's announcement that the Labour Party will make legal standards for hospital food part of their health policy. Under the earlier Coalition Government, food standards were introduced in NHS hospital contracts, but we know that at least half of hospitals are still not complying, and that the current government is failing to encourage progress. We have campaigned tirelessly to get politicians from all parties to recognise the need to improve hospital food, for the benefit of patients as well as the NHS staff who look after them. We have long argued that the best way to achieve this is by introducing legal requirements for hospital food to protect patients, like those in place for school meals that protect children's health.

"We are delighted that a leading political party has recognised the importance of legal standards for NHS catering for the health of hospital patients and hardworking NHS staff. Now we want to see the detail. Legal standards for hospital food must guarantee high quality, nutritious and appetising hospital food that supports sustainable farming practices and protects our environment. They must be properly enforced and independently monitored."
Mr Ashworth will go on to say that:
One third of people aged 65 years or over are at risk of malnutrition on admission to hospital.
According to the Office of National Statistics, malnutrition was the underlying cause or a contributory factor in 351 deaths in NHS hospitals in England and Wales.
Malnutrition was the underlying cause of 66 deaths, up from 59 the previous year and the highest number in the last decade.
Malnutrition costs the NHS an estimated £12 billion a year.
The UK spends about £6 billion a year on the medical costs of conditions related to being overweight or obese and a further £10 billion on diabetes.
Dr Rupy Aujla, doctor and founder of "The Doctor's Kitchen", said in response:
"This is a very encouraging announcement and a move toward greater acceptance of how critical nutrition is to every aspect of health. Hospitals have a responsibility for the wellbeing of their staff, visitors as well as the patients to not only look after them whilst in a hospital environment, but educate them better about the role of food in medicine. For hospitals to demonstrate a real commitment to helping create a healthier, happier population the food they serve needs to be addressed and this is a step in the right direction."
Stewart McKenzie, National Chair of the Hospital Caterers Association, commented:
"The Hospital Caterers Association is fully behind and supports the call for mandatory nutritional standards being regulated called by Jonathan Ashworth today. We've campaigned tirelessly for these to be regulated and ask for the current government to adopt these measures. We believe funds should be ring-fenced to support this."
Read more about the Campaign for Better Hospital Food
Press coverage
Support our charity
Donate to enhance the health and welfare of people, animals and the planet.