Real Bread Campaign urges government to introduce an Honest Crust Act
The Real Bread Campaign has written to Defra calling for improved loaf labelling and marketing legislation.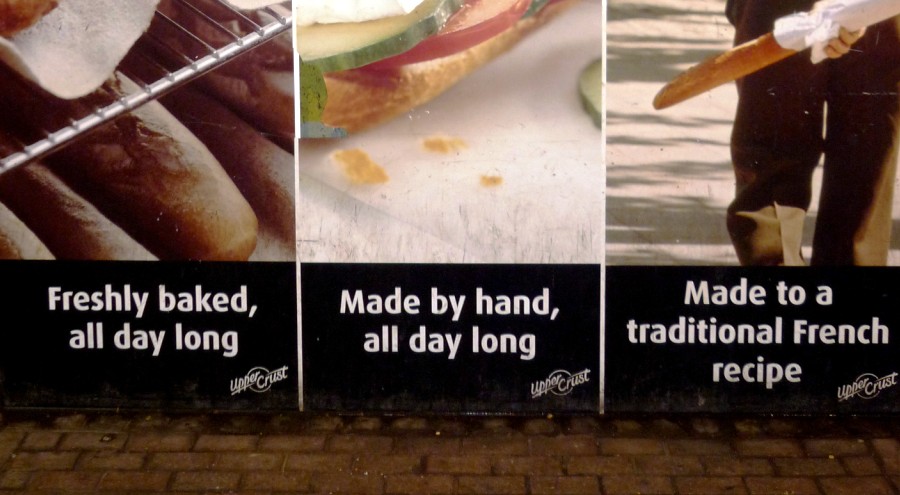 Photo: Chris Young / realbreadcampaign.org CC-BY-SA 4.0
Update, 10 May 2017 Defra wrote: 'As Parliament has now dissolved we have passed your points about the Bread and Flour Regulations on to the relevant policy officials for their information. Decisions on future legislation will be a matter for an incoming government.'
The letter
On 18 April 2017, the Real Bread Campaign sent MPs Andrea Leadsom and George Eustice, respectively Secretary of State and Minister of State at the Department for Environment, Food and Rural Affairs (Defra)the following letter:
Dear Mrs. Leadsom and Mr. Eustice,
Britain leaving the EU offers a unique opportunity for the government to review and update British loaf labelling and marketing legislation to safeguard people's right to make better-informed choices about the food they buy.
When properly enforced, legal requirement of greater transparency and honesty will better protect people from being left in the dark or even misled. Such improvements will also help to build people's trust in loaf makers large and small. In terms of both export and incoming tourists, being able to trust the labelling and marketing of British loaves can only help to build their reputation at home and abroad.
Following previous meetings on this issue between the Real Bread Campaign and Defra(1), we have consulted our supporters on the options moving forward. In light of their response, the Campaign calls upon Defra to review current legislation and reinforce it for the benefit of all.
Such an 'Honest Crust Act' would also help to create a more level playing field on which small, local, independent bakeries will stand a better chance of thriving. These community-centric bakeries support more jobs per loaf and help to keep money circulating in their local economies and our high streets alive.
These outcomes are in line with two of the three consumer rights that the Food Standards Authority highlight in its strategic plan for 2015-20, namely: The right to make choices knowing the facts, and the right to the best food future possible.(2)
The current situation
Factors that currently hinder people in Britain from immediate access to honest, accurate and full information about the loaves they buy include:
Retailers not being required to display a full list of ingredients (or declare any artificial additives) used in the production of unwrapped loaves - e.g. those sold in supermarket in-store bakeries.
Manufacturers and retailers not having to declare additives deemed to be 'processing aids' at point of sale or ingredients labelling for any type of loaf.
The absence of legal definitions for many terms commonly used in loaf marketing, including freshly baked, sourdough, wholegrain, bakery, artisan and craft.
As a consequence, shoppers are being left – and in some cases steered – to making buying choices that they might not make if they were in full possession of the facts. In some cases, such choices can have negative impact on the sales of local, independent bakeries.
An example
An average shopper might assume an unwrapped loaf on display at a supermarket to be almost or completely identical to that crafted by a small, independent local, Real Bread bakery.
However, one or more of the following, substantive differences might apply to that supermarket loaf without the retailer being required to make the shopper aware:
Made using a number of processing aids and other artificial additives.
Produced from start to finish by a machine, rather than helping to create employment as a skilled baker for someone in the shopper's local community, or anywhere at for that matter.
Baked a long time ago in a factory far, far away.
Rebaked in the supermarket's 'loaf tanning salon', thereby requiring around twice as much energy as, and perhaps staling faster than, a genuinely fresh loaf.
As a result, a shopper could be left (or led) to make an unfair like-for-like price comparison with a loaf of Real Bread from a local independent bakery, which does support skilled jobs for local people making genuinely fresh bread without the use of any artificial additives.
Furthermore, a retailer might use words such as 'artisan' in an attempt to convince shoppers to pay a premium for a product that was in fact manufactured using artificial additives and industrial processes, rather than crafted by hand using only natural ingredients by a skilled, experienced baker.
Equally concerning is the lack of control of the word sourdough. There is a growing body of evidence of a number of benefits from making bread using a long fermentation process leavened only with a live starter(3) cultured from the populations of yeasts and lactic acid bacteria that occur naturally on the surface of grains and therefore in flour. We are happy to supply more detail of this.
Ensuring that the term is not used to name or market a loaf made by any other process is particularly important to protect people who find they have difficulties when eating loaves other than genuine sourdough. It is also important to protect the people paying a premium for what they believe is genuine sourdough for potential nutritional benefit, flavour or any other reason.(4)
The opportunity
To protect the rights of shoppers, and livelihoods of small, independent bakers, the Real Bread Campaign calls upon Defra to amend and update the relevant legislation, in particular The Bread and Flour Regulations.
The definition of bread shall be amended to mean 'a food of any size, shape or form that –
has historically been known as bread, and
consists of a dough made from flour of any kind and fermented with yeast and subsequently fully baked or otherwise cooked, such as being steamed, cooked on a griddle/hot-plate or tandoor
The regulations shall apply to all forms: loaves, buns, flatbreads, potato bread and products specially prepared for coeliac sufferers.
The word bread may no longer be used to name or market products, even if known as bread historically, that do not meet the criteria above.
Products not generally regarded as bread but with the word in their names (including sweetbread, gingerbread, breadboard, breadfruit) are exempt from these regulations.
The revised regulations will include:
The requirement for all bakers and retailers to display full lists of all ingredients and any artificial additives used, including those currently deemed 'processing aids', for all loaves. This would be on the labels of pre-packaged loaves and on labelling or point of sale signage for unwrapped loaves.
A meaningful, legal definition for 'fresh' (and related phrases) as made from scratch without freezing or part-baking of the dough; and 'bakery' as the place where this happens from start to finish, not where loaves are merely baked off or just sold.
Meaningful, legal definitions for the words 'artisan' (see below), 'craft' and related terms, governing their use in relation to baking.
A meaningful, legal definition of 'sourdough' meaning bread (as defined above) leavened only using a culture of naturally-occurring yeast(s) and bacteria and a bulk fermentation time of at least four hours.
That the word 'wholegrain' can only be used in the naming and marketing of loaves if at least 51% by weight of the dry ingredients are unrefined grains, flour or meal.
Section six of the Bread and Flour Regulations 1998 to be amended and fully enforced to ensure that the likes of dried gluten and soya flour are not used in loaves named or marketed using the word wholemeal.
A ban on price promotions to sell loaves at below the cost of production, a practice that may contribute to an artificially-skewed perception of the baseline price of this 'Known Value Item'.

(5)
In the meantime, we call upon the government to issue guidance for all bakers and retailers to adopt these measures voluntarily.
The suggestion made by Defra and FSA that the Campaign should seek to secure a TSG for genuine sourdough was rejected by our supporters. This was on the grounds of it being an opt-in process that would put the disproportionate costs and burden of application upon the small independent bakers who bake and such a TSG not covering all of the issues outlined above.
Published 18 Apr 2017
Real Bread Campaign: The Real Bread Campaign finds and shares ways to make bread better for us, better for our communities and better for the planet. Whether your interest is local food, community-focussed small enterprises, honest labelling, therapeutic baking, or simply tasty toast, everyone is invited to become a Campaign supporter.
Support our charity
Your donation will help support the spread of baking skills and access to real bread.