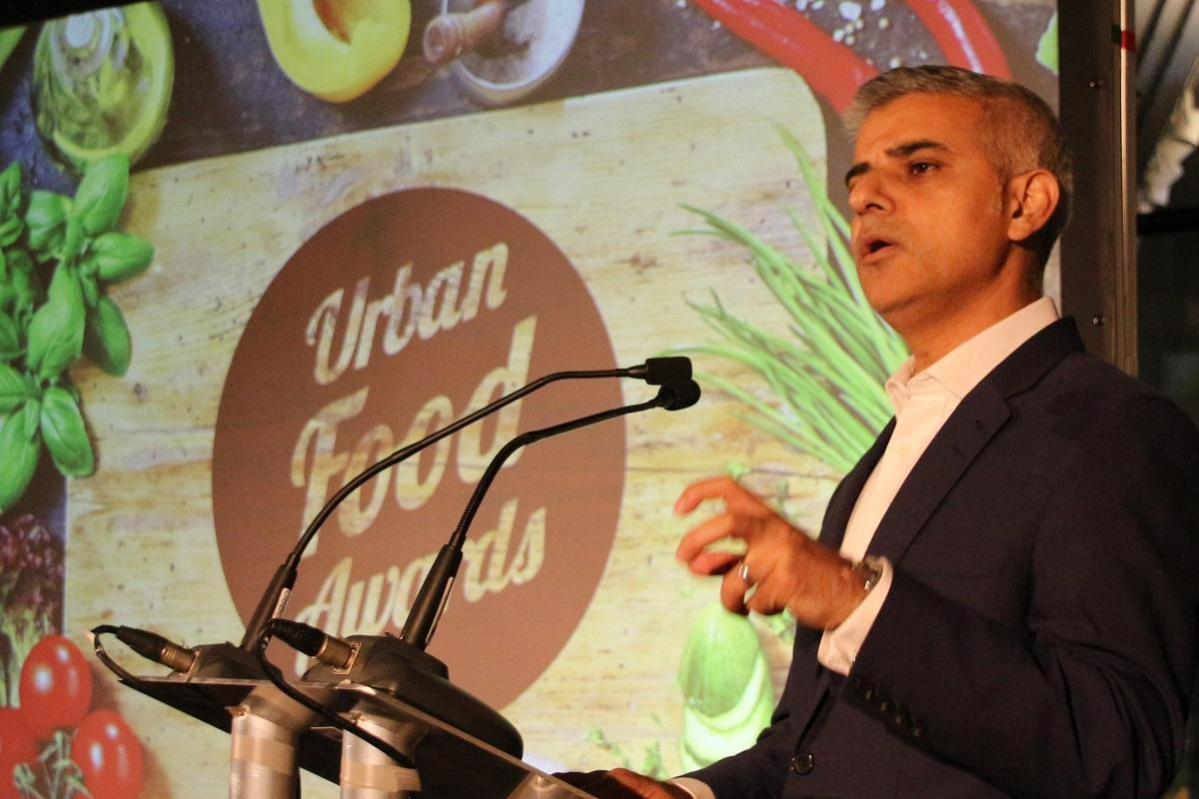 Mayor of London Sadiq Khan opening the Urban Food Awards 2016. Chris Young / www.thejelliedeel.org CC-BY-SA 4.0
The Urban Food Awards are run by the Mayor of London and London Food Link to celebrate the people, enterprises and organisations in the capital who are doing good through good food.
Following the success of the Mayor's Behind Every Great City campaign in pushing for greater gender equality, 2019 sees a new award to celebrate the capital's inspirational women in food.
Winners were announced at an invitation-only awards ceremony on 20 March 2019.
#UrbanFoodAwards
---
Winners
Super Social Enterprise (supported by the London Growth Hub)
Winner Bread n Butter CIC - run educational workshops on how to cook, eat, and live healthily, sustainably, and independently.
Highly Commended: Bloom Bakery and Catering - provide fresh, quality catering and celebration bakes, whilst enabling long-term unemployed people to gain skills and move towards employment.
Good Food For All:
Winner: Brixton Pound Café - a pay-what-you-can community café using surplus food.
Highly Commended: Made in Hackney - a community cookery school and charity that empowers people to grow, cook and eat more plants regardless of their budget or life circumstances.
Good Food on Prescription
Winner: Apicultural - improves the environment for people and pollinators through therapeutic food growing and beekeeping.
Highly Commended: Hammersmith Community Gardens - a local environmental charity managing several green spaces and running environmental, community, health & wellbeing & educational projects
Highly Commended: Forty Hall Community Vineyard - an award-winning, community-led, social enterprise making "outstanding" London wines and promoting good mental health in the local community.
Innovation and Tasty Tech
Winner: Plan Zheroes - A food donation platform that helps businesses quickly and safely donate surplus food to nearby charities.
Highly Commended: Safety Net develop products that can lower bycatch by 90% -- saving more fish and protecting an increasingly essential food source now and for the future
Sugar Smart Hero
Joint winner: The John Roan Kitchen – a SUGAR SMART school that also provides sessions for Year 7 students.
Joint winner: Notting Hill Adventure Playground - an open access play service that become a SUGAR SMART zone in 2017, meaning no food high in sugar,fat or processed is allowed.
Surplus Superstar
Winner: Calthorpe Project — a 1.2 acre urban green oasis in the heart of the capital that uses its waste to power the garden and café.
Highly Commended: City Harvest - helps put surplus food to good use in a sustainable way, distributing to organisations that feed the hungry.
Veg City Champion
Winner: Veggie Run, Havering Council — a school based app which has increased the uptake of healthy school catered meals for children aged 4 -11 years.
Highly Commended: Eat Club - connect under served young people with the pleasurable aspects of food, addressing the underlying barriers to healthy eating & mental wellbeing.
---
Women in Food Winners
The chefs and restauranters
Women in Food, Asma Khan, Darjeeling Express —owns Darjeeling Express, a restaurant which opened in June 2017 and has an all-female kitchen team, with an average age of 50.
Bridget Callaghan, Well Kneaded — make (and sell) delicious sourdough pizza, salads, and sides using sustainable sourcing and employing marginalised young people
Sadhbh Moore and Abi Glencross, The Sustainable Food Story — their roving supper club connect citizens to the origins of our food through interactive dinners, workshops, events and food experiences. They grow produce, use surplus food, forage, and discuss food and farming through stories.
Jacqui Shimudzu, Hill Station — runs a community café, art space, craft cooperative, training resource, social hub, and music venue run by local people for local people.
Laura Hern, Emma Miles, and the team at the Clerkenwell Kitchen — have championed sustainability, animal welfare, affordability, and fair pay for over 12 years. Every dish uses seasonal produce with a focus on plant-based ingredients, and the kitchen has built strong relationships with local producers.
The growers
Sarah Vaughan-Roberts and team, Forty Hall Vineyard — London's only commercial scale vineyard. Sarah pioneered the Vineyard back in 2009 hand planting an acre of vines with a team of volunteers.
Cranbrook Community Food Garden, Bethnal Green — the all female committee set up the project on a derelict playground and now grow food together, encouraging gardening as a means of recreation, promoting health, wellbeing, social cohesion, and as a sustainable way of life.
Daniela Jamois, Charles Dickens Primary School — runs an eco council and gardening club that look after a food garden at the school.
The educators and trainers
Cindy Stott, Bensham Manor — teach food growing and education to pupils with special needs and are described as going 'above and beyond.'
Helen Carvall & Tracey Langridge, Rockmount Primary School — with their team have transformed food education and food provsion across the school community and now help other schools do the same.
Sara Ward, Hen Corner — this urban smallholding and microbakery brings real food to our communities through training, schools work, and sale of produce.
Sarah Bentley, Made In Hackney — Sarah founded this plant-based community cookery school and charity that empowers people to grow, cook, and eat more plants regardless of their budget or life circumstances.
The change-makers
Julie Brown, Growing Communities — leads social enterprise Growing Communities which has grown the market for organic porduce and changed the face of food retail through setting up veg box schemes, a farmers' market, and urban farms and training.
Stephanie Wood, School Food Matters — through campaigning and food education at a London wide and national level, Stephanie helps children enjoy fresh sustainable food at school and learn where their food comes from.
Women in Food, Ailbhe Bhreathnach, Enfield — Ailbhe is a health strategist at Enfield Council and has been instrumental in encouraging them to take up the good food challenge.
Lisa Ashley from Compass Group UK — decisively changed the food outlets across Goldsmiths Uni while building healthier eating habits for thousands of students.
The food savers
Laura Winningham, City Harvest — Laura is the CEO of London's first surplus redistribution charity, City Harvest.
Women in Food, Josephine Liang, Day Old Eats — take pastries and artisan baked foods from high-end bakeries and sells them on to make money for charities fighting child hunger.
The community champions
Natalie Farve, Be-enriched — working at this youth and community charity, Natalie runs cooking courses alongside community members giving them the skills and confidence to share with others.
Rebakah GIbson, Oasis Hub Waterloo — Rebekah runs a busy foodbank and makes a huge impact supporting people in crisis in a holistic way through socialisation, debt advice, and training.
Susan Sheehan, Incredible Edible Lambeth — sets up local community food projects in her borough.
Dee Woods, Granville Community Kitchen — Dee Woods is the co-founder and coordinator of Granville Community Kitchen and was named BBC Food and Farming Awards Cook of the Year in 2016.
Emma Lundie, The Food Gatherer — has set up various festivals and markets, and works with local food producers to promote them for the benefit of the community and environment
Sue Pollock, GCDA — general dynamo through her role in food logistics and support work at a local enterprise, Sue ensures that local people have access to affordable food
---
Categories
This year's Urban Food Award categories were:
Good To Go: Recognising and rewarding takeaways dumping the junk. For example, by offering healthier options, plant-based menus, less but better meat, sustainably-sourced fish and seafood, and operating in people and planet-friendly ways.
Surplus Superstar: Open to enterprises and initiatives working to reduce food surplus and waste, including those involved in circular economy.
Super Social Enterprise*: Open to food-related social enterprises (i.e. businesses run to generate social and/or environmental 'profit' or benefit) launched in the past 12 months.
Innovation and Tasty Tech: Throwing the spotlight on good food enterprises based around innovative new ideas or technology
Good Food on Prescription: Enterprises and initiatives helping to improve people's mental and physical health and wellbeing through the growing and production of good food.
Veg City Champion: Local campaigns or initiatives on a mission to encourage kids in the capital to eat more veg. Read more: www.vegcities.org
Sugar Smart Hero: Organisations and partnerships helping people to reduce their sugar consumption. Read more: www.sugarsmartuk.org
Good Food For All: Businesses, organisations and partnerships working beyond the food bank to help improve people's access to good food. Read more: www.sustainweb.org/foodpoverty/london
*The London Growth Hub is kindly sponsoring this year's 'Super Social Enterprise' award category, with the winner receiving £5,000 of free business support.
In addition, this year's Urban Food Awards celebrated:
Women in Food
This special award recognised amazing women doing great things for food in London covering food education, community food, good food enterprise, urban food growing, good food campaigning or policy.
---
UFA partners
The Urban Food Awards 2019 are run by the Mayor of London and London Food Link
If you have any queries about the UFAs, please email londonfoodlink@sustainweb.org, though please note that as we run on a part-time basis, we can't always respond as quickly as we'd like to.
Share
Join us
London Food Link: London Food Link brings together community food enterprises and projects that are working to make good food accessible to everyone in London to help create a healthy, sustainable and ethical food system for all.
Support our work
Your donation will help support community food initiatives and enterprises to thrive as part of a more sustainable food system.