12 mouth-watering meals for Urban Food Fortnight
Looking to dine out this Urban Food Fortnight? Take your pick from this list of 12 mouth-watering meals.
We hope you've got your knife and fork ready for Urban Food Fortnight 2019's feast of pop-ups, collaborations and supper clubs. Here is a selection of 12 meals this UFF that are sure to satisfy your good food craving. And don't miss out on the discounts on offer*
Cretan Supper Club - SOLD OUT
20 September, EC1V
Central Street Cookery School and St Luke's Community Centre are collaborating for a special Cretan feast made from herbs, greens, vegetables and fresh eggs harvested from their Edible Yard.
Soulful-Mindful Feast
21 September, SW14
Jar-on-the-go! is turning Micro Beers into a tapas jar buffet with artisan UK cheeses, local charcuterie and vegetables; and small-batch delicacies straight from the Greek islands - all washed down with craft beer by Kernel from Bermondsey.
Loughborough Farm Community Shared Lunch
21 September, SW9
Already have evening plans? Join Loughborough Farm for a shared lunch of dishes from the local community. Bring your own tasty contribution or just come and sample farm-fresh food. Free to attend, no need to book.
Harvest Festival Supper Club
22 September, Fields Beneath Kentish Town, NW5 3LN
Accomplished Chef Barney PauGuests will treat guests to five courses of delicious plant-based dishes served alongside a traditional harvest loaf, with organic seasonal fruits and vegetables taking centre stage. 15% of proceeds will go to homeless charity, St. Mungo's.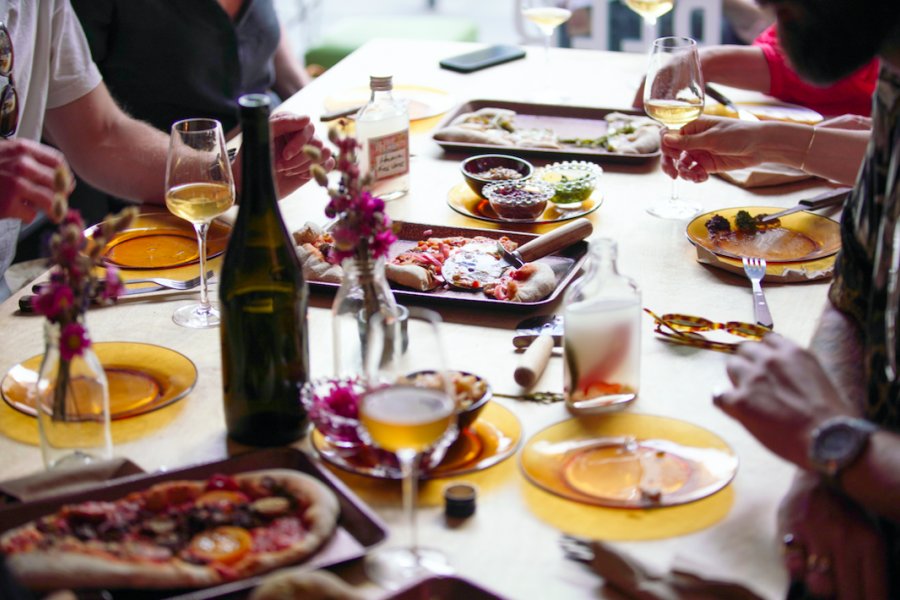 photo credit : Lewis McCarthy
Wild & Foraged Supper Club with Flat Earth X Jessie Ferments
25 September, E2
Expect unique and exclusive meat-free pizzas, salads and desserts made from pickled, foraged, and fermented ingredients with interesting flavours from this Flat Earth and Jessie Ferments' collaboration.
Crop Drop Supper Club
26 September, N22
Leith's-trained chef, Alan Rosenthal will be creating a Mediterranean inspired menu of sharing plates using ingredients sourced from Haringey and Enfield. Enjoy an evening of beautiful food and nourishing conversation in the glasshouses where some of your dinner was grown.
Eleven98 Pops Up at Hackney Coffee Company
27 September, E8
Eleven98 returns to East London's most glamorous and instagrammable venue with 7 carefully curated tasting courses inspired by Michelin-trained chef Aiden Brook's Hackney roots. All proceeds to London Food Link.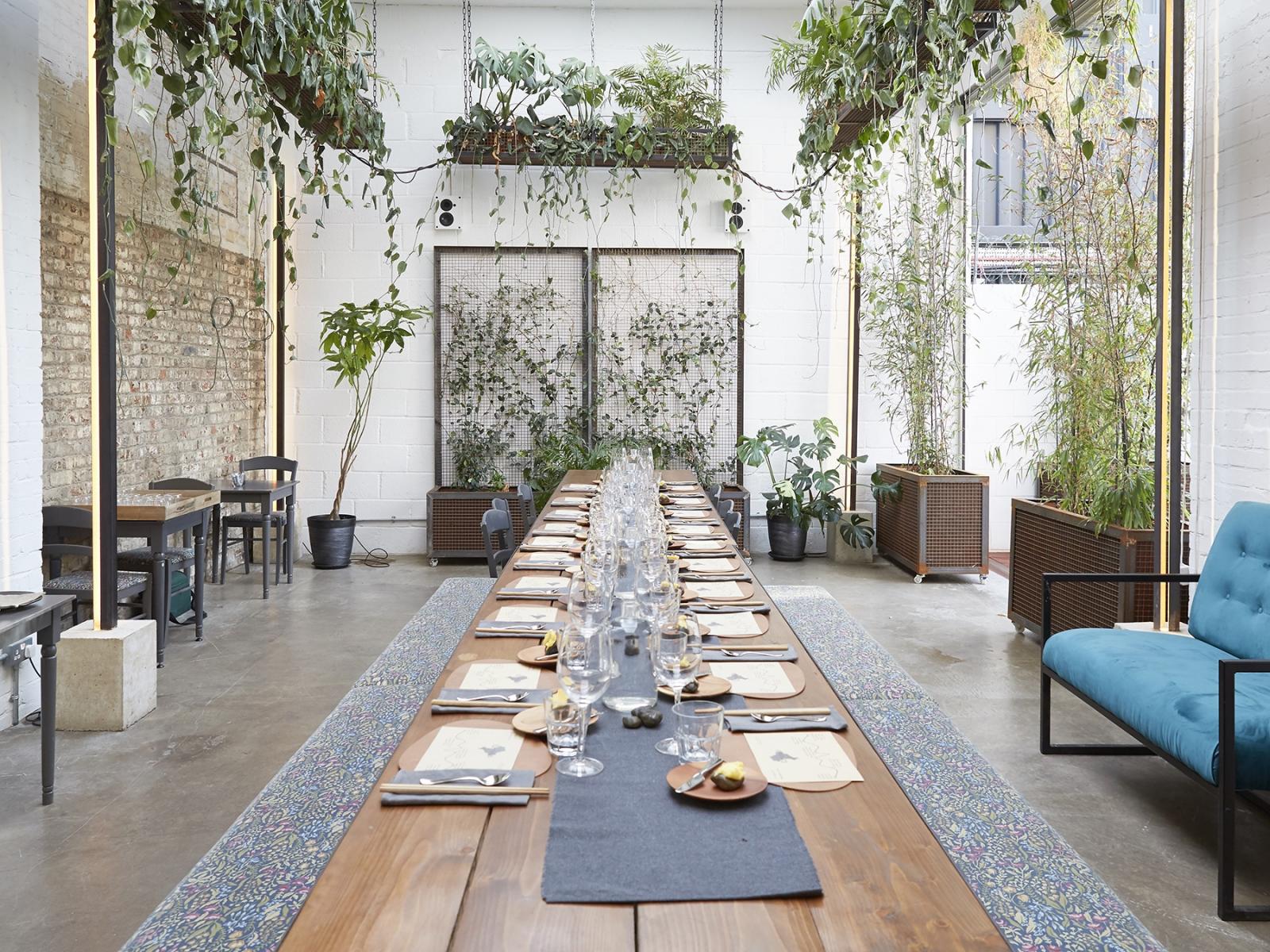 French & African Fusion with Elody*
27 September, SW11
Elody Kolden and Stories On Our Plate invite you to experience the French-African fusion flavours and hear some of the food stories that form Elody's Cameroonian, French and Portuguese heritage.
Blowers Place Supper Club
27 September, SE1
Join eco-chef George Blower as he delivers his third, and likely final, supper club for 2019. You can expect a welcome cocktail, five course tasting menu and delicious treats throughout the evening. The menu is designed to be vegan-by-default, simply showcasing how seasonal and local produce can be paired and cooked.
Brixton Pound Cafe & Naked Larder Waste Less Supper Club* LAST FEW TICKETS AVAILABLE
28 September, SE24
This pay-what-you-can supper club will highlight the problem of waste in our food system by using surplus ingredients and packaging-free produce. The surprise menu of the 3 course vegetarian feast will depend on the ingredients received that week and.
Crayfish Boil with Crayfish Bob
29 September, N17
Help save our rivers at this all-you-can-eat crayfish boil. Tottenham Ploughmans and Crayfish Bob are hosting this pop-up to raise awareness about the invasive crayfish that cause a huge amount of damage to our rivers and native wildlife.
Exploring Future Foods: Workshop and Supper at The Table Café*
30 September, SE1
River Cottage chef and author Rachel de Thample will be exploring future foods with Six Legs Farm and GreenLab. Are aquaponics, insects, algae and 3D foods the future or just fashionable fads? Enjoy a 'wild' welcome drink, learn to make a delicious dukka and protein 'cricket' balls, then dine on a tasty vegan meal (crickets optional!).
The Food Gatherer presents EnField to Fork: A harvest supper at Forty Hall Farm* TICKETS LOW
5 October, N21
Celebrate #UFF2019 at London's only certified organic farm. Meet the growers for a guided tour of Enfield Veg Co's market garden & Forty Hall Vineyard, and then gather at the farm table for a family-style feast of local produce.
Supper Club - Insect Surprise
5 October, E16
Book if you're brave enough! Third Space Canteen like to push boundaries and for one night only are bringing you an insect feast. Join BUG recipes, Six Legs Farm and Cricke for an unforgettable experience and hear how insects could shape the future of food.
Dine with Dina in Zanzibar*
6 October, SW11
Another Stories on a Plate offering that tells the tale of Dina Darweish's recipes from the island of Zanzibar. Dina will take you on a culinary journey through her Zanzibari heritage and its eclectic cuisine influenced by Oman, India, Iran and Africa.
*Join London Food Link today for discounts to these events
Hungry for more? Why not check out all the other amazing events going on during Urban Food Fortnight using our handy map. Or learn how to set the table for your own charity supper club – there is still time to submit it to be a part of #UFF2019.
RELATED ARTICLES
NEWS