Around Town: London's best brunches
With the weather (slowly) warming up, here's our round up of the best good food spots for a spring brunch across London, in this special edition of Around Town.
Fowlds
Camberwell, SE5
A true neighbourhood favourite, this tiny café is tucked away near Burgess Park in Camberwell in the frontage of one of South London's oldest traditional upholsterers, with a space that speaks to both the 'old' and 'new' London of the area. Get there on the early side to see the full breadth of the weekend breakfast menu, where there's plenty of vegetarian and vegan options, including a decadent (but nutritious!) peanut butter and banana toastie and a delicious savoury porridge, and changing cakes and sweets. Set it off with good coffee from Redemption roasters, who roast inside UK prisons with academies teaching coffee and hospitality skills to equip graduates for future jobs. Not an early riser? Get here late for unique house cocktails that contain homemade shrubs and cordials.
Fowlds
instagram.com/fowlds_cafe
twitter.com/fowldscafe
The Table Cafe
Southwark, SE1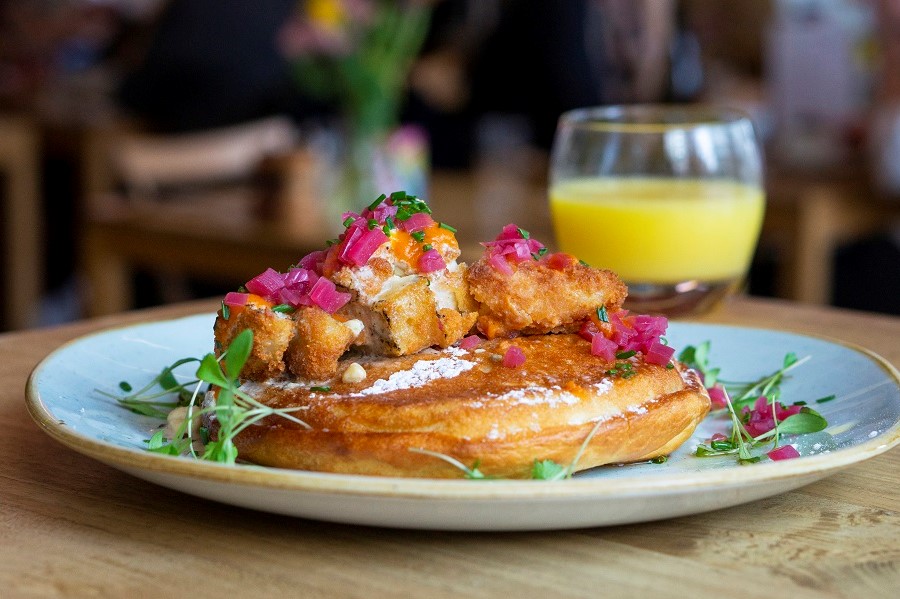 Credit: We Love Creative Media
With maybe the largest all day menu on this list, The Table Café features all the wonderful dishes that spring to mind at the word 'brunch' – a full English, hot iron waffles, deep pan pancakes, French toast, burgers, and mimosas. (We love the corncake topped with beetroot!) And they do it all deliciously. They secured the Time Out Love London Award for Most Loved Brunch Spot 2018 by grilling, griddling, frying, and baking carefully sourced ingredients to perfection. The fish served is MSC certified, they source fresh produce from local growers including St Mungos Putting Down Roots allotment gardening programme. Read more about The Table Café in our Good Food Review.
The Table Cafe
instagram.com/thetablecafe
twitter.com/thetablecafe
Dark Arts Coffee Cafe
Homerton E9
Sick of the pretentious trip hop and banal muzak being played at many standard London coffee shops? Looking for an alternative environment to get your caffeine fix? Dark Arts Coffee backdrops some of the best coffee in London with sunburnt Americana and 70s metal, in an industrial archway decked out as much with classic motorcycles and horror film prints, as coffee roasting and brewing equipment. As well as the stellar pours, Dark Arts serve a changing brunch menu that features twists on the typical favourites, like a homemade muffin with cream cheese – and za'atar and kasundi, and a vegan sausage roll that is unlike any we've had before.
Dark Arts Coffee Café
instagram.com/darkartscoffee
Sodo Pizza
Bethnal Green, E2; and Walthamstow, E17
If it's eggs you're craving, head to the Walthamstow and Bethnal Green branches of LFL Supporters Sodo Pizza, where they're baked, poached, and even put on pizzas on Saturdays and Sundays. Shakshuka style, the baked eggs with tomato sauce and chard with toast are a regular hit (see photo), coming in a few forms from spicy (with nduja, chilli flakes and smoked mozzarella) to sunny (with sun dried tomato, goats cheese and mushrooms), and their egg topped pizzas are changing the minds of margherita purists every weekend. Sodo get bonus points for the Buckinghamshire heritage grains in their bases, UK made mozzarella, and locally grown veggies.
Read more about this in our Good Food Review.
Sodo Pizza
instagram.com/sodopizzalondon
twitter.com/sodopizzalondon
Wild Goose
Leytonstone, E11
On the topic of vegan sausage rolls, Wild Goose bakery makes a vegan haggis sausage roll, if you can believe it. Artisanal bakes are the stars here, where South African-born co-founder Vernon creates traditional loaves and speciality items for the eager folks of Leytonstone, including some inspired by the dishes of his homeland. The menu sees those delicious loaves topped and filled with a variety of savoury delights, from South African campfire beans, to marinated olives, to kimchi. Got a sweet tooth? There's granola, banana breads, and all kinds of treats behind the counter. Wild Goose also serves local coffee from Climpson and Sons, whose beans are also available to take home.
Wild Goose
instagram.com/wildgoosebakery
twitter.com/wildgoosebakery
Dusty Knuckle
Dalston, E8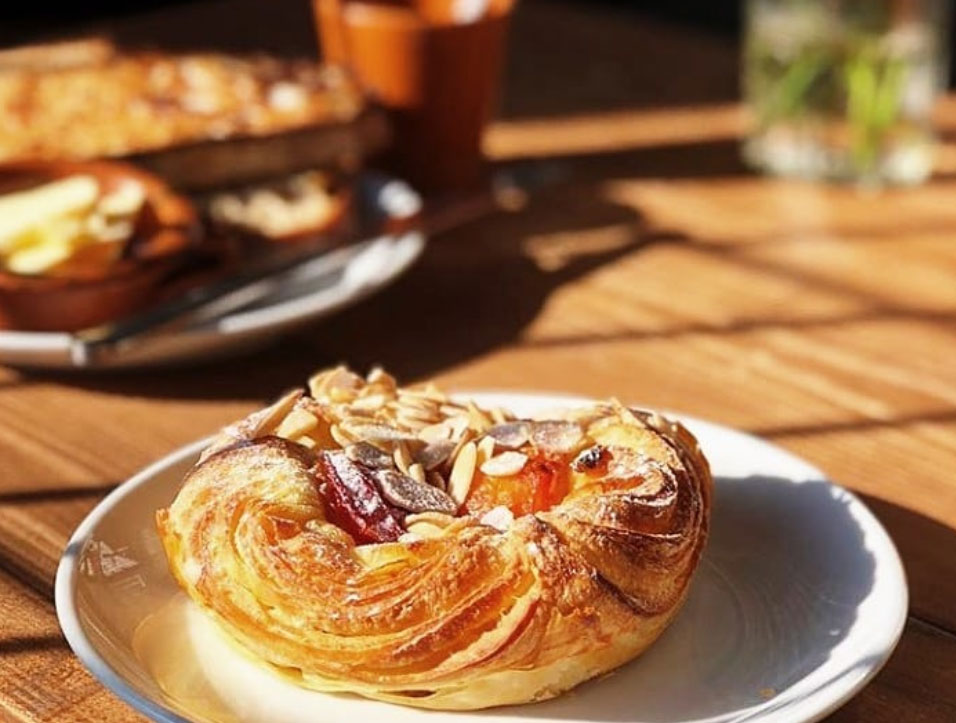 With an all-day breakfast and good coffee, Dusty Knuckle has everything you need for a hearty and satisfying brunch. All items on the menu are made in house, and often with organic ingredients, including granola and porridge, and some next-level sandwiches. You can trust their bakes – Dusty Knuckle recently opened a bakery school. Their croissants and cinnamon buns are beloved, and their potato sourdough recently received Nigella Lawson's seal of approval. Even better, your money is well spent here, as Dusty Knuckle is dedicated to educating and supporting London's young people through teaching in schools and youth clubs, and the training and hiring of individuals who have struggled to find meaningful employment.
Dusty Knuckle
instagram.com/thedustyknuckle
twitter.com/thedustyknuckle
Dishoom
Various Locations
An icon for London's food scene, Dishoom's morning menu nails an Indian-English breakfast with items like the sausage naan roll (and its vegan version), masala beans, and eggs spiced and cooked in various ways. Wash these down with the comforting house chai, or even better, a 'feisty' bloody mary (also available virgin),'The Dhouble' breakfast cocktail with fresh juices and vodka, or a catuai martini (a spicy Dishoom twist on an espresso martini), and you've got the ultimate London brunch. Dishoom get bonus points for a wonderful hiring and training scheme that was recently noted in the New Centre for London Kitchen Talent report, which you can read more about here.
Dishoom
twitter.com/Dishoom
instagram.com/dishoom
Daylesford Organic Cafe
Various Locations
Whether you're celebrating Wake Up To Organic on 12 June, or just looking for more premium sustainable goodness in your life, the organic ingredients used at Daylesford Café are always being whipped up into wonderful brunches at their 4 locations across the city. Here, classic brunch dishes receive an organic twist - their eggs benedict uses ham from the outdoor-reared pigs at their farm in Gloucester, and their oat granola comes topped with cold poached organic rhubarb and natural live yogurt. You can wash these down with organic smoothies and cold pressed juices, and even kefir made with milk from their own grass-fed cows. Be sure to check out the attached farm shops/delis for organic goods to take home, too.
Daylesford Organic Cafe
instagram.com/daylesfordfarm/
twitter.com/daylesfordfarm
Luminary Bakery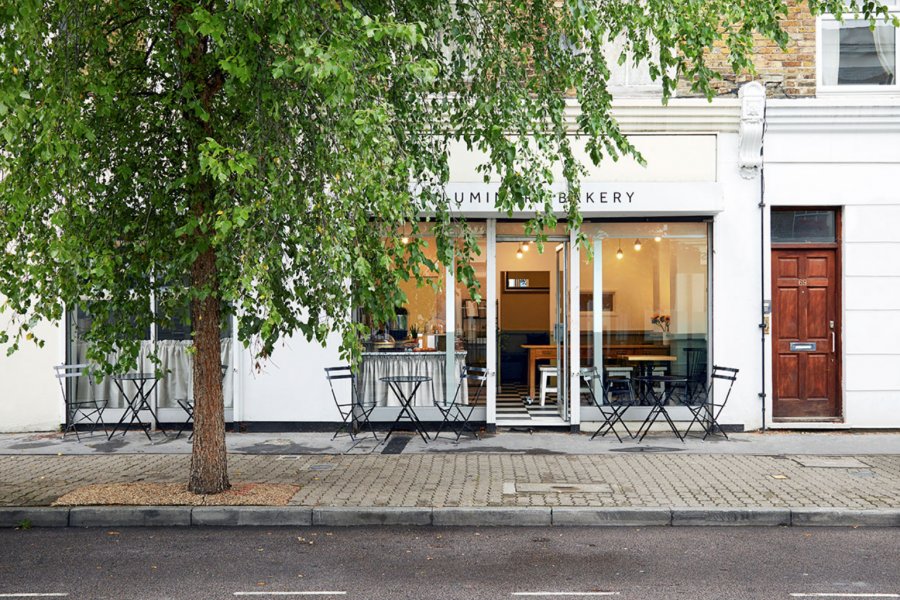 Luminary is a social enterprise bakery & cafe empowering women to reach their potential! As well as wholesale baking, event catering, celebration & wedding cakes they have a cozy little cafe in Stoke Newington that serves delicious baked goods and high-quality coffee - the perfect start to a lazy weekend. And what's more your helping their mission to offer skills training, paid employment and a supportive community to help women who've had a tough time.
Find them on our Good Food Map.
Twitter: @luminarybakery
Instagram: @luminarybakery
London Farmers Markets
Various Locations
No exploration of good food in London is complete without a nod to London Farmers Markets, where many a meal can be designed, inspired, and sourced. Get brunch on-the-go during a stroll alongside some of the best makers and growers of London and beyond, from organic fruits to vegan doughnuts from Wimbledon to Walthamstow, or collect ingredients for a home-cooked feast, from free range eggs to organic herbs from Ealing to Earl's Court.
London Farmers Markets
twitter.com/londonfarmers
www.instagram.com/londonfarmers
Got a suggestion for another great brunch spot? Tell them to register on the Good Food Map. Or if you have another idea for an Around Town special - get in touch.
RELATED ARTICLES
NEWS