The Orchard Project: Growing Trees, Community and Biodiversity
At a time when species are being lost left and right, our orchards are more important than ever. Rosie Baldwin tells us how The Orchard Project is leading the way in creating and maintaining these urban havens.
The Orchard Project is a pioneering charity who have been creating and growing orchards in the heart of urban communities across the UK for 10 years. It all started with Carina Millstone and Rowena Ganguli who had just completed their Masters in sustainability.
One day when Carina was running in her local park it occurred to her—what might London look like had the Victorians taken a liking to fruit trees instead of the species we now see growing in our parks? Imagining this edible oasis and eager to take action on the ground Carina and Rowena were inspired to found the Orchard Project. The duo began contacting communities across London to find out if others had the same enthusiasm for fruit trees. Upon discovering a great passion for orchards within the city, The Orchard Project began.
An Apple A Day
The simple idea of creating and supporting these orchards, has had a huge impact on getting people outside and engaging them in transforming a piece of their own neighbourhood for the better. In just the last year, The Orchard Project has planted and/or restored 72 urban orchards, planted and rejuvenated 2,069 fruit trees, and engaged 10,833 people in a local orchard project
Kath reflects that individuals are often keen to get involved because many of us share a point of connection in fruit. The Orchard Project does a lot of work with harder-to-reach groups, with 70% of their projects in the most deprived areas of the UK.
'The impact assessment we've done over the last couple years has shown us that the community benefits are massive too. 93% people feel their wellbeing has been improved from being in the orchard.' – Kath Rosen CEO
Although planting the trees is relatively straight forward, it's the follow-up that is the challenge, such as protecting and watering the young trees and regular pruning. Giving each new community orchard group five years of support The Orchard Project provides considerable care and attention in the beginning years when the community is learning to tend to the young trees. This is also the time when the young trees are at their most vulnerable. Fortunately, The Orchard Project has found that a shared appreciation for fruit in the natural world keeps people interested in looking after the trees.
'I think … whatever culture you're from, there is a positive connection with fruit... so that's one of the things I really, really love about this charity– people get it. They get really enthusiastic and it's a really positive environment to work in. There's not usually any objections to having fruit trees.' Kath Rosen – CEO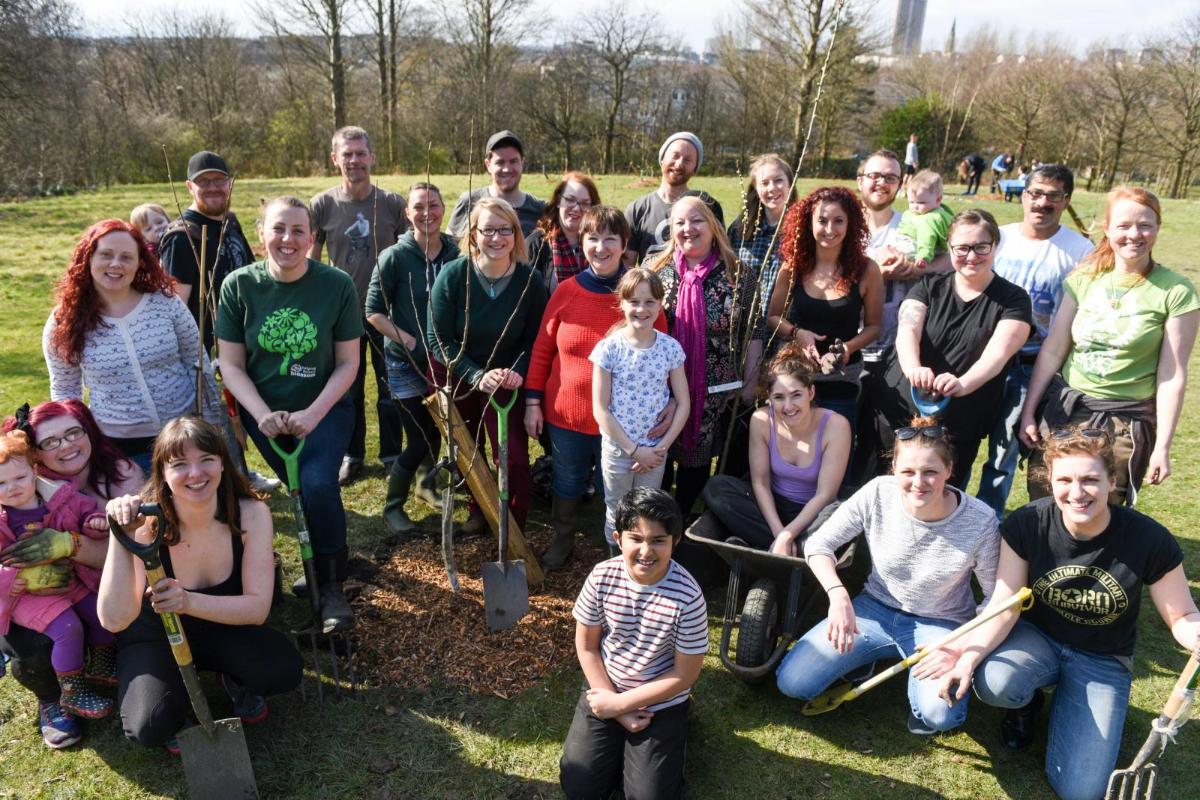 Alexandra Park Group taken by the Orchard Project
In-cider Harvesters
Three years ago, with the help of HLF funding and with fruitful veteran orchards under their care, The Orchard Project took the exciting step to start pressing surplus apples from London orchards. Lizzie Pegler, their Enterprise Manager, shared how the juice and cider element was a means of closing the loop of their fruit system.
Any apples that might not have been snatched up for eating or cooking are able to go to the press and become a delicious beverage as well as generating income for the organisation. Now, you can find their Local Fox Cider (only from London orchards) in independent shops. Borough Market as well as the online retailer Farm Drop are two places where you can purchase the delicious ferment. Lizzie explained that the cider enterprise has engaged a whole new group of people that haven't been involved in the orchard work, including 700 volunteers who have helped produce 12,000 litres of cider. As most cider businesses don't even harvest their own apples, it's impressive that the project has created a beautiful product from surplus apples and volunteer labour.
Branching Out
The project's success can be seen in its growth beyond London to embrace Manchester, Edinburgh, Glasgow, Birmingham and Leeds. With a team of expert orchardists to draw from, community groups plan, plant, maintain, and/or rehabilitate their orchard while developing their skills for maintaining and celebrating the orchards in the future. This also includes work on finding and restoring veteran orchards. These orchards, often planted in hospital grounds or other public spaces that have been neglected are often quite large and overgrown—it's an arduous and lengthy process to bring them back into shape, but well worth the effort.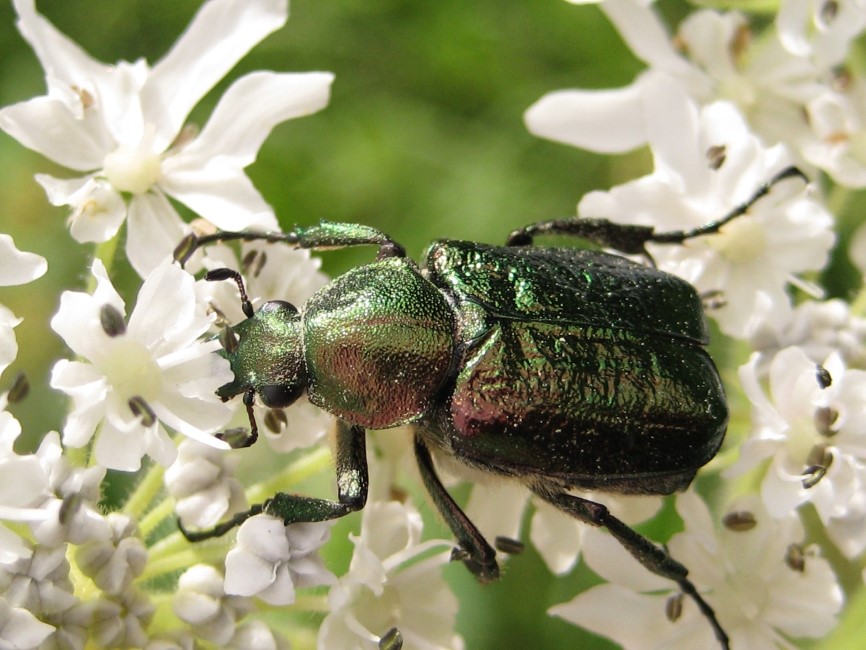 Credit: Nobel Chafer Beetle by Russel Miller
Bio-Blitzing
Looking to the future, CEO Kath Rosen believes the project can be taken a step further to help locals understand the impacts of climate change and the larger implications of a changing environment.
Fruit trees are especially important in urban spaces. Orchards in particular help to boost biodiversity in cities and raise awareness of our planet's dramatic biodiversity loss in recent years. Not only do the fruit trees create a habitat for birds, insects, and a multitude of other organisms; they do so while providing food (and a reason to celebrate) for local people and encourage people to engage in the natural world right in their own urban neighbourhoods.
'An Orchard is quite a mosaic habitat, they get a lot of fringe. So, an orchard will have a lot of grassland and shrubland and that's really brilliant for wildlife. They're hugely beneficial as a habitat for different species. Because they are so biodiverse you have all these taxonomical groups, like fungi, insects, birds, small mammals and lichen. One of the things that we're wanting to do is really assess the biodiversity of orchards' explains Kath.
To help promote the biodiversity benefits of orchards The Orchard Project team are both building and recording the biodiversity that orchards harbour through 'bio blitzes' where volunteers come together to complete wildlife surveys.
Join the Good Apples
If you'd like to get involved in your local Orchard start with looking at the events that The Orchard Project run throughout the year. There are lots of Orchard themed celebrations including Blossom day - in the spring, Apple Day - October 21 to celebrate the harvest, Wassailing in January - wishing good health to the trees for the coming season, as well as regular harvests, picnics, and workshops on fruit trees, including grafting, scything, pruning, working with school groups and more.
Anyone is welcome to get involved at any time of the year and you can check out upcoming events and search for your nearest community orchard on their website.
---
Find out about other Urban Growing projects on London's urban fringe with the city farmers who are taking it to the edge.
RELATED ARTICLES
NEWS