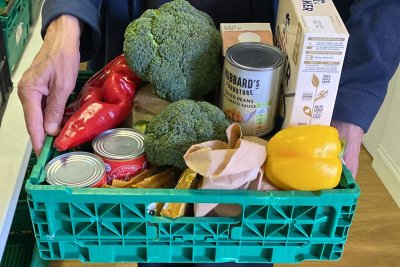 A food shop from Stafford Hall Pantry. Credit: Talula Noor
Project background
Across the UK there is an increase in community food initiatives with a focus on supplying affordable food to their local area, supporting those experiencing food insecurity and bringing the community together. These include pantries, social supermarkets, food coops, community growing spaces, community cafés, meal services and other local buying groups. These enterprises are based on low-cost trading models, allowing service users to get more for less, while investing the money earned in the financial security of the project and in creating positive food spaces for the community. However, these enterprises face multiple challenges, from funding to food supply. Sustain, funded by the Barrow Cadbury Trust, are working with four partner locations across England; Brighton & Hove, Bury, Liverpool, and the London Borough of Waltham Forest, as well as advisors at Greenwich Co-operative Development Agency, on a one-year project to explore sustainable practice and opportunities, and support projects to support their communities.
As part of the project, we are producing case studies from varied projects across the partner locations in England to share examples which are exploring either moving from a food aid to a food trade model or trying out new community enterprise models, to learn from and inspire other projects.
Stafford Hall Pantry
Stafford Hall Pantry is a collaborative project run by The Hornbeam Centre, Queens Boundary Resident's group and St Barnabas Church in Waltham Forest. It opens once a week in a community hub and has on average 20 members attending.
Business model
The pantry operates as a pop-up shop that opens once a week. Customers pay £4.50 to select 10 'points' worth of groceries. A typical basket includes fresh fruit and vegetables, long-life products such as pasta and tinned goods as well as 'freebies' such as meals, dairy products with an imminent use-by date and treats such as chocolates. The pantry is supported by one member of staff and two - three volunteers on a rota (one volunteer to help manage the pop-up on the day). In exchange for their help, they can have a grocery bag free of charge.
The pantry is run in a community hub on the same day as a migrant drop-in centre, making the pantry more accessible to asylum-seekers and migrants in the area.
Setting up the project
This pantry was started in January 2023 as a new project and has not been adapted from a food bank, unlike some other similar projects. However, it was set up in response to a local need for a subsidised food offer (it being near a large Peabody estate where many households on low-incomes live). It was also set up with grant money from Peabody as social investors initially, to reach their residents. The pantry has been supported by the council, is run mostly by The Hornbeam Centre and as such, is closely linked in with the Waltham Forest Food Partnership.
The project has been advertised widely but worded carefully so that people can self-identify as the target group for the pantry, meaning no questions are asked when people use it, to reduce stigma. The pantry was specifically promoted to the local community and flyers were shared in the local housing estate and at the Ibis Hotel on Lea Bridge Road, which is currently housing 450 asylum seekers, to try to reach this population which is at high risk of food insecurity.
Impact on the community
The pantry provides a number of local residents with affordable food (we estimate that the value of each grocery bag is up to £15) to an average of 15-20 customers per week. As the project is housed in a community 'living room' environment (which was set up with funding from the local authority), the hub has a very sociable atmosphere - soft furnishings, couches, and an open-plan kitchen for making yourself a cup of tea while you shop. Having multiple activities on in the hub at the same time also helps to create this sociable atmosphere, which goes towards removing the stigma of shopping at a subsidised pantry.
An initial survey was conducted with a small number of customers for feedback to help shape the project, and they also respond to verbal, informal feedback given during the running of the pantry to continue to improve the process for service users.
Food supply
The pantry supplies fresh fruit, vegetables, and bread, all of which are surplus food, sourced from The Felix Project and City Harvest. In addition to this, they buy non-perishables such as pasta, cereal and tinned food. Currently, this is purchased from a supermarket, however the project is moving towards bulk-buying and decanting, running as more of a 'refill store' and purchasing from more ethical producers such as Suma and Infinity Foods in order to be more environmentally sustainable. However, this food which is better quality and better for people and the planet will need to be subsidised through grant funding or other income streams, in order to keep costs down for customers.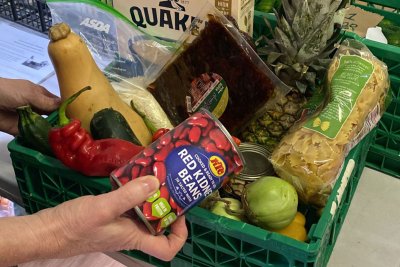 Logistics
Perishable (surplus) food is cycled over from The Hornbeam Centre, which is around the corner from the pantry, one hour before the pantry opens on a Thursday. This is done using an electric cargo bike and usually requires two - three runs. Non-perishable food is ordered online and delivered directly to the pantry on Thursday mornings. This food can be stored on site in the cupboards and shelves dedicated to the pantry. All perishable food needs to be distributed - any leftovers are taken by volunteers and residents in the hub at the time.
Payment is taken in cash or with a card reader. Currently, the card reader is registered to the charity (Queens Boundary Community) however, The Hornbeam is working to get its own card reader in order for the funds to come directly into their accounts. They currently have a basic, analogue system in place to track purchases, number of customers and stock.
Funding and opportunities for social investment
Currently (as of August 2023) this project is funded through a Peabody Placemakers grant, however this is coming to an end and the project is applying for additional National Lottery funding.
The trading of food (i.e. membership fee of £4.50 each week) covers a portion of the food costs. However, it does not cover all costs - especially not now they are moving towards bulk buying non-perishables from more ethical or organic providers.
The pantry does accept Healthy Start and as part of the Food Roots 2 GLA funding, they will explore having a veg bag offer which specifically targets Healthy Start scheme users, as an incentive for uptake.
There is currently no other income-generating activity linked to this project, and The Hornbeam Centre dedicates staff time through other funding to the running / coordinating of this project. The project does not consider itself to be financially sustainable as the staff time needs to be funded, and they currently need to subsidise the food in order for it to be of quality and not dependent on surplus. However, they are currently exploring introducing a solidarity model whereby those with the means can shop at a higher price, generating additional income and subsidising the pantry for others. Using a 'tiered' payment scheme would support the financial sustainability of the project by covering the costs of subsidising the food shop for those that need it.
Overview of Costs
| Item | Cost (monthly) |
| --- | --- |
| Staffing | £450 (1 day a week) |
| Food and shop supplies | £500 |
Challenges
The main challenge reported by the pantry are the cost and supply of food, and the use of surplus food (which is free). It is challenging to balance providing good quality produce, as when they don't have enough surplus, they give people more of the non-perishable food, which is purchased and therefore more costly to the project. Ideally, the membership costs should cover the cost of food that is bought in. The project functions on the assumption that venue hire, core costs and staffing costs will need to be funded from grants or from other income streams and are not covered from sales of food.
Future plans and aspirations
Key opportunities lie in bringing in more ethical, organic and non-perishable items for the pantry, providing food which is better for people and the planet, which may result in there being a 'tiered' system in order to cover these costs.
They may also move towards starting to purchase fresh produce as the surplus food is unreliable and may be inappropriate. Going forwards, balancing affordability with sustainable options will need to be considered.
The Waltham Forest Food Partnership
As a backdrop to this project many of the local food organisations involved are leading on the formation of a Waltham Forest Food Partnership, part of the UK wide network of Sustainable Food Places. The work of this partnership will be driven by a number of networks: The Food Resilience Network, coordinated by The Hornbeam Centre and composed of food aid organisations, and the Food Grower's Network, coordinated by Organiclea.
Share
Get updates
Good Food Enterprise: Working to provide food that is good for people and the planet, and support local production playing a part in community beyond trading.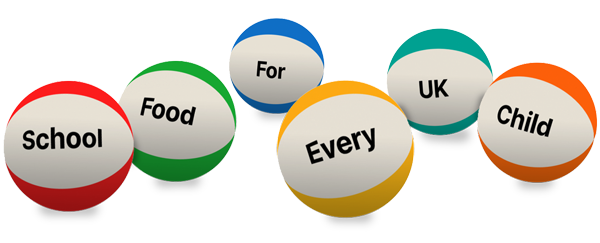 Ask your MP to end the school food postcode lottery now
Support our charity
Donate to enhance the health and welfare of people, animals and the planet.