This year, the city of Manchester played host to the Conservative Party Conference. Amidst the whirlwind of HS2 announcements, five food and farming moments stood out for Sustain's public affairs officer Oliver Ratcliffe, who attended the four-day event.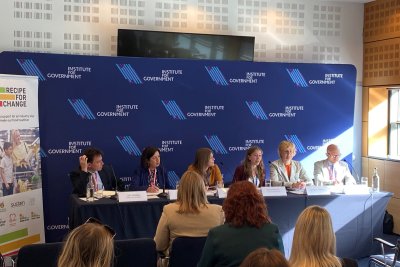 Fringe session at CPC: "How can Government's obesity policy boost the UK's health and economy?" . Credit: Oliver Ratcliffe | Conservative Party Conference 2023
Here are the five food and farming moments from the Conservative Party Conference that stood out for Sustain's public affairs officer Oliver Ratcliffe:
1. New campaign 'Recipe for Change' on the political table
Sustain joined forces with the Obesity Health Alliance and the Food Foundation to host a fringe event, part of our new Recipe for Change campaign. The mission of the campaign? Encourage businesses to reformulate their products high in fat, sugar and salt through a new industry levy, building on the success of the Soft Drinks Industry Levy brought in five years ago.
Jo Gideon, Conservative MP for Stoke-on-Trent Central and former chair of the National Food Strategy APPG, emphasized the key role that government can play in delivering public health and rejected the accusations of 'nanny statism' by some. She also called for a cross-departmental food taskforce to tackle obesity. She said:
"Take nanny statism out of the debate and we'll make progress"
You can find our top quotes and highlights from the session on the Children's Food Campaign twitter here.
2. Health Secretary criticizes Transport for London advertising ban
Steve Barclay, the Government's Health Secretary, took aim at 'Labour-run London' in his speech on Tuesday, claiming that Transport for London's (TFL) ban on advertising unhealthy foods (which Sustain helped to write) prevented British classics such as strawberries and cream being advertised during the Wimbledon championships.
What he failed to mention was that TfL's advertising ban has led to households consuming 1000 calories less a week and modelling shows it is expected to lead to nearly 100,000 fewer cases of obesity, 3000 fewer cases of diabetes and 2000 fewer cases of heart disease. Research also shows that children eat 350 additional calories per week after exposure to one additional HFSS advert.
Full Steve Barclay speech here.
3. Jacob Rees-Mogg champions hormone beef
Former Business Minister Jacob Rees-Mogg made headlines with his comments that he "wants hormone-injected beef from Australia" stating there was "nothing wrong with it and they should be allowed to export it here because we want lower costs."
His comments were met with widespread condemnation from farmers, with NFU President, Minette Batters, calling the North East Somerset MP 'morally bankrupt' in a tweet the same day. Rees-Mogg doubled down on his remarks on the Politics Show claiming that Batters was doing a poor job of representing farmers.
Sustain's Sustainable Farming Coordinator Will White, who used to manage vineyards in Somerset, responded:
"Somerset farmers have no desire to return to that style of farming. Jacob Rees Mogg prioritizes cheapness, intensification and cost savings over any environmental or animal welfare standards. Embracing sustainability, supporting local farmers, and maintaining our high standards absolutely has to be the way forward."

4. Environment secretary picks old banana myths
Environment Secretary Thérèse Coffey revived an old myth about regulations on 'bendy bananas' so she could declare that "it is not for the Government to decide the shape of bananas you want to eat".
The Secretary of State also criticized 'green zealots' who champion 'fake meat', promised "faster broadband to some of the most remote places in the country" and confirmed at a fringe event that the much anticipated land use framework will be published later this year.
Sustain welcomed Coffey's support for nature friendly farming at the Conservative Environment Network's Farmers' market on the first day of the conference.
Thérèse Coffey's full speech can be seen here.
5. Claire Coutinho's beef with Labour
The Energy and Net Zero Minister, Claire Coutinho, claimed in her speech that Labour were keen on a 'meat tax', however there is no official Labour policy on that. The Minister was later grilled by Sophy Ridge on Sky News on why she made up a non existent tax, with Coutinho defending her remarks as a 'light moment' in an otherwise serious event.
Sustain is running two events at Labour Party Conference.
Sunday 8 October 2023
'Food, climate, nature - why farming matters', with Labour Climate Environment Forum and Nature Friendly Farming Network
Time: 15.00-16.30
Venue: Pullman Hotel, Mersey Suite (inside secure zone)
Speakers:
(Chair) Abi Kay, Deputy Editor, Farmers Weekly
Daniel Zeichner, Shadow Minister for Food, Farming and Fisheries and MP for Cambridge
Vicki Hird, Head of Sustainable Farming, Sustain
Martin Lines, Chief Executive, Nature Friendly Farming Network
Tuesday 10 October 2023.
'Recipe for Change: How can Labour use obesity policies to achieve its health mission' with Obesity Health Alliance, Food Foundation, Impact on Urban Health and the Institute for Government
Time: 10.30-11.30
Venue: ACC Liverpool, Arena Room (Inside secure zone)
Speakers:
(Chair) Emma Norris, Deputy Director of the Institute for Government
Daniel Zeichner, Shadow Minister for Food, Farming and Fisheries and MP for Cambridge
[invited] Preet Gill MP, shadow Public Health Minister
Ben Reynolds, Deputy CEO, Sustain
Richard Sloggett, Founder & Programme Director, Future Health
Nilani Sritharan, Group Head, Healthy & Sustainable Diets, Sainsbury's
Sophie Metcalfe, Researcher at Institute for Government
Oliver joined Sustain in September 2020 and has a background in policy. He will be focusing on Sustain's Parliamentary work by engaging with key stakeholders and monitoring policy developments.
Oliver Ratcliffe
Public Affairs Officer
Support our charity
Donate to enhance the health and welfare of people, animals and the planet.