There is certainty on what farm support is being reduced (i.e. direct payments), but there's plenty of uncertainty around Defra's plan to increase support in their flagship farming and environment policy – Environmental Land Management (ELM). A long policy design process, suggestions of a change in direction, and a lack of clear engagement and communication, are causing concerns amongst farmers and stakeholders. We've set out key questions that would bring clarity and ensure ELM stays on an ambitious footing, while highlighting some critical things that need to be part of ELM schemes.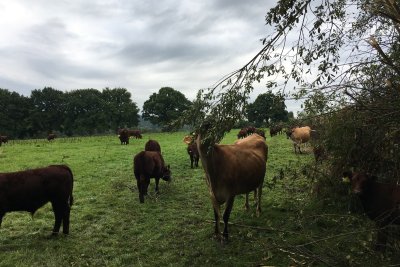 Cow browsing on a hedge tree. Credit: James Woodward
It is proving to be easier to walk away from the EU's Common Agricultural Policy than to find something credible to replace it. In England, as payments based on land area progressively reduce, there's now an urgent need for clarity over what will replace them. It would be helpful at this point for the Westminster Government to remind us of its ambitions for food and farming to provide the context for ELM – Health and Harmony provided a useful starting point but could do with a refresh. It seems telling that while trade deals are being signed that provide so much of the (worrying) economic framework for farming, the support for farmers to transition to more sustainable systems is lagging behind.
As important, is the need for greater clarity on what will be available to farmers in 2023/24. For example, it's essential that the SFI standards – integrated pest management, nutrient management, and hedgerow management – which were meant to come into play from 2023, still go ahead. This is vital to maintain momentum and get more farmers involved and interested in the possibility of what the SFI scheme could do.
That's not to say this is easy, and we don't underestimate the challenge facing Defra. Some of the tensions to be resolved are: ensuring the domestic farming sector can produce food profitably to the highest standards while much of the world we trade with operates to lower or different standards; the need for support to help rebuild biodiversity at the same time as help for a wider transformation in farming; building on the best of the old, and supporting existing good practice, whilst innovating new ways of doing things; making the scheme ambitious for change whilst making sure that most farmers decide to buy into the scheme.
None of this is easy so we set out some of our thoughts on how this can happen in this blog – and we recommit to working with Defra in a genuine partnership to bring this change about.
Here is a quick recap on what ELM is meant to look like. Three schemes are meant to make up ELM: Sustainable Farming Incentive (SFI); Local Nature Recovery (LNR); and Landscape Recovery (LR). The first is meant to support more climate and nature-friendly farming, the second about local collaboration and delivery of more environmental outcomes, and the third delivering larger nature recovery projects. Farmers and land managers are supposed to be able to access payments in these schemes to deliver actions on their land that will provide environmental outcomes.
Sustainable Farming Incentive (SFI)
The SFI will most likely be the more popular scheme, because it links more closely with farming (which makes up 70% of the UK's landmass), and will be most attractive to farmers as direct payments (i.e. income support through the Basic Payment Scheme (BPS)) are phased out. This is also reflected in Defra's target to get 70% of farmers into this scheme.
Therefore, it's critical that the SFI is designed in a way to support much more climate and nature-friendly farming systems (or as we say, agroecology) that deliver public goods alongside, and as part of, resilient food production. This must include allowing farmers to take a more holistic (or whole farm) approach to the way they use the scheme and farm.
Currently, it is being designed using standards. These are essentially 'packages' of actions that relate to specific needs. For example, arable soil management or hedgerow management. Pooling actions and giving a degree of direction in choice, is important, as individualised actions that are untargeted tend to not work for delivering public good outcomes.
However, this siloeing of farmland management into individual assets creates barriers to supporting diverse, resilient, nature-friendly farming. But, if Defra can ensure that farmers can easily stack these standards onto one agreement, without the paperwork being a burden or complicated, it may get over some of those issues. This will require a breadth of standards available for farmers to take up and for the standards to work together in terms of the actions required.
In that sense, we would prefer Defra to design the SFI scheme in a way that rewards diverse farming systems which build nature into them (something that is happening with pioneering farmers, but must be greatly expanded out across the sector). Equally important in this context, is that Defra build progression into the scheme. This will allow any farmer to join the scheme, while being well rewarded for moving up the levels of ambition. This needs to be matched with a payment structure that draws farmers up those levels. This 'ladder' approach needs to be kept and enhanced in terms of pulling farmers towards the highest ambitions. The scheme cannot be designed in a way that makes the lower levels of ambition the norm overtime.
Local Nature Recovery
Defra have confirmed they are pulling back on LNR and moulding it into a 2.0 version of the existing scheme, Countryside Stewardship (CS). This raises several questions, as CS has had its ups and downs.
The approach to CS Mid-Tier in recent years has improved. The Wildlife Offers have attracted more farmers to the scheme and have simplified the application process, allowing farmers to quickly identify actions suitable to their farm. However, Mid-Tier hasn't necessarily delivered as many outcomes as hoped, so if LNR is to be CS 2.0 (or CS+), Higher-Tier needs to be fixed and made workable, as it'll have to do lots of the lifting. Higher-Tier has its design flaws which have meant a lack of uptake, so Defra must review this and learn those lessons (but the reaction of nature to the application of schemes might start to see more effect as the years roll on.)
That 'lessons learnt' could include looking back at the predecessor to CS Higher-Tier, Higher Level Stewardship (HLS), which had greater success. Whatever LNR becomes, it needs to help farmers have a clear plan on creating and managing good-quality and targeted habitat within farmed landscapes. This will require better spatial mapping then has been used under CS Higher-Tier. It must come with good-quality advice to support farmers in delivering schemes effectively, as well as aiming to help meet Government environmental targets. That advice could be impartial expert insight, as well as enabling peer-to-peer knowledge exchange.
For us, the key concern is that Defra will drop or rollback on the ways in which LNR would place a focus on collaboration across a landscape. By empowering farmers to work together, there was a real opportunity to connect habitats better across farms. That enabling of collaboration would also have knock-on effects beyond nature recovery in a farmed landscape and provide a foundation to work more collaboratively on other issues (like health, business resilience etc.).
However LNR becomes CS 'plus', it needs to have easy access to impartial and good quality advice, as well as a design approach that brings together actions which will genuinely enable farmers to deliver for nature and resilient landscapes.
The future of Environmental Land Management (ELM)
Whatever direction ELM takes, it is vital that it doesn't lose sight of the original ambition to support and reward farmers and land managers for delivering public goods. This includes:
An approach to the SFI that rewards diverse, resilient, nature-friendly farming systems
The ability to easily stack SFI and LNR/CS+ on the same farm
The use of a land management plan (LMP) to bring everything together
Collaboration embedded into LNR/CS+
Provision of impartial, good-quality advice in both SFI and LNR
Learn lessons from the failure of CS Higher-Tier to be effective
The use of better spatial mapping within LNR/CS+
As there is uncertainty around ELM, we need to see clarity and communication from Defra stretching out to all stakeholders and into farming communities.
Vicki Hird; Sustain: The alliance for better food and farming
Gareth Morgan; Soil Association
Martin Lines; Nature Friendly Farming Network
Graeme Willis; CPRE, the countryside charity
Vicki Hird MSc FRES is an award winning expert, author, strategist and senior manager who has been working on environment, food and farming issues for over 30 years. As part- time Head of Sustainable Farming at Sustain, Vicki manages the farm team, policy, research and related campaigning and provides comment and guidance on these issues.
Vicki Hird
Head of Sustainable Farming
Sustainable Farming Campaign
Support our campaign
Your donation will help us work with farmers to push for policies to support farming fit for our future.