Local authorities must engage people struggling with food poverty to shape their work
The cost-of-living crisis affects people living in poverty the very hardest How can we ensure that their voices and experiences are heard by policy-makers and purse holders? asks Morven Oliver of the London Food Poverty Campaign.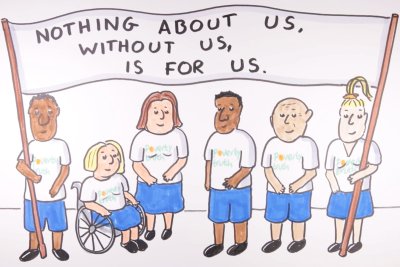 Nothing about us without us illustration, courtesy of Poverty Truth Network. Credit: Poverty Truth Network
In the context of a spiralling cost of living crisis and sky-rocketing inflation, it can feel like we are in the midst of something completely new, and we can reach for new solutions. But the current crisis, whilst new in its depth and scale, is more a deepening of the existing crisis of poverty and inequality in Britain, with for example the Trussell Trust reporting an 81% increase in need for food banks over the last five years.
With this in mind, Sustain is continuing its approach to tackling food poverty – of working with those at the local level to secure food systems and a robust integrated financial and nutritional safety net. We do this through our monitoring of and advocacy with local authorities to enact the measures outlined in our 'beyond the food bank' approach, published as part of our annual flagship report Good Food for All Londoners.
As part of this, during London Challenge Poverty Week with the Greater London Authority we co-hosted the Boroughs Food Group. This vital, longstanding and popular group brings together representatives from the 33 London boroughs, local authorities, food partnerships, food poverty alliances and organisations promoting key food system solutions, and our focus for this session was on the cost-of-living crisis. As well as hearing about great work being done at the local level by councils, we considered what councils can do to include and meaningfully engage people in poverty in their work to tackle it.
The Poverty Truth Network
We heard from Andrew, a representative of the Poverty Truth Network, which is a group that works closely with people in local areas who are interested in the possibility of setting up a Poverty Truth Commission. These commissions are no 'quick fix' for poverty or for the current crisis, but rather are a slow, thoughtful and relationship-based way for local areas to meaningfully engage people with direct experience of recurring and entrenched poverty in devising solutions to it.
What is a commission? Poverty Truth Commissions start with conversations. They begin with local people who know the struggle against poverty who form a genuine partnership with local organisations and authorities to consider how to tackle poverty in the long term. There is no 'one size fits all' - as each local area is different - but they roughly take the following form: a cohort of between 1 - 15 people who are struggling against poverty, and who want to use their experience to tackle the systemic drivers of poverty, come together and are supported to get involved. They get to know each other, get support, and start thinking and planning, over a period of about six months. Then, people in positions of power locally are recruited, to make up the other half of the whole group. Next, the whole groups gets to work over the following year, to really listen to each other, and start thinking about step-by-step solutions to the problems faced by those in poverty.
How do they get set up? Poverty Truth Commissions start with someone locally thinking they would be a good idea. Then a conversation. Each Commission is founded on relationships, and conversations, first and foremost. Sometimes that person is an individual living in poverty, sometimes it's someone from a local community groups, sometimes it's someone who works at the local council. They'll have a call with someone from the Poverty Truth Network, and take it from there.
PTN What is a Commission film v2.mp4 from Poverty Truth Network on Vimeo.
Local authority action to engage people with lived experience of poverty
At the London Food Poverty Campaign, we think it's vital for local authorities to engage meaningfully with people living in poverty. This is why we asked London councils about what they are doing in this vein for the first time this year, as part of our Good Food for All Londoners survey. We're learning about what councils are doing and will be sharing more good practice as we continue with this work.
Doing this well takes time, resources, and thought. Poverty Truth Commissions are one good way this can happen at the local level, alongside other good work such as family-led approaches to child protection, like those in Camden Council. In the next few months we will be publishing our preliminary findings on good work that councils are doing to engage people with lived experience of food poverty to meaningfully shape their agendas, policies and practices for a better local food system.
Morven coordinates Sustain's London Food Poverty Campaign which highlights and encourages sustainable responses to food poverty, particularly where they address the root causes of food poverty.
Morven Oliver
Campaign Coordinator
Food Poverty
Support our work
Your donation will help communities identify ways to alleviate food poverty and increase access to healthy food.