Healthy Start is going digital: Here's what you need to know
The Healthy Start scheme is changing, but what does this mean for users and those promoting the scheme? Find out in this blog which aims to shed some light on it all.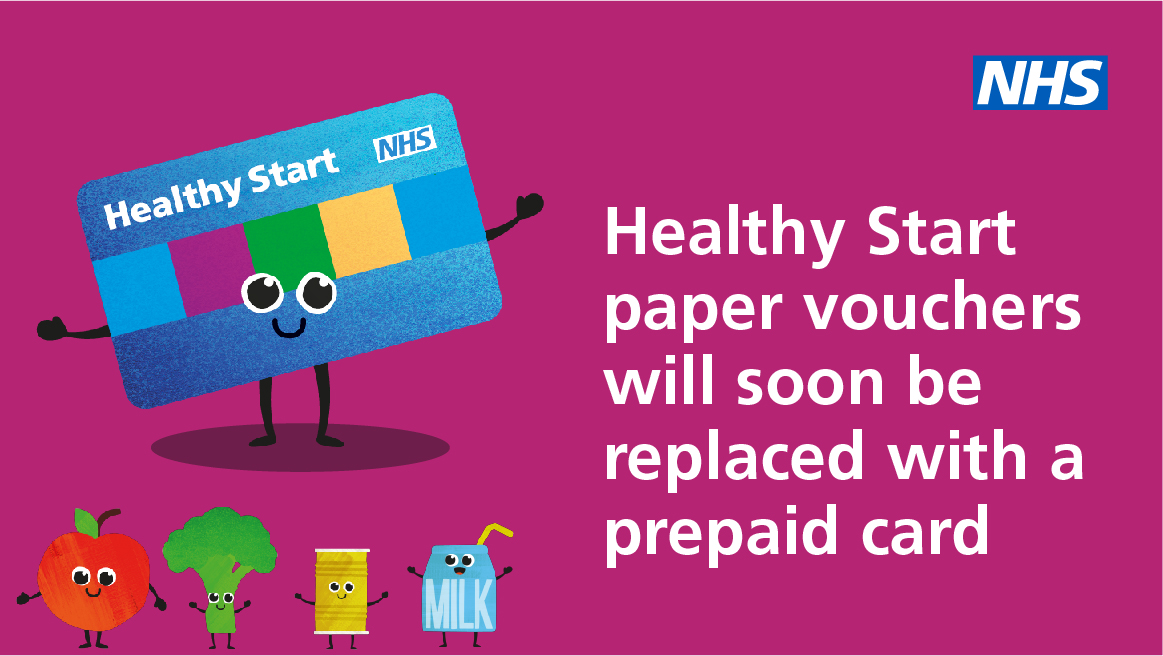 NHS BSA
After much anticipation the Healthy Start scheme is finally going digital! It's hoped that by replacing a paper application system and paper vouchers with an online application and a pre-paid Mastercard the scheme will be easier to use and uptake will increase.
Instead of families having to source a printer to print an application form they can simply apply online.
Instead of only being able to use vouchers in registered retailers, any outlet that accepts Mastercard and sells food should be able to accept the card without problems – including market stalls and community food projects.
These changes are important because just over 40% of eligible families are still missing out on the scheme. This new phase could mean that even more children are able to have the healthy start they deserve.
That all sounds great I hear you say, but when is the digitisation happening, how does it affect families using the scheme or organisations promoting the scheme and where can you get further information?
Good questions! Here's everything we know so far:
What does Healthy Start offer?
Healthy Start vouchers are worth £4.25 per week to help low-income families purchase fresh, frozen or tinned fruit and vegetables, pulses and cow's milk or infant formula. They are available for all pregnant women under the age of 18 as well as pregnant women and children aged 1-4 years old in receipt of Universal Credit but with an income of less than £408 a month. Children under one year old can also get two £4.25 vouchers (£8.50) per week. Find out more about the scheme and the different ways you can ensure people benefit.
The Healthy Start scheme runs in England, Wales and Northern Ireland. Best Start is the Scottish scheme which is already digital.
When is the scheme going digital?
Right now! The NHS Business Services Authority team, who are leading on the digitisation of the scheme, is sending letters out to existing users of the scheme letting them know they can apply for the new digital scheme now. Existing users need to apply for the digital scheme to carry on receiving support. But families don't need to have received this letter to apply online, nor do they need to be an existing user – anyone eligible can apply online now.
If you'd like to apply for the scheme or know someone who could, head to the Healthy Start website to apply now and find out if you're eligible here.
Why can't existing users just be transferred onto the new scheme?
Unfortunately, instead of being automatically transferred onto the digital scheme, existing users need to reapply to sign-up to the new terms and conditions of the pre-paid card.
When will the paper vouchers be phased out?
Paper vouchers will no longer be issued after March 2022 but any existing vouchers can be used by the expiry date shown on the voucher. If users of the paper vouchers don't re-apply for the digital scheme they will stop receiving their vouchers after March 2022.
What if you don't have internet access to apply online?
An alternative system is being explored for those that do not have digital access thanks to concerns about digital exclusion being raised by multiple local authorities, community organisations and social workers. Until this is confirmed, if you're eligible or know someone that is who is unable to access a computer, phone or other digital tool, ask your local health visitor, midwife or children's centre to support with the application process.
How do you activate the new card?
Users can activate their card calling 0300 330 2090, pressing 1 and going through the automated service which should take no more than a few minutes. On this number you can also check your balance or report your card as missing or stolen.
If you want to talk to an advisor or an intepreter call 0300 330 7010.
It's worth knowing that these numbers are included free of charge in some pay plans, but not all. If it's not included in yours or you're not on a pay plan you could be charged between 3 – 55p a minute from a mobile. This is something we're asking the Government to change so no one is charged to access the scheme. To help our case we need to know as many examples of charges being made as possible, so please let us know if you've experienced this.
Can the card part pay for a food shop?
The paper vouchers could be used to part pay for a larger food shop. Unfortunately, the pre-paid cards do not yet offer this same simplicity. Instead, users must separate out their Healthy Start items from their wider shop and pay for them separately with the card. We know this could create a barrier to anyone wanting to use the card so we are working with the NHS to resolve this.
What materials are available to promote the scheme?
The NHS team have created a package of resources you can use to help promote the scheme. These include social media graphics, a social media toolkit and a guide on how to use these materials. More promotional materials will be published in early 2022 to help promote the scheme to other eligible families not yet beneffiting.
Materials are currently only being made available in English or Welsh. Additional languages will be considered if there is enough demand so do let the NHS team know if you have a request for either an additional language or specific resource e.g. stickers, leaflets, posters.
What about families with no recourse to public funds?
British children from families with no recourse to public funds are eligible for the scheme thanks to a court order made in June 2021. If you believe you could be eligible, check the criteria at the bottom of this NHS website and email Healthystartclaim@dhsc.gov.uk to ask for an application form. Or ask your health visitor, midwife, GP or children's centre to support you with this.
These are answers to just some of the questions we've had through our networks over the past few weeks. The NHS have put together this detailed Q&A though which offers even more insight into the new scheme.
It's also worth noting that as with any big changes to a scheme, this transition isn't coming without its teething pains. We've received reports of lengthy waiting times to activate new cards or talk to an advisor, delays in cards being received leading to weeks without vouchers and some eligible applicants being declined by the online application system. We hope as many people as possible are able to access this support as we know it can provide some real help to families.
We're working with public health officers and other national organisations to gather examples of these instances and work with the NHS team to resolve them urgently. The more examples of these instances we can gather though the faster we can act so, if you have experienced issues with the scheme or know someone who has, please let us know!
Sustain annual conference - 8 December

Book now
Published 9 Dec 2021
Food Poverty: Over 5 million people in the UK struggle to get enough to eat. We're working to change that through people-powered projects and campaigns that tackle the root causes of food poverty and ensure everyone has dignified access to healthy, affordable food.
Cecily worked at Sustain for two years from September 2020 as the Communications and Network Coordinator for Food Power, the Food Roots Incubator and the Food Learning Forum.
Cecily Spelling
Communications and Events Coordinator
Food Power
Event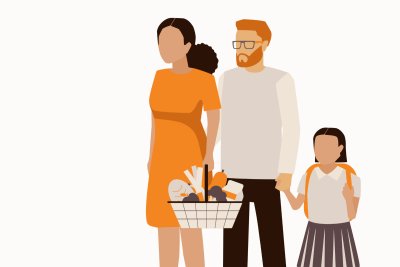 Sustain annual conference - 8 December
Support our work
Your donation will help communities identify ways to alleviate food poverty and increase access to healthy food.