Grow your own Grocery: free guide from folk who know their onions
Establishing a local, sustainable Grocery may sound daunting, but it can be done and Unicorn Grocery is here to prove that. An award winning cooperative Grocery in Manchester, it's now helping others follow in their food steps by sharing their updated 'Grow a Grocery' guide. Debbie Clarke from the Unicorn team tells us more.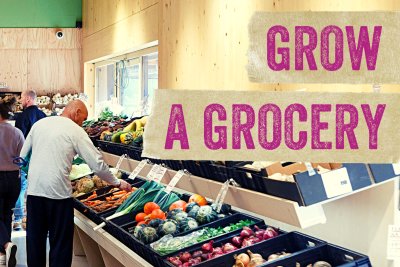 Unicorn Grocery grow a grocery guide. Credit: Unicorn Grocery
Manchester's co-operative grocery, Unicorn, was established back in 1996 by a small group of people committed to social change, who had a vision for the kind of place they wanted to shop in themselves. A place where a really wide range of wholesome, plant-based, tasty food, sourced with care, would be sold at affordable prices. A shop owned and run by motivated worker-owners co-operating with a shared social and environmental agenda. A friendly, diverse and welcoming space that would act as a hub in the community.
Although Unicorn has grown a lot since then; twice named the nation's 'Best Food Retailer' at the BBC Food & Farming Awards, and top of Ethical Consumer's national supermarket ranking, those things remain very much true today. We're proud to have proved that we can compete with national chains and provide a genuine alternative to the supermarket, and now we're the size of one.
We think there's room for a Unicorn-type store in every city, and perhaps more besides, but starting a new business is a daunting process, and retailing food in this era of supermarket dominance perhaps even more so. With no plans to expand outside the one shop, in 2010, with help from Sustain and the Food Coops and Buying Groups project we produced a free guide intended to help facilitate the emergence of new stores run on similar lines.
Over a decade on, having been downloaded thousands of times in over 15 countries, our 'Grow a Grocery' guide has just been thoroughly updated. In the hope that it will make starting a new shop (or developing an existing one) an easier process, it walks potential grocers through all areas of the business, from People and Planning to Pricing and Promotion. Designed to be used alongside the guide, a range of additional resources include examples of early business plans, our supplier lists, sample rotas & business forecasting tools.
Those using the guide may choose to follow the model wholesale or just to utilise elements of it, and of course adapt it to your very particular landscape and vision. Unicorn is by no means the only successful model out there, and like any solution is still far from being perfect, but it is something that can be utilised, built upon, and of course improved by others.
We are so proud to demonstrate what a worker-owned business with values can achieve….and not despite those factors, but because of them. With our newly revised guide, we hope we can help others collaborate in building a better kind of food system.
Unicorn's Grow a Grocery guide
Debbie divides her time between Kindling and Manchester's Unicorn Grocery, the worker co-operative where she has been a member and director since 2004. There she oversees the organisation's communications, community engagement & marketing output, as well as working daily on the shop floor.
Debbie Clarke
Kindling Trust Director
What we're fighting for 2023
Support our charity
Your donation will help us support communities to set up and run food coops and buying groups across the UK to improve access to healthy food.