For our latest hit of delicious good food in London, Amy Luck checks out the cool, seasonally-focused Dalston brunch spot, Brunswick East.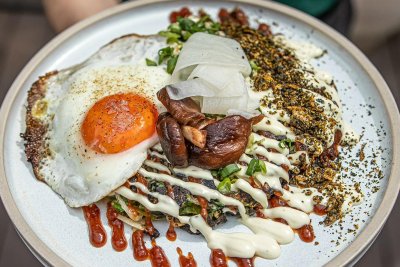 Okonomiyaki. Credit: Ben England, Brunswick East
Tucked away in a secret square just off the Kingsland road, Amy Luck checks out Brunswick East, a cool, seasonally-focused Dalston brunch spot.
Set up by Australian sisters Shaunae and Natasha in 2015, Brunswick East brings Australia's thriving bunch scene to London's East end. All of the menu is developed along with regenerative British farmers. They also make all of their own sourdough, condiments and ferments in house, keeping it super local.
The space itself in Dalston is nestled just off Gillett square behind the busy Kingsland road, and sitting in the spacious courtyard on a sunny January day gave faraway Melbourne vibes.
Seasonally inspired produce guides the menu here and even the pastries. For an indecisive eater the relatively simple but exciting menu of 7 dishes gives options for both the traditional and adventurous diner. A refreshing twist to the usual brunch menu, the meals offer a mix of British, Japanese, Indonesian influence.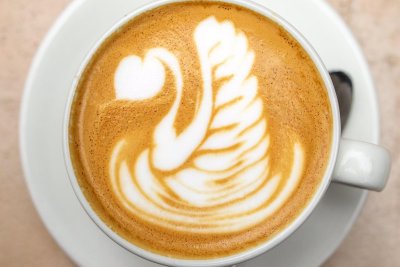 I first tried the weekly-changing seasonal danish which was delicious rhubarb and ginger alongside one of their famous speciality coffees. For the non-coffee drinkers, the fresh pressed pear and beetroot juice was a refreshing flavourful alternative and for those needing something stronger there's a whole list of aptly-named hangover cure concoctions, seasonal cocktails and natural wines.
Next, I got to try the homemade bread with 'the seasonal on toast', which is the best of British seasonal produce of the time on organic sourdough. This week it was wild mushrooms, tarragon and a poached egg. The generous chunk of delicious airy sourdough was topped with cultured butter, something I had never tried before but now I want it always on toast! It literally melted in the mouth and you could really taste the difference to standard butter. The portions were generous and I certainly could have stopped here.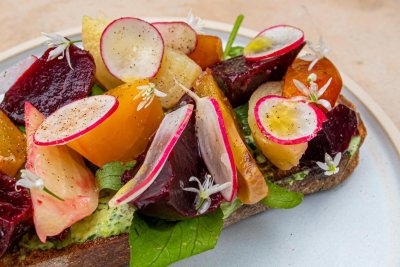 I went to town and also ordered the mackerel escabeche and okonomiyaki - a savoury Japanese pancake (don't worry I had some help). The north atlantic mackerel was beautifully marinated and accompanied again with the dreamy cultured butter on a seed-filled hunk of homemade rye bread that rivalled the scrumptious sourdough. As a bread lover, I'm glad I got a bread-based dish in addition to the okonomiyaki which is a Japanese-style omelette made of wheat flour with fried vegetables, topped with a fried egg. The overall winner for me was the seasonal on toast, which with its standout flavours was so much more than mushrooms on toast.
With its commitment to seasonal ingredients and regenerative supply, we love the ethos that Brunswick East brings to brunch in the city. And as well as the cool outdoor courtyard, laid back atmosphere, incredible drinks menu, and tasty and generous plates, there wasn't a smashed avocado in sight!
Want to recieve Good Food reviews and other good news stories from the growers, bakers, chefs and produers in London in your inbox? Check out our newsletter!
Published 24 May 2022
London Food Link: London Food Link brings together community food enterprises and projects that are working to make good food accessible to everyone in London to help create a healthy, sustainable and ethical food system for all.
Support our work
Your donation will help support community food initiatives and enterprises to thrive as part of a more sustainable food system.