Sam Cowan finally puts Sodo Pizza to the test…but what's the verdict?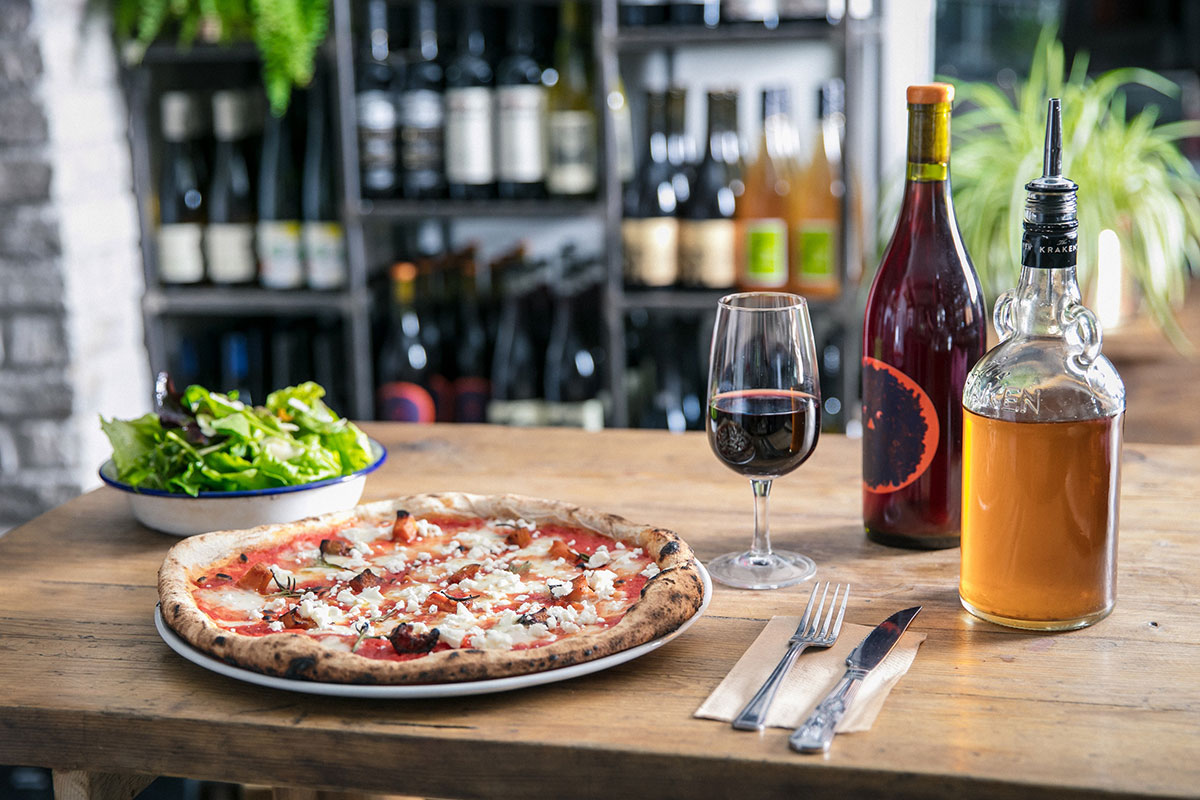 Sodo Pizza
I am chatting to Dan Birch, founder of Sodo Pizza, over a leisurely lunch at the Walthamstow branch of this East London artisan pizza chain. Tucked snugly into a cobbled mews, with painted wooden planters around its entrance supplying the herbs that adorn Sodo's trademark sourdough pizzas.
Sodo prides itself on its fresh, seasonal, and local approach. The vegetables are mainly sourced from organic, urban farms including Growing Communities in East London. Many an ingredient has been struck from a recipe for not meeting Sodo's high ethical and quality standards. Dan explains: 'We used to have this great Italian salami but we had to withdraw it because its ingredients weren't traceable.' Similarly, Sodo now only uses British-made mozzarella cheese: 'Italian mozzarella takes five days to get here on the drive across Europe – so by the time it arrives it's no longer so fresh'.
Our London Food Link Spring Do is at Sodo Pizza in Bethnal Green on 4 June. Anyone interested in good food is on the invite list! Click here to find out more and here to book.
Sodo's signature bases are made from ancient varieties of organic wheat farmed in Wiltshire and Buckinghamshire and then stoneground. The dough is left to slow ferment for 24 to 48 hours. This process creates acids that give sourdough its characteristic vinegary taste and also destroy a protein called gliadin which many wheat-sensitive people react to. As someone who is wheat sensitive, my excitement swells when Dan says: 'Many customers who normally don't eat wheat are fine with our pizzas.'
Feeling both tempted and bold, I order a Lorena pizza, which is topped with tomato sauce, butternut squash, rosemary, mozzarella and locally produced feta made by Neal's Yard Dairy in Covent Garden. While waiting I try the homemade ginger ale. The combination of cardamom, clove, lime, and ginger packs a fiery punch, leaving the roof of my mouth tingling.
The recipe is as old as Sodo itself. Both made their debut in 2011, at a pop-up Dan did at E5 Bakehouse near London Fields in East London. Within a year, Dan was able to give up his day job at Britvic soft drinks and focus on his passion: 'the fresh, immediate and theatrical' aspect of creating pizza from scratch. Eight years on, the chain has four eateries – with branches in Clapton, Hoxton, Walthamstow and Bethnal Green.
After a few minutes' immersion in a 500°C oven, my food arrives. The Lorena pizza is light and tangy and it is accompanied by the gluten-free Winter Goat option, a butterbean stew combined with pizza sauce and toppings. It is hearty and warming with sweet tones from the caramelised onions and oven-baked goat's cheese, along with the crunch of walnuts and piquancy of Nocellara olives.
My portion of stew is so generous that halfway through I concede defeat and ask to take the remains home. I'm told that if I re-use the same takeaway box next time, I'll receive a £1 discount on my bill. Sodo, I will be back!
We'll be dining at Sodo Pizza at our London Food Link Spring Do, join us!
As a zero-waste aiming restaurant, Sodo passes on any misshapen or incorrectly ordered pizzas to food surplus site Too Good To Go (toogoodtogo.co.uk) where they can be purchased for £3-4.

Wannabe pizza chefs can take evening classes at Sodo Bethnal Green to learn the art of sourdough making. Go to www.sodopizza.co.uk/store/classes to book.
Published 14 May 2019
London Food Link: London Food Link brings together community food enterprises and projects that are working to make good food accessible to everyone in London to help create a healthy, sustainable and ethical food system for all.
Support our work
Your donation will help support community food initiatives and enterprises to thrive as part of a more sustainable food system.