Farah Ebrahem started Toastiewala in 2018, serving cheese toasties fused with Indian flavours at London markets and taking the leap to make her own bread on 2020. Here she shares her story as part of Real Bread Week (20-28 February).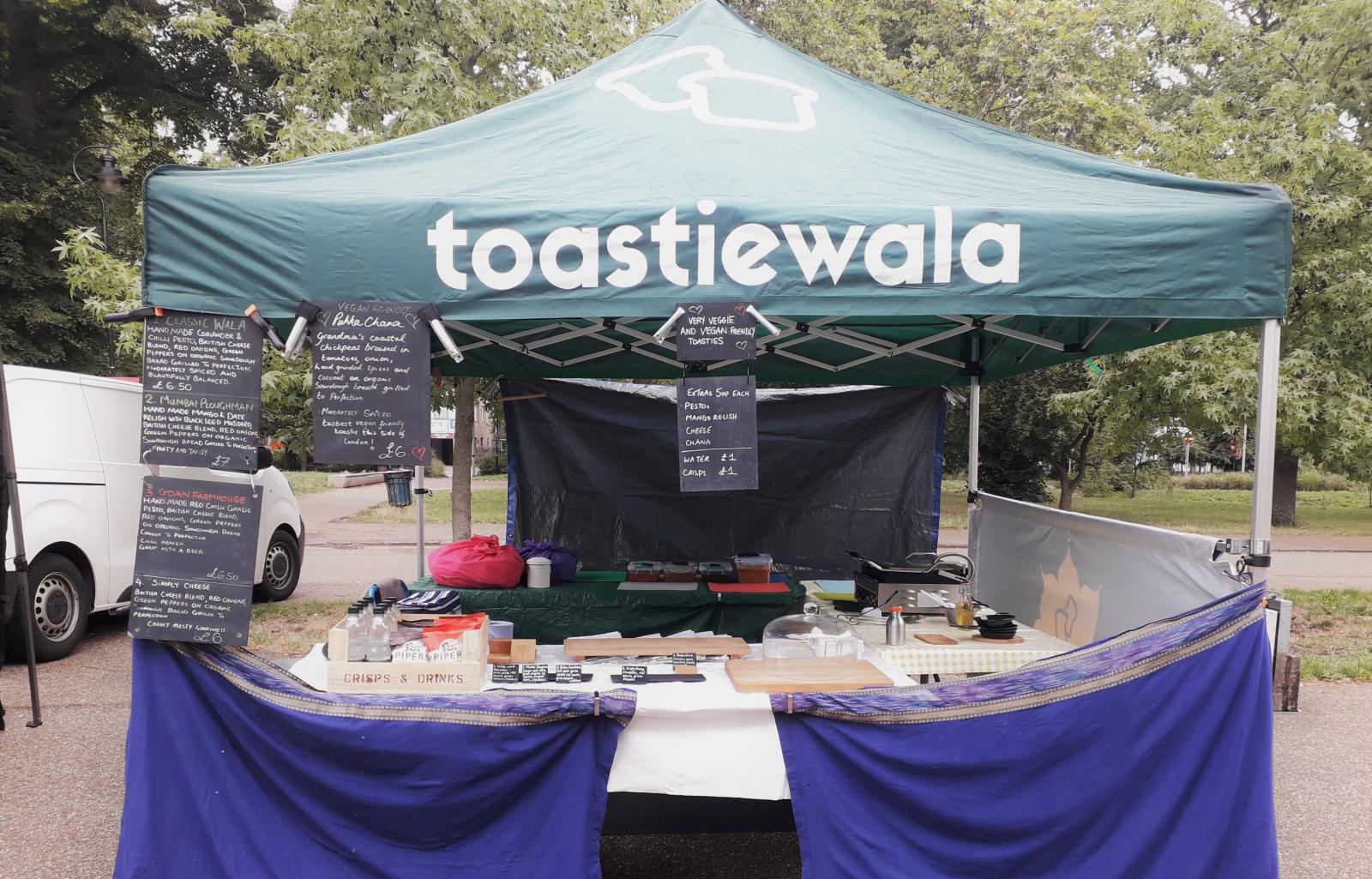 Toastiewala's market stall, taken by Farah Ebrahem
I was inspired to start Toastiewala by my travels over the last two decades in the south western Indian state of Maharashtra, where my family is from originally. I've always been impressed by the street food vendors there, particularly the sandwich walas (a trader and specialist in their field of work) of Mumbai. They serve toasted sandwiches filled with cheese, vegetables, butter and coriander chutney, and I felt the flavours would be popular in London markets.
Pursuing my dream
Uninspired by my surroundings, in 2016 I decided to quit my job, never to return to an office. The following year I began working for a trader at Borough Market, where I got drawn into market life and learnt so much about what it takes to be a good food entrepreneur. I remember a moment on the stall that winter when it was minus five degrees; I was very cold but so content and I knew it was time to pursue my dream of running my own street food enterprise. I launched Toastiewala at Stroud Green Farmers' Market in summer 2018 and shortly after also started trading at Tottenham Green Farmers' Market and Alexandra Palace Farmers' Market.
Baking for the wow factor
I have a refined palate and from the start I've believed it's worth making the effort to source high-quality ingredients for my vegetarian and vegan artisan toasties. Using the best British produce, with a touch of imported spice, I handcraft a range of Indian-style cheese and plant-based filings, coriander and chilli pestos and fruity relishes in my mother's kitchen. I make everything fresh by hand, right down to grinding the spices. I do buy the cheese from small-batch producers in Sussex and Dorset, but if I had a farm I'm sure that I would even make that myself!
I started making my own Real Bread for the business in 2020. Before that, I'd been buying it in but had not found exactly what I was searching for. Because my condiments are decadent, I wanted bread that would absorb their rich flavours to create a melt in the mouth toastie. Even though there was good bread on offer, I was searching for the wow factor that would keep bringing people back for more. I also want my customers to have direct contact with the producer as I feel that's what farmers' markets are about. As well as being able to sample what's on offer, my customers have an opportunity to ask questions and learn where their food comes from, directly from the producer.
Find out about Real Bread Week: 20-28 February 2021
In 2019 I took a couple of baking classes and was amazed at how therapeutic bread making actually is. Keen to know more, I started a work placement at the Better Health Bakery, where I discovered my passion for making large batches of sourdough loaves. Every part of the production was fascinating and I found my happiness, inner peace and enjoyment through baking bread. I was making delicious loaves at home nearly every day and knew that I wanted to start baking the bread for Toastiewala. At the end of my placement I went to Italy to learn focaccia under expert tuition, then during lockdown I took the plunge and began making sourdough focaccia for my toasties.
I think what excites people about eating my toasties is that everything has been crafted by hand, from the bread and the ingredients for the fillings to the condiments. I'm always working to improve and in 2021 I hope to complete a bakery placement in Denmark, if the lockdown is over.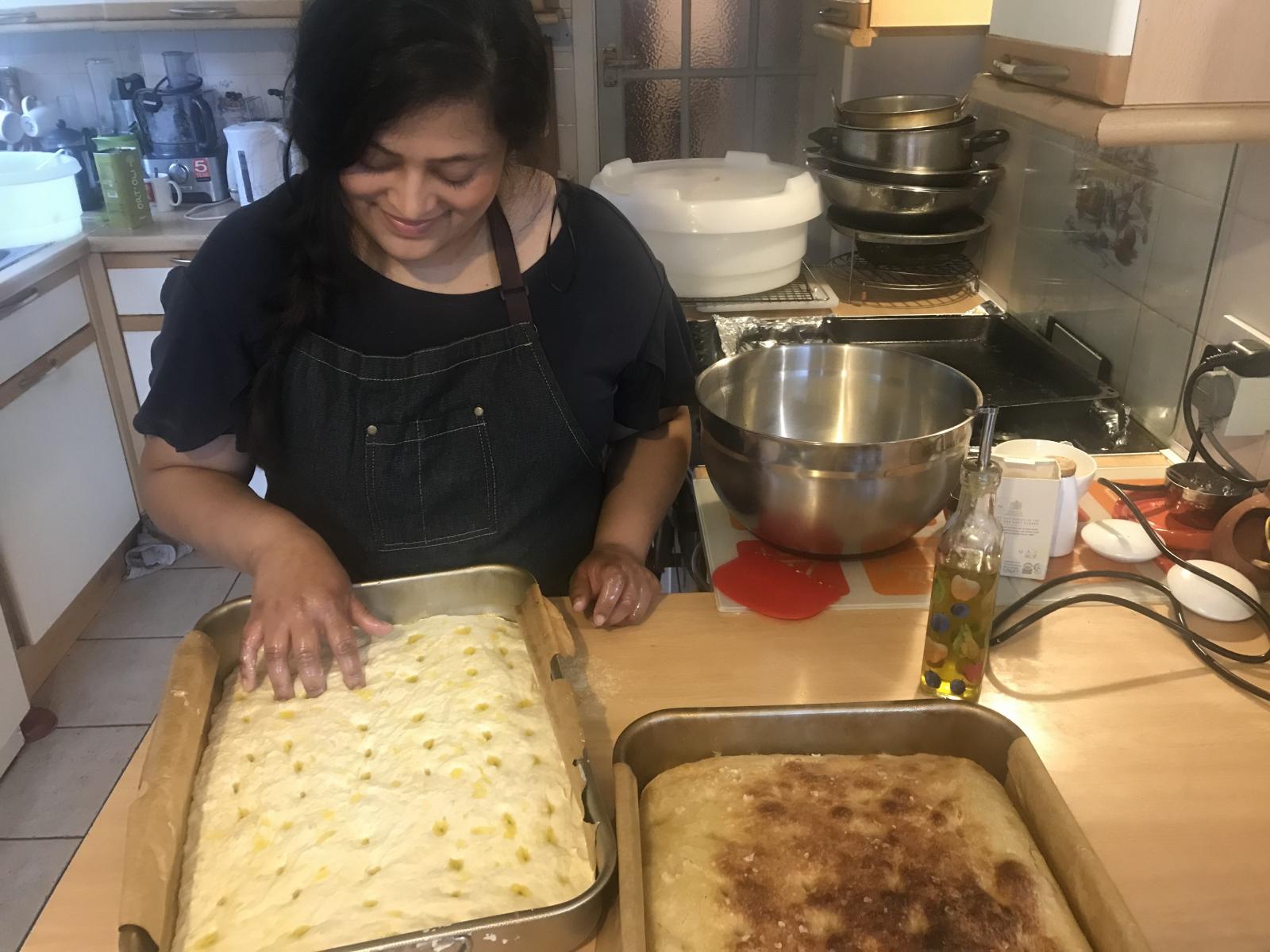 Farah making sourdough focaccia for Toastiewala toasties.
Finding support to thrive
Keeping up momentum of the business during the pandemic has been challenging but the highlights of my work are always far greater. I am surrounded by a very good network of people who support me so much I'm always full of gratitude, and I'm building a business that I love. I'm grateful to my family for their support, knowledge and guidance in helping me build my business; to the design team who worked tirelessly on bringing the Toastiewala brand to life; and to my close-knit circle of friends and former colleagues in the food business who've supported my ambitions.
A big thank you goes to my teacher in Italy who taught me how to make sourdough focaccia; colleagues at Better Health Bakery and Companions Real Bread who have helped me on my baking journey; and all the market operators who gave me the opportunity to trade at their markets.
I advise anyone who wants to set up their own food enterprise to keep honing your craft and become the best at it. Surround yourself with positive people who believe in you. Do your research, whether that involves wider reading, attending courses, or getting work experience and it will pay off. Never lose hope - in this lifetime achieving your goals and aspirations is possible.
One day I'd love to open my own bakery and coffee shop. For now, my focus is on continuing growing the business at farmers' markets, where Toastiewala thrives on the community spirit and vibe that trading there brings, even in bad weather!
Check out more from the Real Bread Campaign
Published 17 Feb 2021
London Food Link: London Food Link brings together community food enterprises and projects that are working to make good food accessible to everyone in London to help create a healthy, sustainable and ethical food system for all.
Support our work
Your donation will help support community food initiatives and enterprises to thrive as part of a more sustainable food system.