This warming winter pie and mash is a perfect recipe for your autumnul veg boxes or to make the most of the seasonal lot from your local farmer's market.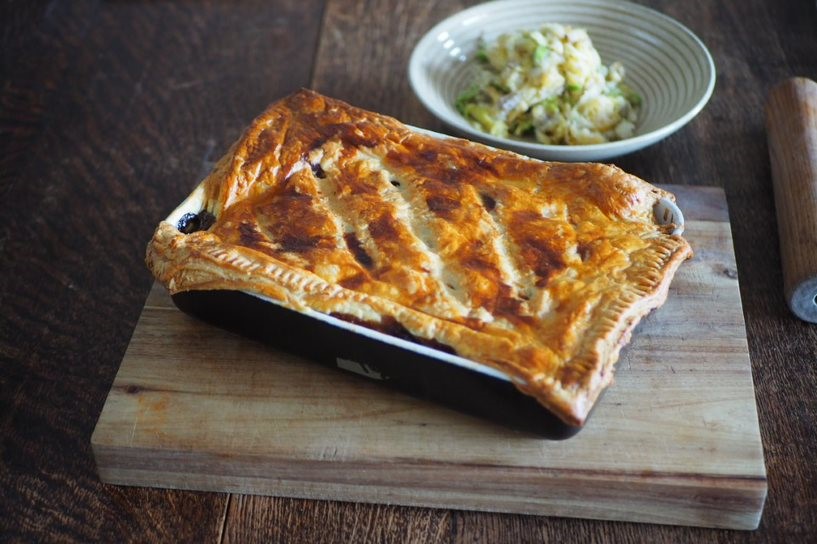 Better Food Traders
This recipe will help you make good use of a swede, a common feature in the British seasonal veg calendar that is often a little tricky to know how to use.
It's inspired by the veg found in the latest veg boxes from the Better Food Traders. The Better Food Traders are offering a genuine alternative to the current destructive food system. They are committed to an ethical code that pays farmers what they deserve to grow the organic, healthful and sustainable food that we all deserve to eat. Whilst prioritising people and planet over profits.
It's not up to you to fix Britain's currently destructive food system. But if you want to do your part, finding a local Better Food Trader is a great start.
Find your local Better Food Trader and start buying better today
Ingredients
Feeds 4
Cook time: 1 hour
For the pie
1 onion finely chopped
2 celery sticks finely chopped
2 carrots diced
4 cloves of garlic finely chopped/ crushed
750g of chestnut mushrooms (or a mix of what you have). 250 finely sliced. 500g leave chunky (halved or quartered)
6 sprigs of fresh thyme
2 tbsp of cider vinegar
2 tbsp of flour
3 tbsp of Henderson relish (veggie) or half it if using Worcestershire sauce (not veggie)
Heaped tsp of English mustard
2 tsp of marmite
1 vegetable stock cube
440ml Guinness or another stout or dark ale
Jus-rol puff pastry
For the mash
1 swede
A knob of cheddar
Half a cabbage sliced
4 large potatoes
2 spring onions finely chopped
Recipe
Preheat oven at 180.
Heat large casserole dish with some oil and butter and add onion, celery and carrots. Sweat down for 5 minutes.
Add garlic to the mix while it's cooking down for another 5 minutes.
Once your veg is sweated down add the mushrooms to the mix. Season generously with salt and pepper.
Add the thyme, cider vinegar and grate half a teaspoon of nutmeg into the mix, stir and then put the lid on and leave to cook down for another 75 mins on medium heat.
In the meantime, prepare your potatoes and swede so they are chopped at roughly the same size.
Now head back to your casserole dish and add the flour, the Henderson's relish, the mustard, the marmite and mix in. Crumble in the vegetable stock cube. Add the Guinness and a bay leaf.
Bring to a simmer for 20 minutes stirring occasionally.
Grease your pie dish. Line your dish with the first sheet of pastry.
After 20 mins your mixture should have reduced down to a thicker gravy. Take of the hob and if you have time, let your mixture cool.
Add your mixture to your pastry lined baking dish. NB - Before you poor your mixture into your lined pastry dish, make sure to retrieve your thyme sprigs.
Put your remaining pastry over the top of the pie mixture. Lightly cover your pastry in a wash to help it go golden brown. You can make this out of egg, milk or dairy free milk.
Add your pie into the pre heated oven and bake for 20 minutes.
Meanwhile, add your potatoes and swede to boiling water and rolling boil for 15 minutes or until tender.
Whilst the potato/ swede mix is boiling, in a frying pan with butter soften the cabbage with some garlic - this will probably take around 5-10 minutes.
Finally poor your potatoes and swede into a colander and allow to steam dry for 5 minutes.
Add the potato and swede into the pot they were boiled in. Add a knob of butter and splash of milk if you like, season well and mash. Add you cabbage mix to the potatoes with spring onions and a handful of cheddar and mix through.
Serve together for the perfect winter pie.
Join London Food Link and be in a chance of winning a prize from our festive giveaway!
Published 20 Dec 2021
London Food Link: London Food Link brings together community food enterprises and projects that are working to make good food accessible to everyone in London to help create a healthy, sustainable and ethical food system for all.
Support our work
Your donation will help support community food initiatives and enterprises to thrive as part of a more sustainable food system.