Urban Farming Toolkit: A guide to growing to sell in the city
The Urban Farming Toolkit is a practical guide to help prospective growers establish and run a successful growing site that generates an income.
Contents
1. Find and secure a suitable growing site
What is a viable site?
Find a potential site
2. Creating the garden
Planning the layout
Buying tools
Chapter 2: Action summary
3. Establish growing methods
Plan your rotation
Plan your growing year
Sowing seeds
Planting out
Harvesting
Dealing with pests and diseases
Chapter 3: Action Summary
4. Find your market
Secure your market
Create a label
Packing your produce
Chapter 4: Action Summary
5. Creating the business
Making the numbers work
Choosing a business model
Creating policies
Good record keeping
Chapter 5: Action Summary
6. Engaging the community
Trainees
Running volunteer days
Teaching and outreach
Chapter 6: Action Summary
Case studies
Springfield Park
Hackney Tree Nursery
Clissold Park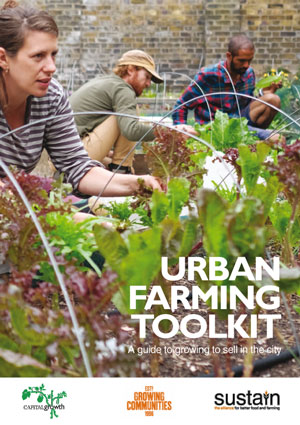 Urban Farming Toolkit: A guide to growing to sell in the city
34pp - 2017 | 4173Kb
Published 24 Nov 2017
Capital Growth: We believe everyone should have the opportunity to grow food as part of a healthy, resilient food system and we are working with our network of growers in London to make this happen.