Good Food for London 2014
How London Boroughs can help secure a healthy and sustainable food future
The Good Food for London 2014 report provides a league table of local authorities' support for key good food initiatives, such as community food growing, paying the London Living Wage, running the UNICEF UK Baby Friendly Initiative, high quality school food, helping local food outlets serve healthier food, involvement in a local food partnership and buying ethical food in schools and local authority canteens - including Fairtrade products, cage-free eggs and sustainable fish.
The report illustrates London-wide progress across a range of good food initiatives. In many London boroughs, school-children are now receiving fresher, tastier and more sustainable food, and tens of thousands of local residents have better access to green space for growing food. Borough support for farmers and local businesses has also improved, and there is an impressive number of London boroughs working with local food outlets to help them make their food healthier.
The 2014 league table is topped by Islington, who continue to demonstrate strong leadership to improve food in the borough. Leadership on several key food issues is also demonstrated by Tower Hamlets, Greenwich, Lewisham, Camden, Merton, Enfield, Kensington & Chelsea and Lambeth.
The maps presented in the report challenge other boroughs to follow their good example and take part in the well-established food schemes for which there is good evidence of benefits, to help create a healthier and more sustainable food system, and to contribute towards implementation of the London Food Strategy.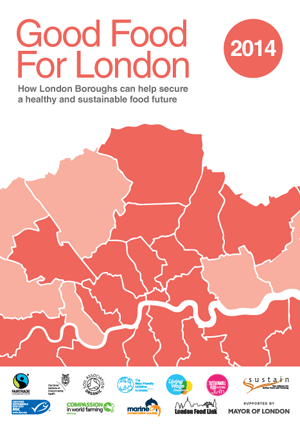 Good Food for London 2014
978-1-903060-61-2 - 44pp - 2014 | 4008Kb
Published 16 Oct 2014
London Food Link: London Food Link brings together community food enterprises and projects that are working to make good food accessible to everyone in London to help create a healthy, sustainable and ethical food system for all.