Food Power: Final evaluation report
Food Power was a four-year programme led by Sustain and Church Action on Poverty, funded by the National Lottery Community Fund (NLCF). It aimed to strengthen local communities' ability to reduce food poverty through solutions developed locally with the support of their peers from across the UK, and a focus on tackling root causes. The approach centred on local alliances, giving voice to those experiencing food poverty, influencing practice on the ground and levering in additional resources.
This report presents findings of evaluation of the final year of Food Power, presenting insights from a survey of alliances and interviews with case study representatives. It also looks back over the whole programme to provide a picture of progress and cumulative impact of Food Power's activity.
Executive summary Crynodeb gweithredol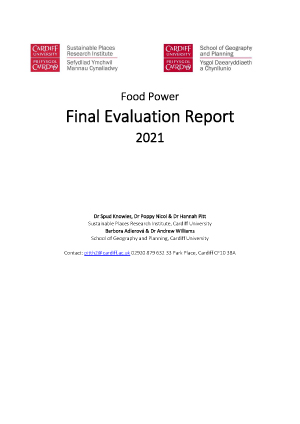 Food Power: Final evaluation report
2021 | 1019Kb
Published 2 Oct 2021
Food Poverty: Millions of people in the UK struggle to get enough to eat. We're working to change that through people-powered projects and campaigns that tackle the root causes of food poverty and ensure everyone has dignified access to healthy, affordable food.