1.5 million food parcels distributed as need continues to soar
New figures released by the Trussell Trust reveal that 1.5 million emergency food parcels were provided between April and September 2023 by food banks in the charity's UK-wide network. This is the most parcels that the network has ever distributed at this point in the year and represents a 16% increase from the same period in 2022.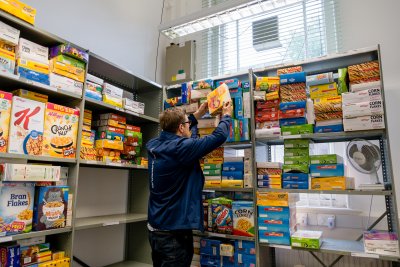 A food bank worker (Trussell Trust) organises cereal food stores & donations. Copyright: HASPhotos | shutterstock
Low incomes, especially from social security, debt, health conditions and issues with social security payments such as delays or sanctions were the main reasons people were left with no option but to turn to a food bank for help.
The region with the highest number of parcels distributed was London (213,382), followed by the North West (172,830), West Midlands (132,361) and Scotland (128,490).
A record 540,000 food parcels were provided for more than 265,000 children living in families who could not afford the essentials. This is an 11% increase compared to the same period last year, reflecting the continuing rise in need for the support provided by food banks.
The new data also revealed that 65% of all the parcels provided by Trussell Trust food banks between April and September this year were for families with children.
Furthermore, the charity has reported that an alarming 320,000 people have needed to use a food bank for the first time in the past six months, warning that food banks are at 'breaking point' as more and more people in communities across the UK find themselves unable afford the essentials.
The Trussell Trust believes that the situation is unlikely to change in the coming months with this stark new data leading them to forecast that food banks in their network will distribute more than a million emergency food parcels between December 2023 and February 2024 – the equivalent of providing a parcel every eight seconds this winter.
Isabel Rice, London Food Poverty Campaign Coordinator said:
These shocking figures demostrate that levels of food insecurity in the UK are continuing to climb, with more people being pushed into poverty. These statistics are just the tip of the iceberg as thousands more are accessing independent food aid providers, or are struggling but not accessing any support. This is the reality of the cost-of-living crisis for so many households. We are supporting Trussell Trust's call for benefits to cover people's living costs, which must include dignified access to food that meets nutritional needs and cultural preferences, as well as advocating for local authorities to step up on policy and practice to tackle root causes of food poverty at a local level."
The Trussell Trust is encouraging people to show their support for people facing hardship by signing a petition urging UK political party leaders to support the introduction of an Essentials Guarantee to ensure that the basic rate of Universal Credit at least covers life's essentials, such as food and bills. Find out more
Support our work
Your donation will help communities identify ways to alleviate food poverty and increase access to healthy food.