Edible Cities - A report of visits to urban agriculture projects in the USA
This is a report of a visit to urban food growing projects in the United States by a group of four people from different organisations based in London. It was organised by Sustain's London Food Link officer, Ben Reynolds, and funded by the US Embassy, who had previously brought Will Allen to London to talk about his project, Growing Power, in the USA.
The group visited an inspiring range of projects in Milwaukee, Chicago and New York and noted a number of similarities to and differences from urban agriculture initiatives in London, including:
A commercial element to many of the US projects, which is much less common in the UK;
A more liberal situation in the US than in the UK to encourage composting, but less willingness than in the UK to include animals in some urban agriculture projects;
Different approaches to fencing and public access to projects, which varied within the US, depending on context;
Imaginative and productive ways of growing without access to subsoil, either in raised beds on hard surfaces or, in one case, in hydroponics on a barge;
Inspiring use of an holistic and sustainable approach to fish farming in an urban area which produces marketable quantities of tilapia.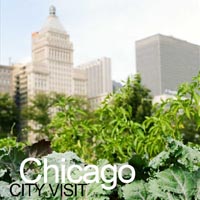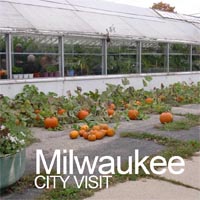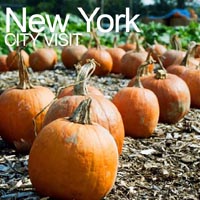 The trip stimulated a number of ideas for how to promote more food growing in more cities. These include:
Using the many possibilities of urban tree planting to promote traditional varieties of fruit and nuts;
Untapping the potential of both Royal Parks and other parks to accommodate some food growing in their grounds;
Exploring under-utilised spaces such as derelict council property, private gardens and social housing to grow food;
Making use of the abundant buildings in urban areas to grow food on rooftops, up walls and in window boxes;
Building on the food growing expertise that already exists in a multicultural community, as well as providing education and training for new growers.
The aim of the visit and report was to mark the next stage in the development of urban agriculture, an issue we believe is set to rise up the policy agenda in an age of climate change and increasing concern about the sustainability, healthiness and security of our food supply.
Five years later,in 2013, a review of progress in London - involving the visit's participants and many others - shows remarkable progress in London on community food growing, including the very successful Capital Growth initiative (which includes work with the Royal Parks, which also participated in this visit) and the spread of this approach to other cities through the work of such initiatives as the Federation of City Farms and Community Gardens and The Big Dig. Thank you to our hosts in America for their remarkable work and inspiration!
---
Report contents
Summary
1. Introduction
Why grow food in cities?
Background to the visit to the US cities
2. City visits
Milwaukee
Growing Power Community Food Center
Maple Tree Community Garden
Walnut Way
Riverwest food co-op
Chicago
Growing Power
Grant Park – Urban Agriculture Potager
Chicago Avenue Community Garden Partnership
Garfield Park Conservatory Alliance
Homegrown Chicago
Jackson Park
Kendall College
Chicago's Youth Program
Growing Home
Angelic Organics
Chicago Food Policy Advisory Council
New York
Added Value – Red Hook Farm
East New York Farms – United Community Gardens
NY Sunworks: The Science Barge
3. What we learned
Public and private funding and access
Laws – animals and composting
Fencing
Growing on concrete
Aquaculture
4. Opportunities for growing more food in more cities
Tree planting
Royal Parks
Allotments
Under-utilised spaces
Parks
Derelict council facilities
Private gardens
Social housing
Alternative growing spaces – roof gardens, beehives and mushrooms
Commercial growing
Existing expertise
Appendix 1 The UK Delegation
Appendix 2 Links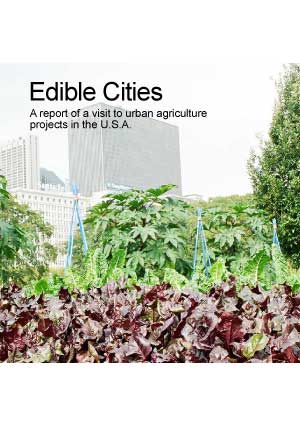 Edible Cities - A report of visits to urban agriculture projects in the USA
ISBN: 978-1-903060-48-3 50pp - 2008 | 2446Kb
Published 31 Mar 2008
London Food Link: London Food Link brings together community food enterprises and projects that are working to make good food accessible to everyone in London to help create a healthy, sustainable and ethical food system for all.