Council toolkit: Councils and food growing
Useful information, links and signposting to help councils support food growing initiatives.
What's inside?
Where to start: 3 quick actions
Choosing your next steps: Approaches to consider
Seeking good practice: What other Councils are doing
Do your homework: useful strategy documents
Outside of London/National
Useful resources and websites
Free advice and support: join our food growing networks!
Schools
Social Prescribing
Practical Support & Signposting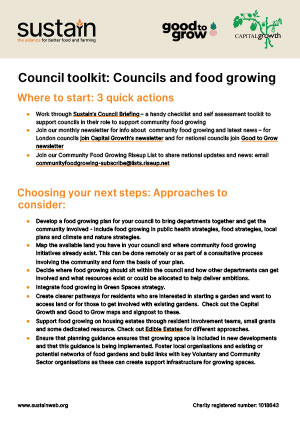 Council toolkit: Councils and food growing
2021 | 232Kb
Published 15 Dec 2021
Capital Growth: We believe everyone should have the opportunity to grow food as part of a healthy, resilient food system and we are working with our network of growers in London to make this happen.