Reports • Sustainable Farming Campaign
How Community Supported Agriculture and small-scale farming can help address the health, food justice and environmental objectives of the National Food Strategy
Sustain, the Community Supported Agriculture (CSA) Network and Landworkers' Alliance have published this briefing to highlight the role that CSAs and small-scale farms can play in delivering objectives and recommendations in the National Food Strategy.
It is critical that the White Paper team, responsible for drafting the white paper response to the NFS, see the important role these farming types can play in our food and farming system in the UK. We need a fairer, greener and more resilient approach to food and farming, and supporting these farms is a fantastic place to start.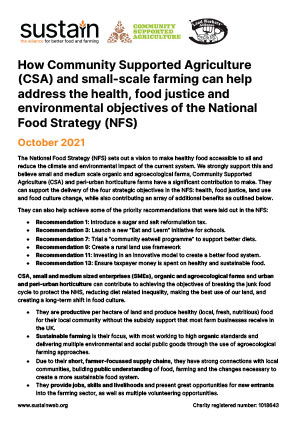 How Community Supported Agriculture and small-scale farming can help address the health, food justice and environmental objectives of the National Food Strategy
2021 | 121Kb
Published 15 Oct 2021
Sustainable Farming Campaign: Sustain encourages integration of sustainable food and farming into local, regional and national government policies.