The beetroot lends the white crumb striking burgundy accents.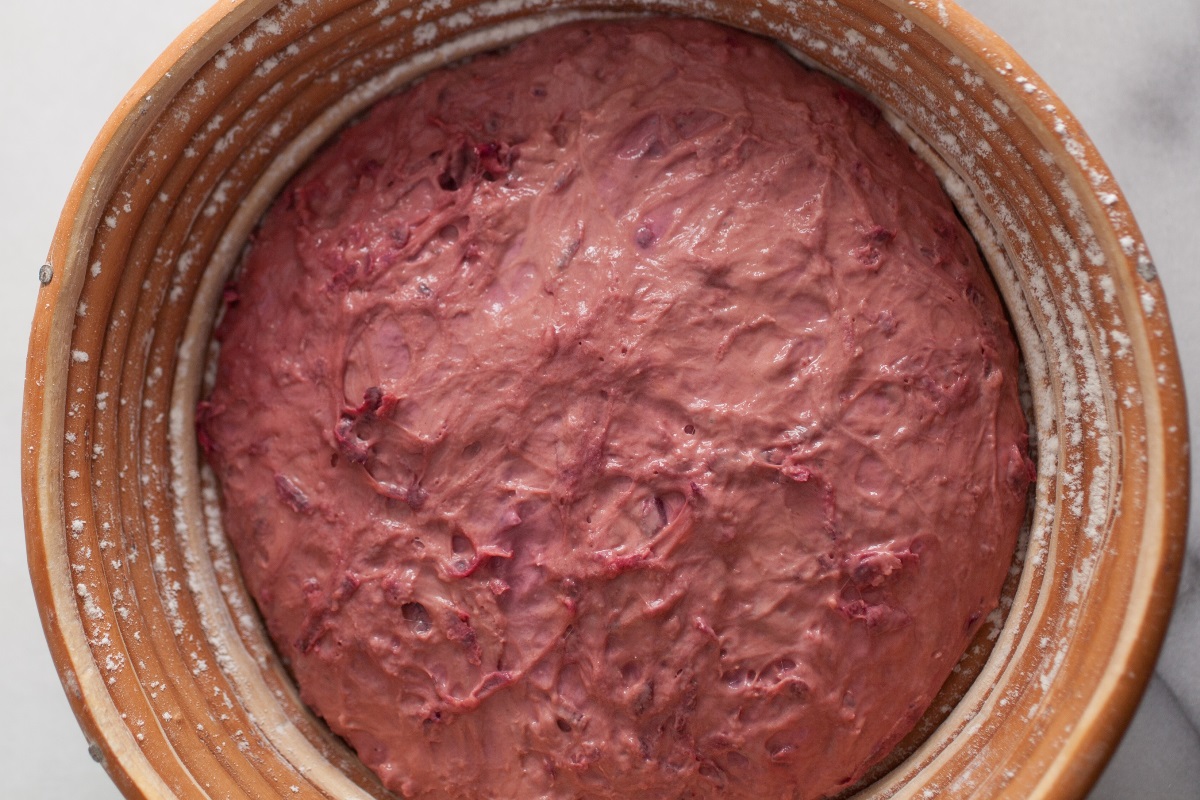 Photo © Victoria Harley
Laura says that this loaf has "earthy flavours that are perfect with goat's cheese and mackerel."
Ingredients
Makes 2 small loaves
430g/15¼oz White bread flour
100g/3½oz White sourdough starter
8g/1½ tsp Fine salt
250g/9oz Water
330g/11½oz Peeled and grated raw beetroot
Method
1. Mix the flour, sourdough starter, salt and most of the water together thoroughly. If the dough is too stiff, add more of the water. Knead the dough until smooth and stretchy, then cover and leave to rest for 10 minutes.
2. Flatten the dough out to form a rectangle. Scatter the beetroot over it and knead in until distributed evenly. The dough will be very soft and sticky. Shape into a ball, cover and leave to rest for 30 minutes.
3. Give the dough a single fold (see page 17) and rest for a further 30 minutes, then fold and rest for 30 minutes twice more.
4. Dust two 500g/1lb proving baskets with flour. Divide the dough into two equal-size pieces and shape to fit the baskets. Place the dough in the baskets seam-side up, cover and leave to prove in the refrigerator for 12 hours / overnight.
5. Heat the oven to 250°C/230°C fan/480°F/gas 9+, or as high as your oven will go, with a baking stone or baking sheet in place. Turn one piece of dough out of its basket onto a floured peel and slash the top, then slide it onto the stone. Bake for 20 minutes, or 25 if you prefer a slightly darker crust. Repeat with the remaining piece of dough.
Baker's tip
A simple variation would be to replace the beetroot/beet with grated carrot or parsnip, which will give an orange or creamy fleck to the crumb, depending on the vegetable used.
About the baker
Laura Bullock and Matina Mitchell met at The School of Artisan Food, where they decided to set up their own bakery. Experience at a market in Sheffield during their course convinced them that there was the demand for a Real Bread bakery in the city. They launched Seven Hills Bakery in November 2011 and the team quickly grew from three to ten people in its first 18 months.
---
Taken from Slow Dough: Real Bread by Chris Young, published by Nourish Books. Hardback, £20.
Reproduction prohibited without written agreement of the copyright holder.
Published 23 Sep 2020
Real Bread Campaign: The Real Bread Campaign finds and shares ways to make bread better for us, better for our communities and better for the planet. Whether your interest is local food, community-focussed small enterprises, honest labelling, therapeutic baking, or simply tasty toast, everyone is invited to become a Campaign supporter.
Support our charity
Your donation will help support the spread of baking skills and access to real bread.