A celebratory Real Bread with a twist.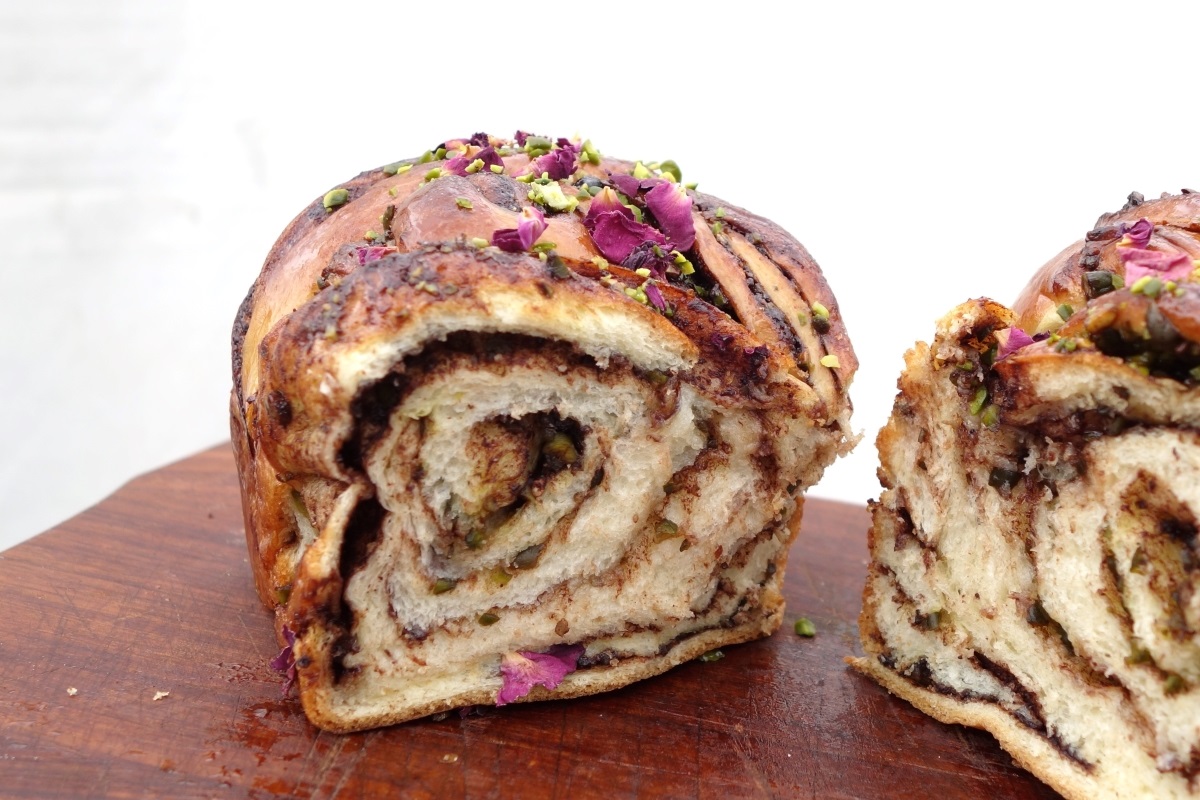 Photo: Chris Young / realbreadcampaign.org CC-BY-SA 4.0
As with many foods, the full and precise history of babka appears to have been lost. It does, however, seem to have originated sometime in the nineteenth century somewhere in eastern Europe. The addition of chocolate may have begun after Jewish bakers took babka making to the USA.
Kosher versions of babka are based on a dairy-free challah dough. This version, made with a buttery brioche dough, is one taught in Two Magpies Bakery classes, as demonstrated by founder and co-owner Rebecca Bishop on the Theatre of Food stage at Latitude festival in 2021.
Ingredients
Makes 1 small loaf
Dough
200g Strong white bread flour
80g Whole egg, beaten*
30g Cold water
20g Caster sugar
12g Fresh yeast (or 6g active dry yeast)
5g Salt
50g Unsalted butter, firm and cut into 1cm cubes
*Two eggs will typically weigh 100g or more, so use remainder for the egg wash.
Filling
40g Butter
20g Icing sugar
10 Cocoa powder
½ tsp Cardamom seeds, powdered
1 tbsp Caster sugar
40g Chopped pistachio nuts
To finish
60g Sugar
40g Water
1 tbsp Rose water
Dried rose petals
Chopped pistachio nuts
Method
Mix together the beaten egg, sugar , yeast, water and salt. Add in the flour and work to develop the gluten until you have moderate gluten development - check that you can stretch the dough until its thin enough to see the light through. You might find it easier to do this in stages, covering the dough in between and letting time do some of the gluten development for you. Cover the dough and leave in the fridge overnight to allow the gluten and flavour to develop further.
Divide the butter cubes into four portions, working each portion into the dough until it's fully incorporated before adding the next portion.
Meanwhile, mix together the chocolate filling ingredients (except the pistachios) to a smooth paste. Make the rose syrup by warming the sugar in the water together in a pan until dissolved, leave to cool and then add the rose water.
Lightly dust a work surface and rolling pin with flour and roll the dough out to form a rectangle as wide as the long side of a small (500g / 1lb) loaf tin and approximately 40cm long.
Spread the chocolate filling over the dough and sprinkle with the caster sugar and chopped pistachio nuts. Roll the dough up from a short side and then cut in half lengthways using a knife or dough scraper.
Turn the two strands of dough cut-side up and plait them over each other from end to end. Grease the tin and line with greased baking parchment.
Place the plaited dough in the tin, cover (eg with beeswax wrap, a shower cap or something else you re-use) and leave at room temperature to prove until it rises to the top of the tin. This should take around two hours, depending on the ambient/room temperature.
Heat oven to 165-170°C. Brush the top of the dough with beaten egg and bake for around 35 minutes, checking half way through and covering loosely with foil if it is browning too quickly. Ideally make sure the loaf is done using a temperature probe to check it has reached 97°C internally.
Remove from tin and place on wire rack to cool. Brush with rose syrup and sprinkle with rose petals and pistachio nuts.
Baker's tips
The dough can be shaped without any additions and baked as plain brioche.
The cardamom can be replaced with cinnamon powder, if you prefer, and you can use different nuts – or leave them out.
You can refrigerate the filled and plaited dough in its tin, then take it out to prove and bake a day or two later.
Recipe text © Two Magpies Bakery
Reproduction prohibited without written permission of the copyright holder.
---
Social sharing
If you make this, please share your photo(s) with the world on social media using #RealBread and other relevant hashtags, linking back to this recipe. Better still if we can see you in the photo, too: #WeAreRealBread!
Please don't forget to tag us, and the recipe's author. You can find us on:
Published 28 Jul 2021
Real Bread Campaign: The Real Bread Campaign finds and shares ways to make bread better for us, better for our communities and better for the planet. Whether your interest is local food, community-focussed small enterprises, honest labelling, therapeutic baking, or simply tasty toast, everyone is invited to become a Campaign supporter.
Support our charity
Your donation will help support the spread of baking skills and access to real bread.