Cinnamon buns by the The Orange Bakery co-founder.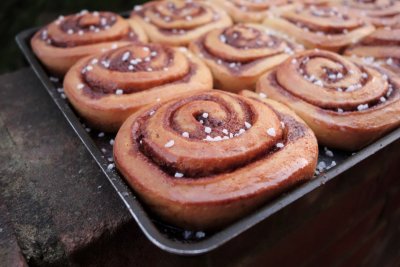 Cinnamon buns. Credit: Chris Young / www.realbreadcampaign.org CC-BY-SA-4.0
Past Real Bread Campaign ambassador Kitty began baking with her dad, Alex, when she was just 14. Less than a year later, their Real Bread microbakery opened its doors on the high street of Watlington, Oxfordshire. These spiced, enriched buns - inspired by those found across the Nordic countries - are amongst their most popular products.
Ingredients
Makes around 24
Dough
500g Plain flour
500g Strong white bread flour
200g Butter
80g Caster sugar
14g Dried yeast
14g Salt
2tsp Cardamom powder*
440ml Whole milk
2 Eggs
*or take the black seeds from the pods and crush until you have that much
Cinnamon butter
250g Butter, softened
250g Caster sugar
2tbs or more Cinnamon powder, to taste ("We like it to get quite dark brown.")
Method
Make the dough by rubbing the butter into the flour or use a mixer. Add in the rest of the dry ingredients and mix together, followed by the eggs and milk. Mix up using a dough hook or knead together by hand for a few minutes.
Cover the dough and leave to rise at room temperature for about an hour until doubled in size (though it won't rise as much as a plain dough) and then gently deflate to get rid of any large gas pockets – you want an even textured crumb.
Mix the cinnamon and butter using a mixer or a fork to make a smooth paste.
Roll out the dough to roughly 5-7mm thick. Spread the cinnamon butter over two thirds of the dough. Flip the unbuttered third over onto the buttered section and then fold the final third onto the first so you have a triple decker sandwich.
Roll the dough out again into a long rectangle about 5-7mm thick and cut across into even-sized strips. We suggest 24 but you can cut more if you want smaller buns, or fewer if you want larger ones.
After that it's up to you what you do. You can just roll each strip up like a snail, make into twists, knots or… Have a look on YouTube or Instagram for inspiration and to see how to make your favourite shapes.
Place the pieces on a greased baking tray (or line it with baking paper) cover and leave to rise again for about half an hour. Heat the oven to 180°C.
Bake for 15-20 minutes – with all that butter and sugar you need to watch they don't burn on top or underneath.
Glaze the buns with a simple mixture of milk and sugar warmed up in a pan, and then sprinkle some icing sugar or pearled sugar over the top.
---
Recipe text © Kitty Tait / The Orange Bakery
Reproduction prohibited without written permission of the copyright holder.
---
Social sharing
If you make this, please share your photo(s) with the world on social media using #RealBread and other relevant hashtags, linking back to this recipe. Better still if we can see you in the photo, too: #WeAreRealBread!
Please don't forget to tag us, and the recipe's author. You can find us on:
Published 31 Jul 2019
Real Bread Campaign: The Real Bread Campaign finds and shares ways to make bread better for us, better for our communities and better for the planet. Whether your interest is local food, community-focussed small enterprises, honest labelling, therapeutic baking, or simply tasty toast, everyone is invited to become a Campaign supporter.
Support our charity
Your donation will help support the spread of baking skills and access to real bread.