Spiced bread, layered with sugar and currants.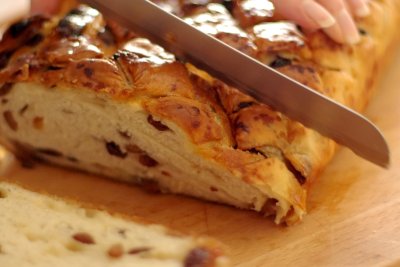 Lardy cake. Credit: Dave Morris CC-BY-NC-SA-2.0
Very much an occasional indulgence, rather than an everyday bread. This version is from Anna Cairns, who says: "As the dough bakes in the oven, the sugar and lard drip down to create a sticky pool at the bottom of the pan that hardens when cool. Modern, shop-bought lardies usually bear little resemblance to the traditional ones: too thin, pale and lamentably lacking that toffee crackling."
"I have named my recipe after the bakery in the Wiltshire village of Wroughton that inspired so much of my own baking. Preddy's lardy cakes were renowned far and wide: US and Canadian servicemen, stationed in the village during World War II, would even come to buy a few to take home. Mrs. Preddy's daughter, Wendy, kindly invited me in one day to listen to a BBC radio programme in which her mother described how to make lardy cake. I have experimented and come up with my own version."
Ingredients
Makes two medium lardy cakes
30g fresh yeast
1 teaspoon caster sugar
310-320ml just-warm water (approx.)
500g strong flour
5g salt
220g lard
240g currants
300g granulated sugar
6 teaspoons mixed spice
6 teaspoons caster sugar and extra lard for preparing the tins
You will also need two, deep cake tins and a rolling pin. A stand mixer makes the process easier, if you have one.
Method
Mix the yeast with a teaspoon of caster sugar until runny, then add the just-warm water and stir. Leave for about four minutes for it to react: you'll notice a 'bloom' or bubbles on the surface.*
Put the flour and salt in the bowl of the stand mixer (if using), pour in the yeast mixture and mix for a few minutes until it's mostly come together. Stop the mixer and check whether or not it needs more water. If it's looking a little dry, add a small amount of water. Add any extra water very gradually, mixing between additions to see if you have added sufficient to bring it together. Once you've got a good consistency, knead using the dough hook on the stand mixer for five minutes at medium speed, or by hand, until the dough is smooth and elastic.
Cover the bowl with a clean tea towel and leave in a warm place for about one hour until the dough has doubled in size. Once risen, knock the dough back (press the air out of it) and knead for a further five minutes by hand.
Divide the dough into two equal parts. On a lightly-floured surface, stretch and roll each piece into a rectangle about 1cm thick. It won't be a precise shape as the elastic dough will want to spring back once stretched, so don't worry.
You will be dividing the ingredients for the filling (lard, currants, granulated sugar, mixed spice) by six. You may wish to do this precisely beforehand, or just divide the quantity of each ingredient by two (110g lard, 120g currants, 150g granulated sugar, 3 teaspoons mixed spice) ready for each cake.
Aim to spread approximately 35g of lard over about two thirds of each rectangle of dough, leaving the bottom third naked. Sprinkle about 50g granulated sugar, 40g currants and 1 teaspoon mixed spice over the larded two-thirds of each rectangle.
Fold the bottom (naked) third up over the filled section so that it covers half of it. Then bring the top third down to cover the section you have just folded up. Tuck in the edges to secure the filling and then roll the dough out again until it's a rectangle about 1cm thick again. Repeat the filling and folding process, then roll out again before filling and folding for a third time. Using the pin, roll each cake into a circle about the size of the cake tin. Don't worry if it's not precise.
Prepare each tin by greasing it fairly liberally with lard and sprinkling three teaspoons of caster sugar over the base, aiming to coat it evenly. Place a cake, smoothest side down, into each prepared tin and press the dough until it fits, aiming for an even depth throughout.
Score a diamond pattern on the top of each cake using a knife. Cover with a clean tea towel and leave in a warm place for about 20-30 minutes until risen - the exact time will depend on the temperature of your room.
Preheat the oven to 200°C (fan) and then bake the cakes for about an hour, turning the oven down to 170°C (fan) halfway through. Turn the cakes out onto a wire rack placed over a baking tray to catch the drips. If there's any sugary lard remaining in the tins, drizzle it over the cakes. The tops should set hard, with a toffee-like crust.
*Unless you are concerned that the yeast has died, leaving it to check for signs of activity isn't necessary. [ed.]
Baker's Tip
Slices of lardy cake are preferably eaten fresh and still warm. If left to cool, the cakes can be warmed through before serving.
About the baker
Originally from Wiltshire, Anna Cairns is a London-based home baker and writer, who enjoys researching and writing about food and food history on her website Anna Harri Bakes.
Anna has published a history of Preddy's Bakehouse of Wroughton on her website, where you can also find photos of each stage of the recipe.
---
Recipe text © Anna Cairns. Reproduction prohibited without written permission of the copyright holder.
---
Social sharing
If you make this, please share your photo(s) with the world on social media using #RealBread and other relevant hashtags, linking back to this recipe. Better still if we can see you in the photo, too: #WeAreRealBread!
Please don't forget to tag us, and the recipe's author. You can find us on:
Published 22 Feb 2023
Real Bread Campaign: The Real Bread Campaign finds and shares ways to make bread better for us, better for our communities and better for the planet. Whether your interest is local food, community-focussed small enterprises, honest labelling, therapeutic baking, or simply tasty toast, everyone is invited to become a Campaign supporter.
Support our charity
Your donation will help support the spread of baking skills and access to real bread.