Flatbreads with a South African twist.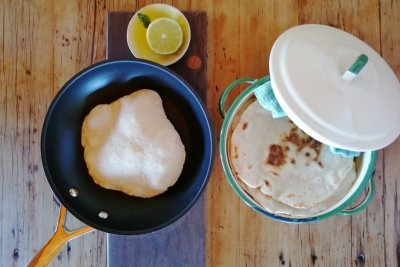 Mielie meal tortilla. Copyright: Annalie Melin
Like so many other people, in 2020 I made my first sourdough starter. I binge-watched sourdough baking videos on YouTube, and I particularly found Sune Trudslev (aka The FoodGeek) tutorials very helpful (and fun!) in terms of the all-important hydration.
Lockdown in South Africa had the added sting of a booze ban, so any precious supplies we had were slowly savoured rather than used in cooking. This caused a bit of a problem for my tortilla suppers, as I had been using a Dan Lepard recipe in which he uses beer, so I began experimenting using sourdough instead.
After fermenting for a few hours, I found the dough to be very light and airy – our warm climate might help. When you roll it out, it is beautifully silky. Instead of the polenta (yellow corn) Dan uses, I found that South Africa's home-grown staple mielie meal (finely-ground white corn) resulted in the perfect puff for our tortillas. My partner always lets out a squeal of excitement when the tortilla puffs out fully.
Ingredients
Makes about 15 x 22cm tortillas
200g white wheat flour (strong/bread or plain/all purpose)
25g wholemeal wheat flour
75g mielie meal (white corn)*
1tsp salt
38g unsalted butter
100g sourdough starter**
120g water (approximately)
*Always read the label - mielie meal tends to be made from GMO corn. As a cheap staple food in South Africa, vitamins are added by law there.
**100% hydration, ie equal weights of flour and water - like this one.
Method
Weigh and mix the flours, mielie meal and salt into a bowl, then rub in the butter. Mix in the sourdough starter and water. Knead for about ten minutes (the dough will feel grainy from the corn), cover and leave to rise until doubled in size and light and airy. This should take about four to five hours at room temperature (22-25°C).
For a 22cm tortilla, divide the dough into balls of about 30 grams each. Roll each out on a floured surface with a rolling pin to form a circle. Heat a pan (I use non-stick) to a high temperature. Flip each tortilla onto the pan and once it begins to bubble and puff (eek!) and take a little colour flip it and cook the other side for about half the time the first side took to puff-up. It might take a minute or two for the first side and maybe about 40 seconds for the second side. Once made, serve the same day as they stale quickly, or you can store them in the freezer.
If you don't use the dough all at once, it will keep for a day or two tightly wrapped in the fridge.
About the baker
Annalie is a Cape Town-based home bread maker and recent sourdough convert. This has fuelled her interest in finding out where flour is produced locally and trying out different stone-ground flours. By day she is a bee biologist.
Published 22 Feb 2022
Real Bread Campaign: The Real Bread Campaign finds and shares ways to make bread better for us, better for our communities and better for the planet. Whether your interest is local food, community-focussed small enterprises, honest labelling, therapeutic baking, or simply tasty toast, everyone is invited to become a Campaign supporter.
Support our charity
Your donation will help support the spread of baking skills and access to real bread.