Seçkin Işik's sourdough
100% wholemeal rye with seeds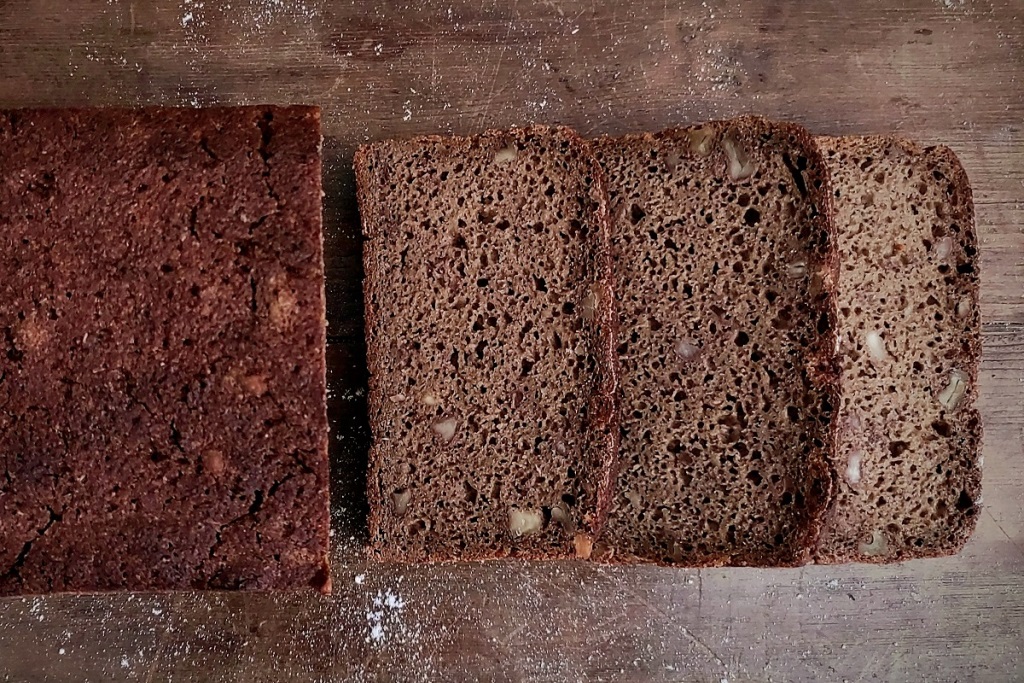 Seçkin runs Torta Artisan Cake Shop & Bakery in Istanbul, Turkey.
Ingredients
Makes 1 large loaf
100g Wholemeal rye sourdough starter (1:1 flour to water)
500g Wholemeal rye flour
425g Water
10g Salt (sea or rock)
25g Sunflower seeds
25g Pumpkin seeds
Method
Mix the refreshed and very active starter with all of the other ingredients. If you have a stand mixer, use the paddle attachment. The dough will be very sticky and don't expect to be able to shape it like wheat dough.
With a dough scraper, put the dough in a greased plastic container and flatten the surface gently. Cover and leave it in the fridge for 12-16 hours to prove.
Use a dough scraper to shape the dough to fit in an oiled large (1kg) bread tin.
Cover with clingfilm and place in a warm place for another 5-6 hours. It should rise to about level with the top of the tin.
Heat the oven to 220°C with a tray of water inside. Spray the dough with water and place it in the oven for 10 minutes, then turn the heat down to 170°C. After 10 minutes, take the water out and continue baking for a further 70 minutes.
Remove the bread from the tin and leave to cool on a wire rack. When cool wrap it loosely, or place in a bread bin, and leave until the next day before eating – 100% rye bread is very sticky when just baked but easier to slice after a day.
---
Recipe © Seçkin Işik / Torta Artisan Cake Shop & Bakery
Reproduction prohibited without written permission of the copyright holder.
---
Social sharing
If you make this, please share your photo(s) with the world on social media using #RealBread and other relevant hashtags, linking back to this recipe. Better still if we can see you in the photo, too: #WeAreRealBread!
Please don't forget to tag us, and the recipe's author. You can find us on:
---
SHARE