You stay classy, San Diego
Noris Velazquez of Sourdough Delight bakery sends a postcard from sunny San Diego, California.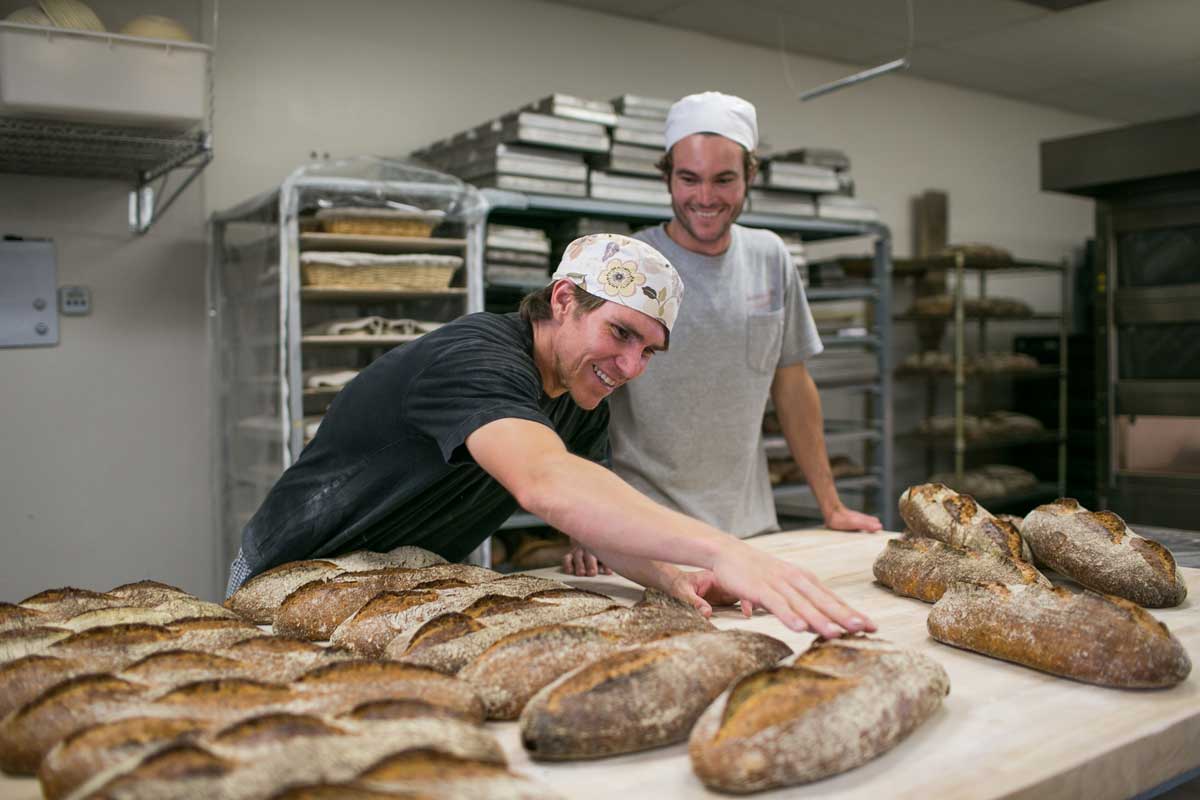 In the US, there seems to exist a love/hate relationship with bread. The United States Department of Agriculture food guide pyramid suggests that grains should compromise the majority of the American diet, so parents are filling their kids' lunch boxes with some type of sandwich and prior to school. We love it so much that we expect restaurants to serve complementary bread prior to placing an order.
With bread being so deeply engrained into our culture, it's hard to imagine America rejecting its beloved loaf, but at the height of the low-carb diet's popularity, one in eleven North American adults claimed to be on one. We've also seen a large gluten-free movement emerge in the last decade, condemning wheat as the culprit for all sorts of health problems. This is despite there being no scientific consensus on how prevalent 'gluten sensitivity' is or even if it exists at all.
So what's the deal?
The corporate bakeries are taken with the industrial loaf. The chemical additives they use are allowed as they are 'Generally Recognized as Safe' by the USDA, though many of us feel that it's additives and agro-chemicals that are the problem. Americans are getting wise to this game. An article from Harvard University stated that studies have shown preliminary evidence that chronic, low-dose exposure to pesticides increases the risk of cognitive impairments and diseases.
Happily, the future looks brighter because a growing number of people are becoming aware of the negative impact this is having on our bread and food in general. Counting chemicals instead of calories has become a better evaluation method of good food. Many more are seeking out the artisans who are crafting more wholesome food and reviving Old World traditions and creating new ones.
My corner of the USA
San Diego is famous for tourist attractions. People line up at SeaWorld to get splashed by Shamu the killer whale, and visit our Gaslamp downtown district, where historic buildings tell tales of the old days when pirates would visit our shores. Though there are some very remarkable restaurants and boutique shops, Real Bread is still hard to find. Only a few bricks and mortar bakeries exist, though new artisan bakers are emerging and can be found at farmers' markets all over the county. Social media is helping these folks share their passion and be found by foodies craving for the real thing.
Thanks for stopping by
Local Real Bread heroes include Clinton and Louie, owner-operators of the eponymous Prager Brothers Artisan Bread in Carlsbad on San Diego county's north coast. What makes their bakery so special is the quality of ingredients and hand-shaped, slowly-fermented breads that are baked to perfection. When I visited, it was heart-warming to see an entire room devoted to their stone mill, where bags of fresh grain lined up to be milled. Clinton shared with me that his real joy came from providing people a wholesome meal. "Pastries are a delicious treat now and then," he said, "but nothing compares to the good feeling one gets from eating whole grain breads."
Their humble beginnings selling at farmers' markets have grown into a successful bakery business that turns out quality and quantity to many satisfied customers, so if visiting San Diego, stop by and enjoy a signature sandwich and a loaf to-go, as I did!
Support
Luckily for the US artisan baker, there are organisations offering to teach baking skills and good business practices. For example, the Bread Bakers Guild of America offers classes, bread formulas, networking, and business operation advice by its members and staff. There is also the Bread Lab based out of Washington State University, where folks are working hard to develop publicly available varieties of grains and other crops that will benefit farmers, processors, and end-users while enhancing access to affordable and nutritious food for all members of our communities.
Looking ahead
Regarding the future of Real Bread in San Diego, Clinton Prager summed it up best by suggesting: "not to go bigger, but to go back to the small individually owned artisan style bakeries." I agree, as the baker can ensure a high standard of quality and keep a direct relationship with their baking process while still taking part in the joy of their customers' satisfied bellies. Once production gets too large, and number crunching begins to dictate decisions, machines end up replacing the human-touch, and the energetic bond is broken.
Let all of us bakers all remember this and take pride and joy in what we do and the contributions we make to society. I applaud all of you for providing artisan-made Real Bread!
---
www.facebook.com/sourdoughdelight
www.pragerbrothers.com
First published in True Loaf magazine issue 32, July 2017
---
SHARE