Windy miller
In late 2010, Chris Young visited Denver Mill in Norfolk.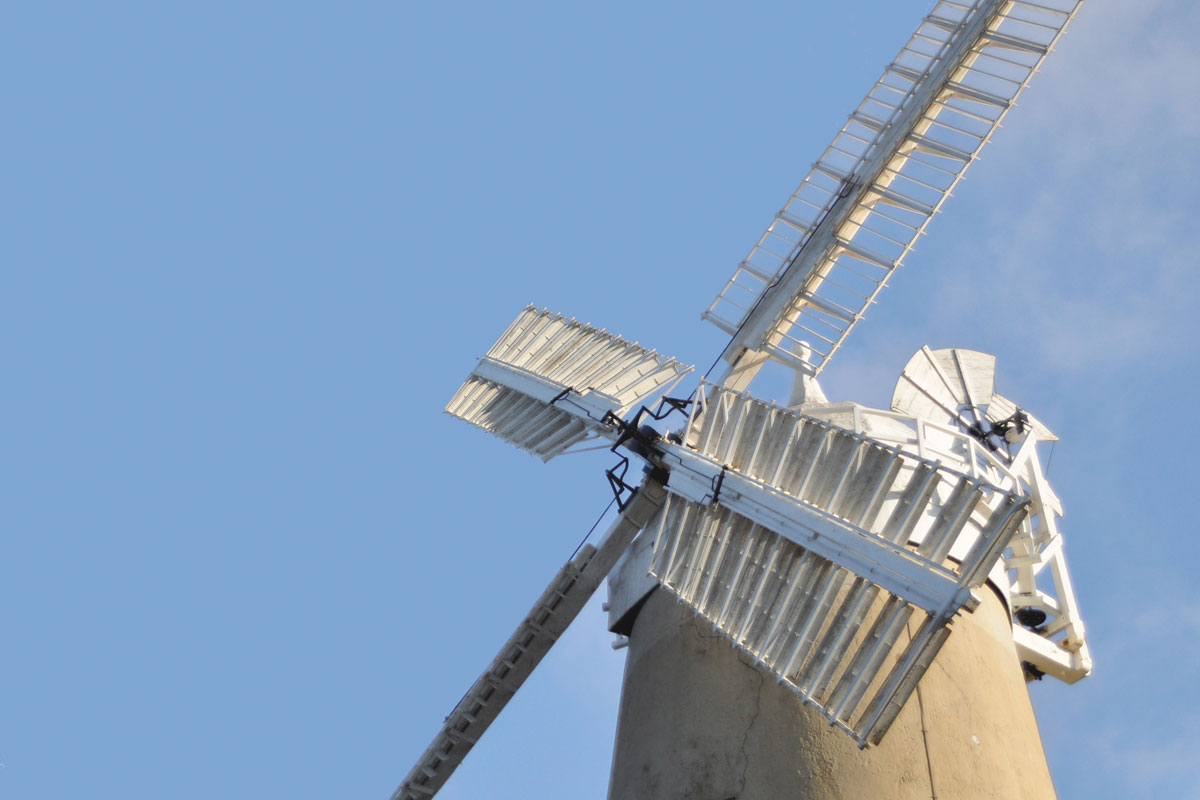 "Do we know which road it's on?" asks Phil, who's kindly offered to drive us to the windmill in the Norfolk village of Denver.
"Erm, it's not really clear on this map," I reply. "I think it's…"
"Will that be it?" Phil interrupts.
I look up. "Yeah, that's probably the one we're after."
Directly ahead of us, the four-sailed mill towers over the surrounding fields, luminous in the winter morning sun against an unseasonably blue sky.
Busman's holiday
On a weekend away, I'd invited my other half and four other friends to join me on a weekend away in Norfolk. The highlight was to be a bread making class at Denver Mill.
The windmill is the last one producing flour in a county that once boasted hundreds. How long there has been a mill on the site is not certain, but the first record of one is a map of 1824. The current mill was built in 1835 and in use until 1941, when one of the sails was struck by lightning. From that point onwards, Thomas Harris, the then miller, continued to produce flour using only the back-up oil-powered mill. Even so, he maintained the workings of the windmill until his death in 1969, commitment for which successive generations owe a debt of gratitude.
Local loaves
Since 2008, the leaseholders and day-to-day guardians of the once-again fully operational windmill have been Mark and Lindsay Abel. My attention first having been caught by their Local Loaves for Lammas event in 2009, the visit is long overdue. Fully entering into the spirit of the Campaign's annual harvest time celebration, they held a community milling and baking day. Local organic farming partner Andrew Charlton arranged his wheat to be delivered by horse and cart for a milling demonstration, the resulting flour being used in a baking class for children, with the village vicar then blessing the bread for a local loaf picnic.
Introductions over, our group is led up through the windmill to the teaching room for a sourdough bread making class using flour made by the mill from locally-grown Magister wheat. Our tutor is the mill's head baker Martin Ager, who, in a previous life, was a food technologist at RHM Foods, the industrial milling, baking and food giant, which now forms part of the even larger behemoth, Premier Foods. In his time there, he worked in the test kitchen, developing recipes for the once-familiar booklets produced by Be-Ro and McDougall's. Later, Martin moved to Mars, where he worked on the biscuit for Twix.
His background drives an admirable desire to underpin the practical skills he teaches with an understanding of what's going on within the dough during mixing, kneading and proving. It's also perhaps the reason that he's happy to (sourdough purists look away now) give the process a boost for the relatively short lesson with baker's yeast and a drop of lemon juice in the water. I try to bite my tongue but feel compelled to point out to the class that neither is necessary.
Mad scientist meets wet hippy
Whilst the dough is rising, we get the choice of a cuppa in the tearoom or Mark's guided tour of the mill. Five storeys up, on the sack floor, Mark admits to the few of us who opted for the climb that in moments of disagreement, he's called Martin a mad, Frankenstinian scientist, who in return sees him as a wet hippy. Mark acknowledges that the benefits of their pooled resources outweigh the occasional tension, and I take his wry smile as admission that the epithet might not be entirely undeserved.
Mark is no Luddite, however. He rails against heritage for heritage's sake, advocating ongoing restoration of the mill to maintain it as a living, working entity, opposing calls for its conservation as a museum for 'smock and oo-arr nostalgia.' 'Millheads, that's what I call 'em,' he says. 'You know the sort, they'll look up and say: "isn't that a rather anachronistic left-handed thread on that…" I mean…' he trails off. But again, he softens and says that their passion and support for the mill is both vital and welcome.
Dispelling myths
Another key ally is the aforementioned farmer Andrew, who grows most of the grain used by the mill. 'I hate saying this but, "you can see the Mill from every field our cereals are grown in,"' says Mark, his self-consciously cheesy emphasis hinting at unease with the way this fact is marketed, before adding: 'but isn't that fantastic?' Andrew shares the Abels' ethos for transparency and understanding in what they are doing. His sowing of trial crops on a totally uncommercial scale in one-hectare plots allows experimentation with different milling processes, and this is turn has allowed both myths and rules of the industries to be dispelled. 'Stone milling is a very different process to roller milling, which is how nearly all the flour in this country is produced. We seem to have embarked on a mission of 're-discovery' and by developing a real understanding of what is actually involved we can bring the past and the present together to create a sustainable future'.
The repair and maintenance of these old mills is a major task and the skilled millwright a very rare breed. When the Broads Authority wanted the iconic Broadland mills to be turning again they discovered that craftsmen would first have to be trained for the job, and five recruits with varying areas of specialised skill commenced a three year course. Included amongst them was Mark and Lindsay's engineer son Paul, who is now working on wind and water mills as far apart as the south coast and Scotch Corner – and of course Denver.
Resourcefulness
The mill also benefits from Mark's resourcefulness. Until recently, spelt grown in fields just three miles from the mill had to be taken on a roundtrip of nearly 100 miles for de-hulling. In the face of the mockery this made of the Abels' local food principles, Mark set about building his own de-hulling mill from pieces of equipment salvaged at scrap prices from nearby farms. A feasibility study by another mill estimated the price of installing a new version at £40,000; Mark's solution cost just £450, 'oh, and about fifty quid for paint.'
As I dab up the crumbs from my late lunch of a 'Denver Doorstep' sausage sandwich in the mill's tea room after the bread making is over, Mark comes by and asks if I have a minute. I nod and he replies 'okay, give me two,' then vanishes outside. A quarter of an hour later he returns and we sit down with Lindsay and Phil for a chat about milling, the universe and everything. Though each time that I check with the rest of my friends, they assure me that they are okay, by their third visit to the gift shop, I know that I must tear myself away. It's only on the way home that Marika, my bread-widow, points out that the 'minute' actually lasted closer to three hours. Oops.
Denver Windmill, shop and B&B are open to the public 364 days a year and holds frequent bread making classes. Visitors can tour the mill, and the shop sells its own flour, bread baked from it and a selection of food and drink from other small producers.
---
Originally published in True Loaf magazine issue 6, January 2011.
Damaged in late 2011, the sails were removed from the mill in January 2012. In June that year, Mark and Lindsey were informed that their lease would not be renewed. At the time of publishing this article online (May 2021) the mill is still out of action but Millstone Tearooms are open on the site.
---
SHARE