Lily McCann set herself a mission of coming as close to an authentic Borodinsky bread as she could in her own kitchen.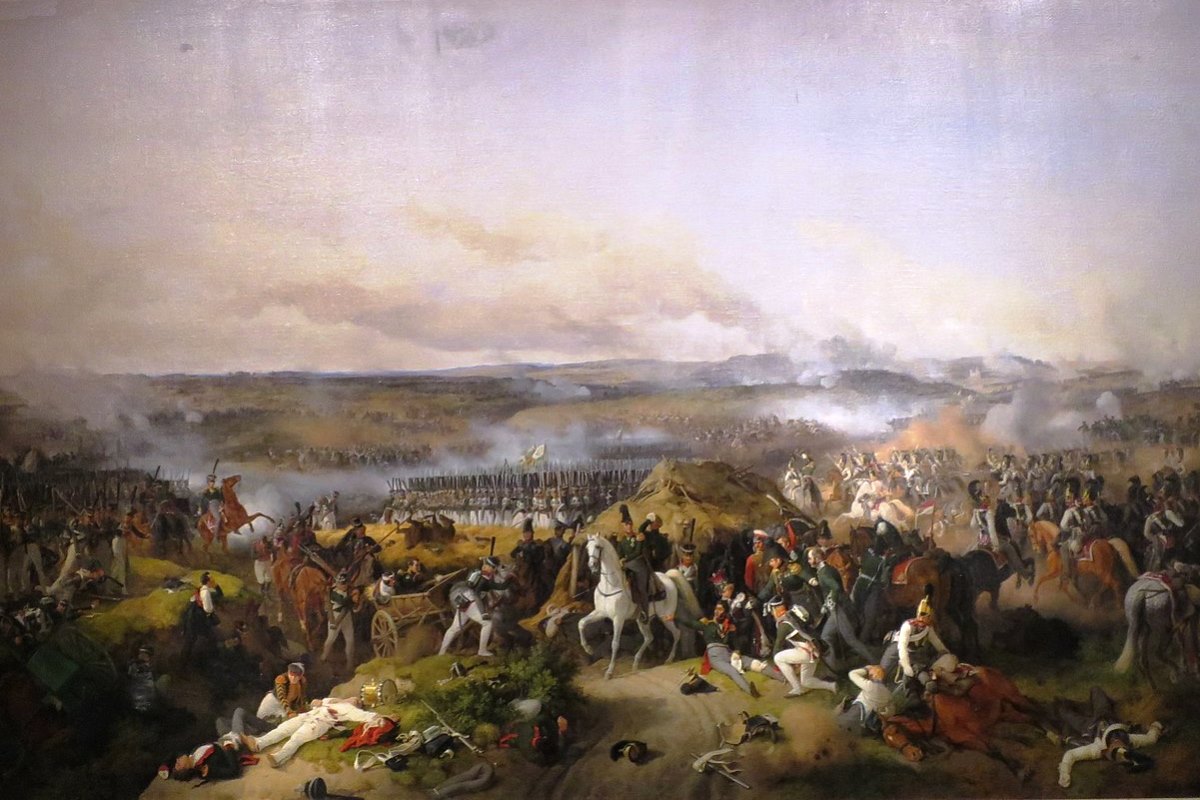 Battle of Borodino by Peter von Hess. Public domain
My first memory of rye bread is from when I was about six years old. My mum brought a rye 'brick' home from her trip to Kiev. It was wrapped in a brown paper bag, and to this day I can still remember the wonderful aroma of caraway and coriander that filled the kitchen the moment I unwrapped it. This was my first taste of probably the most famous Russian sourdough, Borodinsky (Бородинский) bread.
Origins
Borodinsky bread is a type of 'black' bread that is very popular in Russia. There are many legends about where and when this bread came into existence, no-one knows for sure. Some say it's a romantic tale of a nun from Borodino Saviour convent mixing up a dark mourning bread to represent her sorrows for her dead husband. Others tell a patriotic story of a baker from Borodino village, the site of an infamous battle during the 18th century Napoleonic invasion. Whether you believe the legends or not, it does suggest that the original recipe is probably over two hundred years old, though the first evidence I could find of a Borodinsky bread recipe only dates back to 1933.
Soviet statute
Making Borodinsky bread was strictly regulated in Russia by state standard GOST (ГОСТ) 5309-50. This controlled everything from the ingredients and methods of baking to the look and texture of the finished bread.*
From the first glance, the GOST rules don't appear to be that difficult: Use only rye flour (80%), white flour (15%) and red rye malt (5%); add salt, sugar, molasses and coriander, caraway, cumin or anise for flavour. Now it gets a bit more interesting: Mix up the dough using a scalding method and then develop the dough over 48 hours. Now for the best part: The baked bread should be a rectangular loaf shape (not wedge or mushroom shaped...) with rounded corners, with a crust no thicker than 4mm and an even, elastic, non-gummy crumb.
Although GOST 5309-50 was superseded in the 1980s by a more general set of rules for bread (GOST 2077-84), with less strict requirements, many Russian bakers seem to still follow the earlier standard.
Bordinsky
My recipe stays true to the GOST formula as close as possible for a home baker. All you need to succeed is a couple of bowls, a bread tin and a ton of patience. Despite this, it has taken the best part of two years to research and refine this recipe for home baking. I have discovered some new ingredients and tricks along the way. Dark rye (as opposed to white rye) flour give the bread a really complex rustic flavour, roasted barley malt is a great way of getting the super-rich colour the bread is famous for. When making the scald, you'll kill most or all of the yeasts and bacteria in the flour, so keep some back to add after it has cooled. You'll also use more coriander than you think you'll need, a great big whack of it, the bread can take it, and so can you!
This recipe makes a dark bread with a crumb sturdy enough to use as a base for open sandwiches, but also soft enough to have as toast with some crumbly cheddar. It's full of warm spice and sweetness from the molasses, with a rustic touch of dark rye.
---
http://messybaker.blogspot.co.uk/
@messy_baker
*In a similar way to the European protected names scheme, which includes Protected Designation of Origin (PDO), Protected Geographical Indication (PGI) and Traditional Speciality Guaranteed (TSG). [ed.]
---
Originally published in True Loaf magazine issue 34, January 2018
Published 28 Sep 2020
Real Bread Campaign: The Real Bread Campaign finds and shares ways to make bread better for us, better for our communities and better for the planet. Whether your interest is local food, community-focussed small enterprises, honest labelling, therapeutic baking, or simply tasty toast, everyone is invited to become a Campaign supporter.
Support our charity
Your donation will help support the spread of baking skills and access to real bread.