Jennifer Farnell on making sourdough at high altitude in the Canadian Rocky Mountains.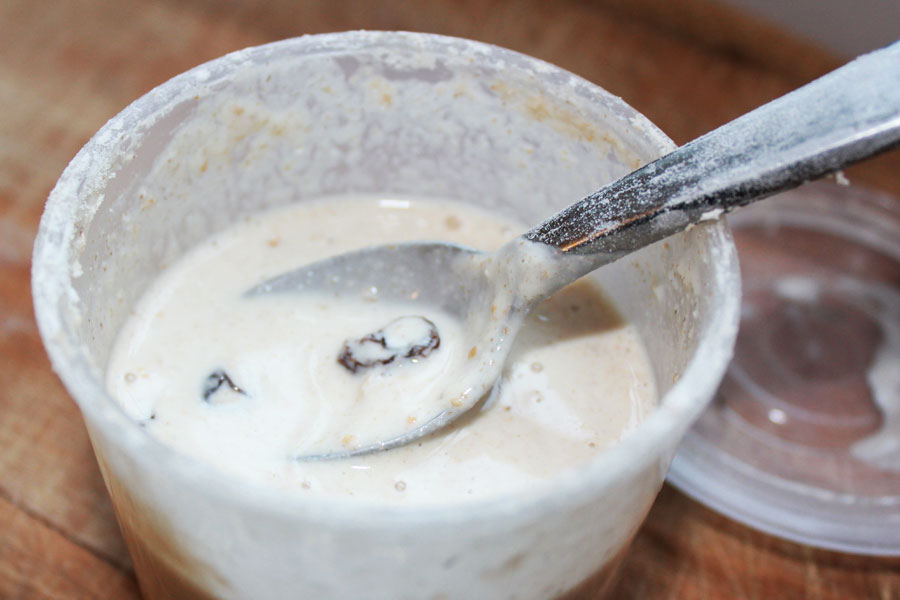 Photo © Jennifer Farnell
In the UK we take for granted our temperate weather and mild humidity. My bookcase heaves with reliable volumes written for the bakers of Britain, a land where no adjustments are needed, except perhaps a little tweaking in extreme weather. Life is different at high altitude. The air is thinner, and there is a lack of humidity and oxygen. A mountainous elevation tends to go hand in hand with a dry climate - adding its own complications.
High and dry
While the dry air at high elevation is busy chapping your lips, it's also sucking the moisture out of your starter, rendering it weak and lifeless. Flour requires more liquid, and more of it will evaporate in the oven. The dry air also causes bread to become hard and stale overnight.
Additionally, low air pressure causes dough to rise much faster than at sea level. While this sounds like a convenient time saver, a fast rise risks over-proving and collapsing, and inadequate fermentation time. It's not surprising that many traditional mountain peoples the world over are known for their flatbreads.
A starter is born
Given the growing number of artisan bakeries in the Canadian Rockies, and the fact that elevation certainly never stopped anyone in the French Alps from making Real Bread, I decided it was time to experiment.
Initially, I wasn't convinced that there was much to baking at high altitude, and that my recipes would only require minor tinkering. Six days into a new starter, however, and still there were no signs of life. Every evening I was adding flour, and every morning it had formed a dry crust on the top. No bubbles, no sour smell.
So I decided to make a few changes to wake my new friend up. I kept a wet piece of kitchen roll between the top and the lid, and added organic raisins and plain yogurt to the pot - something I wouldn't do back in the UK. My theory was that if there were fewer yeasts and bacteria living in the air, then I needed to bump up those available to the starter.
Three days later, I finally saw life! It was nothing like as aggressive as what I'm used to, but some bubbles, a pleasant sour aroma, and a bit of activity in the night. After a few days of consistent rising and falling, I decided to attempt loaves of plain white sourdough.
Rockies road to loaf
With my first loaf, I was prepared for it to rise quicker due to the altitude, but was surprised to find that it actually took much longer. My sluggish starter was struggling to do its work - I waited eighteen hours before it was finally ready to put in the oven. The outcome was incredibly chewy and delicious, with a slightly different tang to my London loaves. However, it was a little drier than I would like, and was rock(y) hard the following day.
For the second loaf, I added an extra 10% water, which the dry Canadian flour willingly soaked up. I then adopted a two-pronged approach to steam generation: not only did I put a pan of water in the oven while it heated up, I also topped it up with extra boiling water when the loaf went in. These tactics improved the texture of the loaf, and it stayed fresh into its second day.
Bread storage at high altitude is a problem even the supermarkets can't solve. The shops are filled with Chorleywood-style loaves in strange dotted mesh plastic - aiming to keep the bread moist, but not gummy. Paper bags are useless when there's little moisture in the air to keep bread soft, and plastic softens the crust almost immediately. My solution to this conundrum was to bake small, and bake often. No need to worry about storage of bread when it's in your tummy!
My high rise life
By the end of my holiday, I had proven that it is possible to bake great bread at altitude. By experimenting with fermentation and bake time, temperature and hydration - as well as putting extra effort into building my starter - I was able to start turning out consistently good loaves. After distributing fresh bagels amongst the neighbours on my final day, even they were convinced that high altitude baking was worth giving a go!
---
Jennifer Farnell blogs at www.reciplace.co.uk
Originally published in True Loaf magazine issue 7, April 2011.
Published 30 Sep 2019
Real Bread Campaign: The Real Bread Campaign finds and shares ways to make bread better for us, better for our communities and better for the planet. Whether your interest is local food, community-focussed small enterprises, honest labelling, therapeutic baking, or simply tasty toast, everyone is invited to become a Campaign supporter.
Support our charity
Your donation will help support the spread of baking skills and access to real bread.