Bread Houses Network founder Dr. Nadezhda Savova-Grigorova on changing the world, crumb by crumb.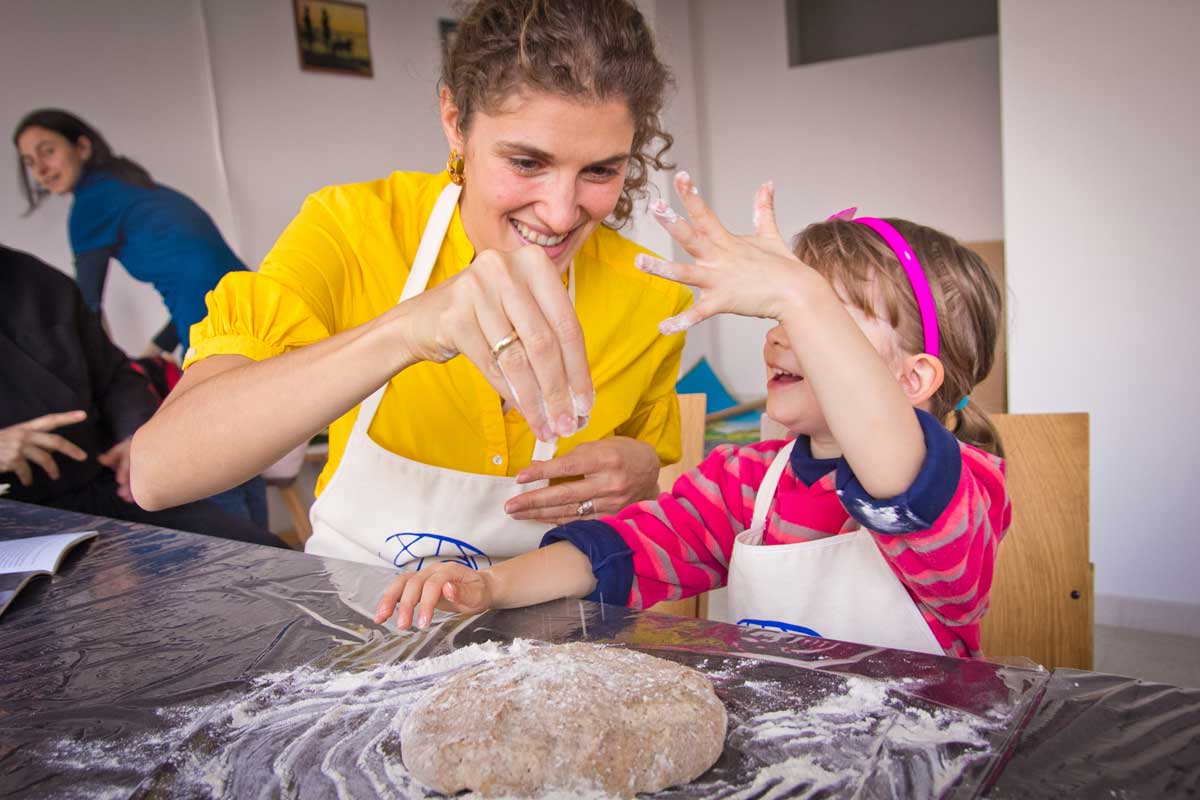 Nadezhda baking © Nadezhda Savova-Grigorova
It feels as if the idea for The Bread House Community Center had been baking in my heart since childhood, but it truly took shape one misty, Bethlehem morning in 2008. Stepping in the Church of the Nativity of Christ, I discovered that the name Bethlehem means 'bread house' and, as a beam of light poured down from a window, God lit a bulb inside me. I saw a warm house with a round table, on which different people – like the Muslims, Jews, and Christians I had seen feuding by The Bethlehem Wall earlier in the day – were all breaking bread together.
At the time I was doing my doctoral research in Cultural Anthropology at Princeton University on community arts as a tool for social transformation in Latin America and Eastern Europe. I had also founded the not-for-profit International Council for Cultural Centers, connecting community arts centers in more than 50 countries on six continents. I started experimenting with creative bread-making as perhaps the easiest way to help even hostile people see each other as all made of the same dough.
Network building
In 2009 I travelled from Peru to Japan, South Korea to South Africa, testing, improving and proving my Bread Therapy methods across cultures. My research and community work in more than 70 countries was also the reason why, in 2012, National Geographic listed me as Traveler of the Year for kneading peace and fellowship across cultures.
Gradually, the Bread Houses Network was born, connecting more than 100 people and organisations in more than 20 countries on six continents applying our methods. Our Bread Therapy platform provides training to people interested in turning the practice into their profession. To connect them, we also created the Bakers Without Borders platform. We later released an educational game of the same name, which can be shipped around the world to Crumbassadors – people who want to spread crumbs of peace in their communities.
Rising from the rubble
The opportunity to create the first bricks-and-mortar Bread House came unexpectedly in 2009, when the rooftop of my late great grandmother's house in the small Bulgarian town of Gabrovo collapsed! It was a very cold November and we had to decide whether to rebuild or tear the building down and start again. I sensed this was divine invitation directing me to roll up my sleeves and build something new.
Through word of mouth, people learned that that we were creating a community space and started volunteering to help. Even the wood-fired oven was built as a gift by an old master builder, who serendipitously passed by and wondered why we were rebuilding a house in sub-zero temperatures. On 27 December 2009, we opened the doors of our first Bread House in just the Christmas spirit that Bethlehem brings to us. It became a hearth of kindness for all people, isolated and broken, happy and giving - anybody who wanted to touch another person's hand and heart!
Getting social
The fact that the words company and companion come from the Latin cum panis (with bread, meaning to share bread with others) inspired me to open a social bakery, which would also function as a community centre.
When my husband Stefan and I got married in May 2014, we asked that guests who wanted to bring gifts to make donations to the project instead. We ended up collecting around 3500 Euros, which we invested in renting a sunny place by Geo Milev park in Sofia and buying a second-hand electric oven. We opened our social bakery with the dream of rekindling a sense of community and empathy in the area. The first bakers were Stefan and his brother, while I sold their bread. At least one evening a week we would have a free community bread-making event on two large tables.
We named the bakery NadEzhko, meaning HedgeHope, after our mascot, a good-hearted hedgehog baker who hops over any hedge of difficulty with hope and a smile! We have published a series of children's books that I have written and illustrated about HedgeHope's travels, 'changebaking' (doing good through bread making) around the world. The bakery currently produces over 50 bread and pastry items, employs more than 10 people at a time, and has helped train and empower many people from disadvantaged backgrounds to head off to other jobs.
Baking beyond borders
Beyond Sofia and Gabrovo, we have also helped create seven more Bread Houses around Bulgaria, in the cities of Zlataritza, Stara Zagora, Svilengrad, and Varna, and the villages of Bistritza, Lobosh, and Chiprovtzi. There are various Bread House programmes, run by passionate people with big hearts and hands full of crumbs, across Bulgaria and around the world.
The first Bread House Social Bakery outside Bulgaria is in Ventspils, Latvia. It is run by a local NGO employing people with Down's syndrome. The model offers an innovative mix of an organic bakery with interactive bakehouse and community centre, where people from all walks of life, some of whom are from socially excluded backgrounds or have disabilities, make, bake and break bread together. Flour mills of all sizes can also become community centres through our Mills Without Borders initiative.
We would be happy to hear from any bakeries interested in organising community building events, or applying our Bread Therapy methods, to bring joy and empathy through bread making.
@breadhousesnetwork
---
Bread Therapy training and Bakers Without Borders discount
Originally published in True Loaf magazine issue 48, October 2021
Published 18 Oct 2021
Real Bread Campaign: The Real Bread Campaign finds and shares ways to make bread better for us, better for our communities and better for the planet. Whether your interest is local food, community-focussed small enterprises, honest labelling, therapeutic baking, or simply tasty toast, everyone is invited to become a Campaign supporter.
Support our charity
Your donation will help support the spread of baking skills and access to real bread.