The story of bread in Mexico is not one of those romantic tales of baking traditions passed down through generations, says Trisha Telep.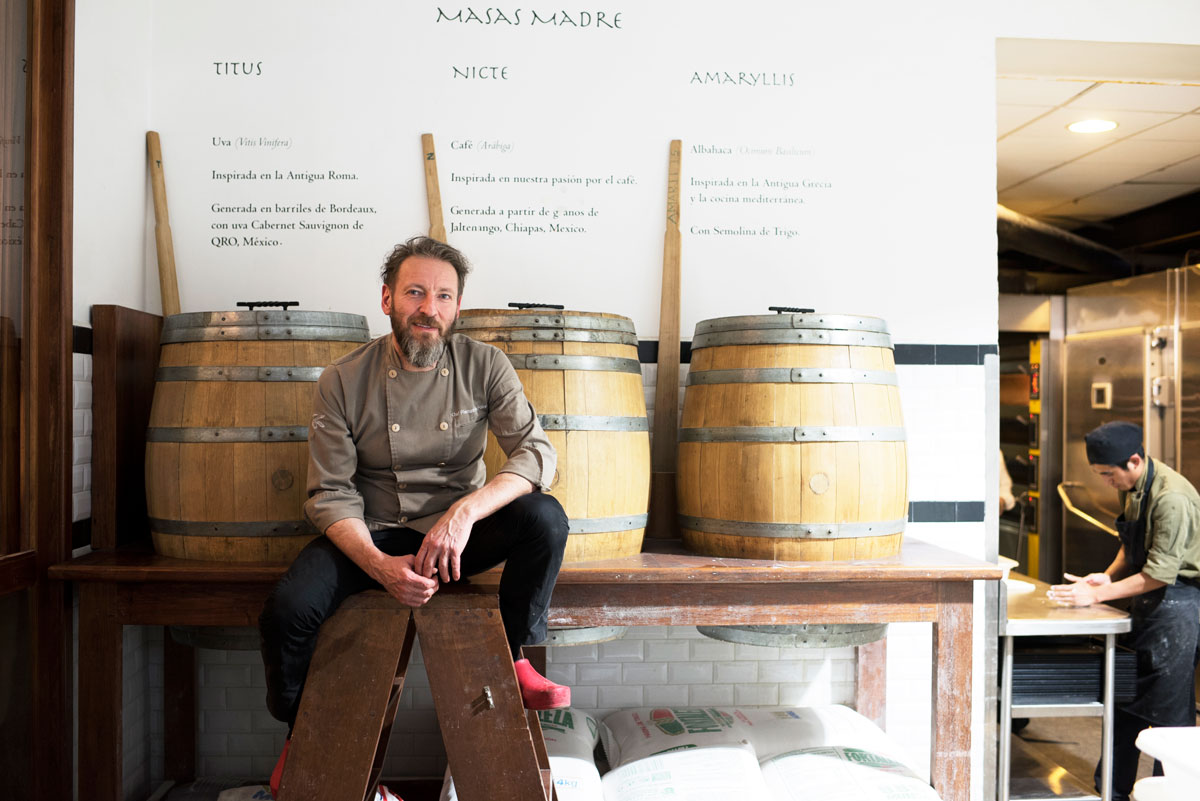 Pierantonio Falorio © Massimo Perna Fotografia www.massimoperna.com
The cornerstone of food culture in Mexico has always been maize, which it is generally agreed originated in the country. For millennia, it has been planted and ground at home. Maize tortillas are still cooked in many domestic kitchens. Because pan, wheat bread, arrived in Mexico with Spanish conquistadors in the 1500s, it is indelibly linked to the history of colonisation.
According to Robert Weis, author of Bakers & Basques: A Social History of Bread in Mexico, because wheat was originally imported, imposed, controlled and chiefly consumed by the Spanish, indigenous Mexicans didn't plant it for subsistence. Nor did they have suitable milling technology at home, so the production of wheat flour and loaves was commercial from the very beginning.
Y tu barra también
Nonetheless, wheat inevitably found its way into the diets of all city residents, regardless of their status. By the late-19th century the bolillo, a crusty-on-the-outside, soft-on-the-inside French-style roll, had become ubiquitous. Also known by names including telera, barra and birote, the bolillo formally joined the list of demands of urban workers and became the go-to for tortas (sandwiches) eaten all over Mexico. Meanwhile, pan dulce, mainly inspired by Spanish, French and Austrian sweet breads and pastries, evolved in a huge variety of shapes, tastes and colours that make them definitively Mexican.
Roma
Real Bread is alive and well in Mexico. Most villages still seem to have at least one small, independent panadería, with many more in bigger and more affluent cities. New, artisanal bakeries are also popping up in higher-income areas, though their products are often financially out of reach from many Mexicans, 40% or more of whom live below the poverty line.
Ballaró is a Real Bread bakery in the celebrated Roma neighbourhood of Mexico City. It is a partnership between Ana Belén Juamperez, the daughter of the Spanish founder of artisanal bakery chain La Esperanza, and German/Italian sourdough addict and natural yeast specialist, Pierantonio Falorio. Walk into Ballaró on any given day and, alongside the pan dulce required by bread lovers in Mexico, you'll find crusty sourdough baguettes and a new Italian-Mexican pastry hybrid that Falorio calls a croconch. This combines his sourdough croissant with the hugely popular concha-style pan dulce.
'Wheat bread arrived in Mexico with Spanish conquistadors'
Falorio's vats of sourdough culture have pride of place to the rear of the shop. In addition to a regular starter he claims has a 100-year Italian heritage, he nurtures several unusual cultures, including one based on Mexican basil, another on grapes, and a third on Mexican coffee. He's currently excited about a new one he's creating with pulque, an alcoholic drink made from the fermented sap of the maguey, or agave, plant.
La Bestia
Supermarket bakeries and other commercial manufacturers represent serious competition for small, independent bakeries. Toward the 1950s, commercial bakery owners turned to technology developed in Europe and the USA to produce greater quantities of loaves and other baked goods with extended shelf lives quickly and cheaply. A prime example of such a commodity manufacturer is Grupo Bimbo. Founded in 1945, and now the world's largest baked goods company with an annual turnover of US$14.9 billion across 32 countries, Bimbo has made industrial loaves and other products widely-available through the country.
Some supermarkets and other industrial bakers see Real Bread as a trend to co-opt, merely imitating the look and feel of European-style artisanal breads.
Hecho en Mexico
Trying to convince people in Mexico that bread making is a natural process that creates a perishable product is sometimes a struggle. Juamperez has a theory that Mexico is 20 years behind trends in Europe and the USA, so concerns about Real Bread are not yet reaching a large Mexican audience. She says that as people routinely see industrial sliced loaves having the appearance of freshness past their use by date, they assume and expect Real Bread to last forever as well. When some people buy a loaf of Real Bread from Ballaró, she says, they are shocked three days later to find it is stale.
'His vats of sourdough culture have pride of place'
Robert Weis believes that Mexican people generally don't identify themselves by what they consume, nor do they seem to demand much of food producers. Possibly this is because they do not invest consumption with so much personal and political meaning as people in other places: Having less money means fewer options of how to spend it. In his experience, the real champions of traditional foodways in the country are the families in villages and towns who create labour-intensive, exhaustively prepared meals like tamales — parcels of dough (typically nixtamalised maize known as hominy) steamed in maize husks or banana leaves. Such foods essentially require nothing less than small armies, typically of dedicated women, to create them. "For them, food is certainly a point of pride and personal identity," he says.
Though there are Mexican organisations protesting against genetically-modified maize, there doesn't appear to be one championing Real Bread in the country*; perhaps bakeries like Ballaró are a good place to start.
*Though Mexican-based Virtuous Bread and Bread Angels founder, Jane Mason, might disagree…[ed.]
---
Originally published in True Loaf magazine issue 39, April 2019.
Published 2 Nov 2019
Real Bread Campaign: The Real Bread Campaign finds and shares ways to make bread better for us, better for our communities and better for the planet. Whether your interest is local food, community-focussed small enterprises, honest labelling, therapeutic baking, or simply tasty toast, everyone is invited to become a Campaign supporter.
Support our charity
Your donation will help support the spread of baking skills and access to real bread.