In July 2016, Jennifer Godwin and her husband James opened Grains Bakehouse in Derbyshire. This is their story so far.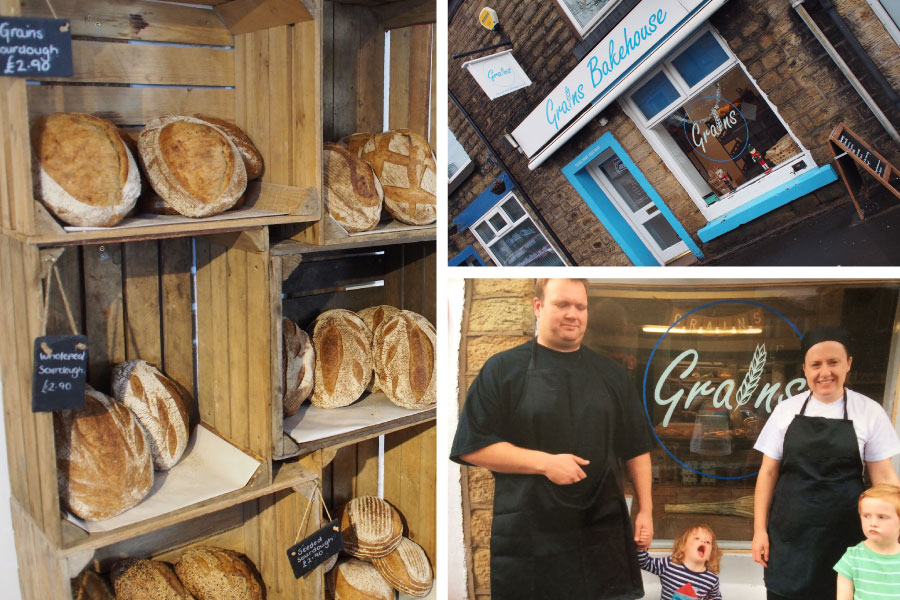 Credit: Grains Bakehouse
James began his baking journey when a driving job with The Bertinet Bakery in Bath progressed to working in the bakery and his passion for Real Bread grew from there.
We moved to Glossop in 2015 and took jobs that both came to an end naturally early the following year, giving us the opportunity to think 'what now?' That's when we decided to go it alone, so to speak. It was a complete leap into the unknown for us. Setting up a limited company, finding and leasing premises and marketing a brand new business from scratch were all new and scary.
Doors open
On 31 July 31 2016 we opened our doors for the first time to the people of Glossop and they did not disappoint. Within a few hours, we'd sold the small amount James had baked and realised that demand was definitely there.
'It was a complete leap into the unknown'
Things grew and grew and within only a few months we realised that our premises were on the small side! We had squashed both the bakery and shop into very small high street premises, which were never really designed for the purpose. We also realised that with the demand, and having two children, we could no longer do it all by ourselves, so took on a trainee baker and a shop person.
Leap of faith
In early 2018 we had run out of space to store anything, were all falling over each other and the shop had nowhere near enough space to display the products we wanted to sell. There were many, many 'should we or shouldn't we' moments (not really surprising as at the same time we had our third child!) but we just had to do something. That summer, we took a massive leap of faith and secured the lease on a brand new bakery just down the road, whilst also keeping our existing shop on the high street.
We crowdfunded over £5000 towards the cost of the new bakery from our amazing customers and social media followers, which was a massive help, but we still managed to underestimate what it would cost. As with most projects, the further into it we got, the more we realised we couldn't go back and the more money we had to keep finding.
Passion for sourdough
The shop is now considerably bigger and better, and having the new bakery has meant that we can now expand our range much further. We still focus on Real Bread, including our ever-growing range of sourdough, as this is where James' passion lies. We've realised, however, that we need to do more to help pay for the refurbishment, so we've recently introduced a hot counter with sausage rolls and so on, and work to attract the lunchtime crowd with soup and sandwiches.
Learning curve
The past two and a half years have been a very steep learning curve. On the up side we've met some amazing people who we now call friends, including some of those who came on our first day to see what it was all about and are still coming back now every day for their bread. We appreciate it so much when people take the time to tell us how tasty our loaves are, how friendly our staff are and how nice the shop looks.
'People tell us how tasty our loaves are'
But with the positives there are always going to be negatives. James has pulled some massively long shifts – 25 hours into Christmas Eve with no sleep was a particular highlight! Having a very young family but having to work all night and sometimes all day was something we hadn't considered enough. Of course as always in business there have been the lows of cash flow issues, like 'how do we pay our staff tomorrow', 'will we ever pay back what we've borrowed' etcetera, etcetera.
All in all I think we can say that it's been a positive experience so far. What will the future hold for Grains Bakehouse? Who knows but hopefully we will be able to spend 2019 developing new loaves to add to the range, entice more customers into our lovely new shop and take on more wholesale customers. Just maybe, towards the end of the year, we might be able to step back a little and let our lovely team take on more.
---
Originally published in True Loaf magazine issue 40, July 2019.
Published 14 Oct 2019
Real Bread Campaign: The Real Bread Campaign finds and shares ways to make bread better for us, better for our communities and better for the planet. Whether your interest is local food, community-focussed small enterprises, honest labelling, therapeutic baking, or simply tasty toast, everyone is invited to become a Campaign supporter.
Support our charity
Your donation will help support the spread of baking skills and access to real bread.