In December 2015, Dominic Salter of The Sandwich Box and SALT Bakehouse was invited to South Korea by a bakery company that wanted help developing western-style Real Bread and sandwiches.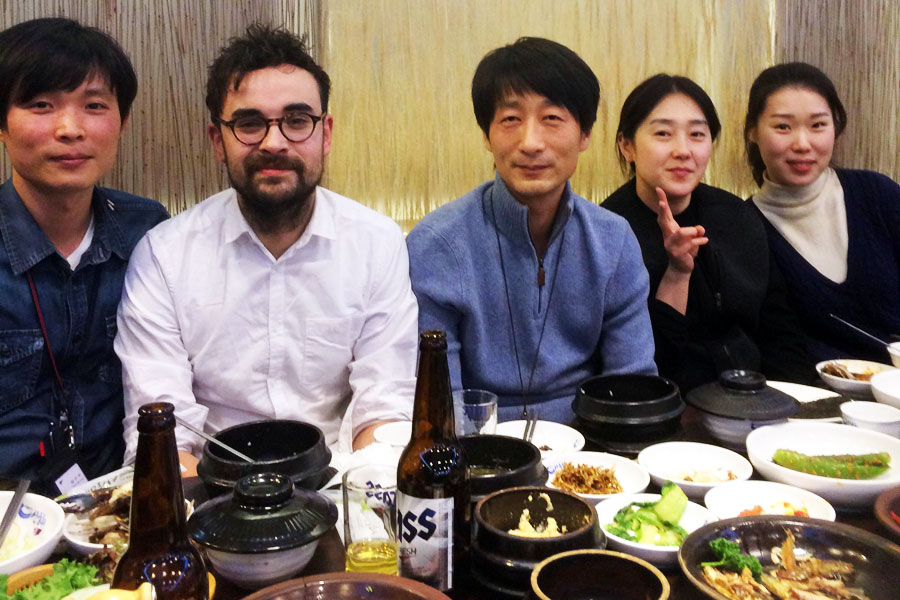 Photo © Dominic Salter
The Korean word for bread is 빵 (ppang) but it seems to be more of a snack between meals than a staple and the idea of a sandwich seems to be an appealing oddity to Koreans.
The company's researchers found me, thanks to media coverage of my recent Sandwich of the Year win in The Sammies (The British Sandwich Industry Awards) and a piece on International Sandwich & Food to Go's website about The Sandwich Box. Seoulites crave all things western and it seemed I was included in that! Not knowing what their expectations were, I was embarking on journey into the abyss.
Seoul mates
I was met at the airport by a humble but overwhelmingly hospitable employee of the company who proceeded to take me on a whistle stop tour of most of the retail outlets run by my host. Jetlagged and suffering a dire need for a baker's brew, or at least a rest, I nodded and emanated approval where necessary. Eventually a hotel bed was granted to me and I fell onto the soft mattress. I soon realised sleep was not on the cards and all too quickly, morning dawned.
Recreating my sourdough in an unfamiliar setting was a trial. A sourdough starter that has done more airmiles in 48 hours than a British Airways pilot was an unknown animal, and the flour and conditions so different from my homely bakery in good old Blighty. My first attempt with the flour used in Korea was a disaster but Shipton Mill flour imported from the UK gave better results. I spent the remainder of the week cooking western sandwich fillings to marry with the sourdough I had made.
Ppangs of joy
The only bread-type products that I encountered in my short visit were hwangnam-ppang or gyeongju-ppang, and bungeoppang. The first was in fact more of a sweet pastry dough filled with a red bean paste - almost raised pie affair - embellished with a chrysanthemum imprint on the top. The second was a carp-shaped waffle, also filled with red bean paste. More familiar are roll ppang, rolls made from a yeasted dough enriched with butter, sugar, milk and egg.
My small venture out into the Korean metropolis also afforded me a chance meeting with a colourful individual who acted out and sung the K-pop hit Gangnam Style to me, which made me smile. On reflection over the week, my only negative was fermented fish, which I would steer clear of!
After receiving a swift training on how to present myself to the company's owners and management, and practising my bowing, I presented my week's work. I ended up bowing after almost every word and scuffling backwards when I'd finished. It was scary affair but thankfully quite well received. As far as I could tell, five of my western-style sourdough sandwiches are to be rolled out to about 4000 Korean outlets as well as other locations in the world. All a bit overwhelming for a mere backroom baker.
---
Originally published in True Loaf magazine issue 28, July 2016.

Published 3 Oct 2019
Real Bread Campaign: The Real Bread Campaign finds and shares ways to make bread better for us, better for our communities and better for the planet. Whether your interest is local food, community-focussed small enterprises, honest labelling, therapeutic baking, or simply tasty toast, everyone is invited to become a Campaign supporter.
Support our charity
Your donation will help support the spread of baking skills and access to real bread.