A drive up Northern Ireland's Causeway Coast with Rosanne Cecil.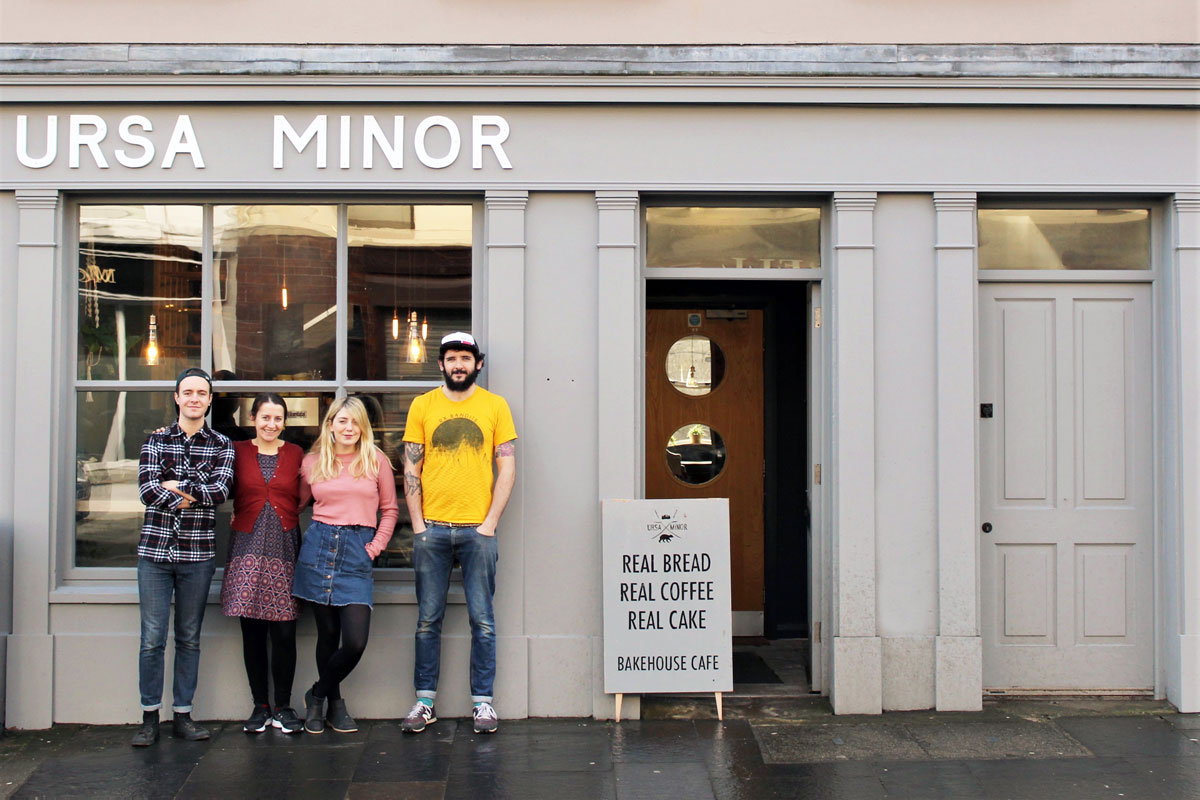 Photo © Ursa Minor
Travelling from Belfast, the first village of the nine Glens of Antrim that you reach is Glenarm. One of the oldest villages in Ireland, Glenarm has a castle with a beautiful walled garden, a forest with red squirrels and a marina. It's also home to Blackthorn & Willow, which sells local crafts and locally-produced artisan foods, including Blackthorn Breads from our weekly microbakery.
Increasing popularity
Blackthorn Breads came about when, having baked for many years just for family and friends, I decided to expand and increase production. Bread making courses, first with Paul Merry of Panary and later with Andrew Whitley at Bread Matters, helped to set me on my way and six years ago Blackthorn Breads was born. Initially our loaves were sold through a market garden run by friends but since opening our shop in 2015, they have become a feature of Saturdays in Glenarm.
The traditional bakes of the region are soda loaves of various kinds, which are widely available in shops throughout Northern Ireland and much loved. Despite this, we have found that the Real Bread we bake (both sourdough loaves and slowly-fermented yeasted ones) is increasingly popular. As well as making a regular selection each week, I also bake a weekly special, which usually incorporates a fruit, vegetable or herb of the season; some of the favourites, for example, are potato with wild garlic in the spring, and sweet lavender in summer.
We're gonna need a bigger bakery
Leaving Glenarm to continue driving north, you pass through the coastal villages of Carnlough, Waterfoot, Cushendall and Cushendun before reaching Ballycastle. Situated on the north coast of Ireland at the foot of Glentaisie, the most northerly of the nine Glens, Ballycastle is a small but bustling town.
There, our fellow Real Bread Campaign supporters and Real Bread Ireland members Dara and Ciara O'hArtghaile run their bakery and café, Ursa Minor. Dara and Ciara started the bakery in 2014 after they returned to Northern Ireland from living in New Zealand, where they had grown accustomed to good fresh food and Real Bread. It rapidly developed, joined the Économusée international network of artisans, grew in popularity and, in 2017, needed to move to bigger premises.
Recent winners at the World Bread Awards, along with two other Ballycastle bakers, Thyme & Co. Independent Cafe and Tony's Griddle Goods (the town really is a great place for bread lovers!), Ursa Minor produces a range of slowly-fermented loaves. Their white, wholemeal, rye and walnut (among others) are sold not only in the shop and served in the café but are also supplied to a small number of lucky cafés and bars in the area.
Clearly the people of the glens appreciate Real Bread, which is also valued by the increasing number of tourists who visit Northern Ireland each year.
Rosanne's book, Loaves for All Seasons: Recipes from Blackthorn Breads Microbakery, is available from Blackthorn and Willow and can be ordered from their website for £8.99 including p&p.
---
Originally published in True Loaf magazine issue 35, April 2018.
Published 4 Nov 2019
Real Bread Campaign: The Real Bread Campaign finds and shares ways to make bread better for us, better for our communities and better for the planet. Whether your interest is local food, community-focussed small enterprises, honest labelling, therapeutic baking, or simply tasty toast, everyone is invited to become a Campaign supporter.
Support our charity
Your donation will help support the spread of baking skills and access to real bread.