Roamin' doughs
In 2016 product and furniture designer turned baker Julia Georgallis wrote about her nomadic microbakery.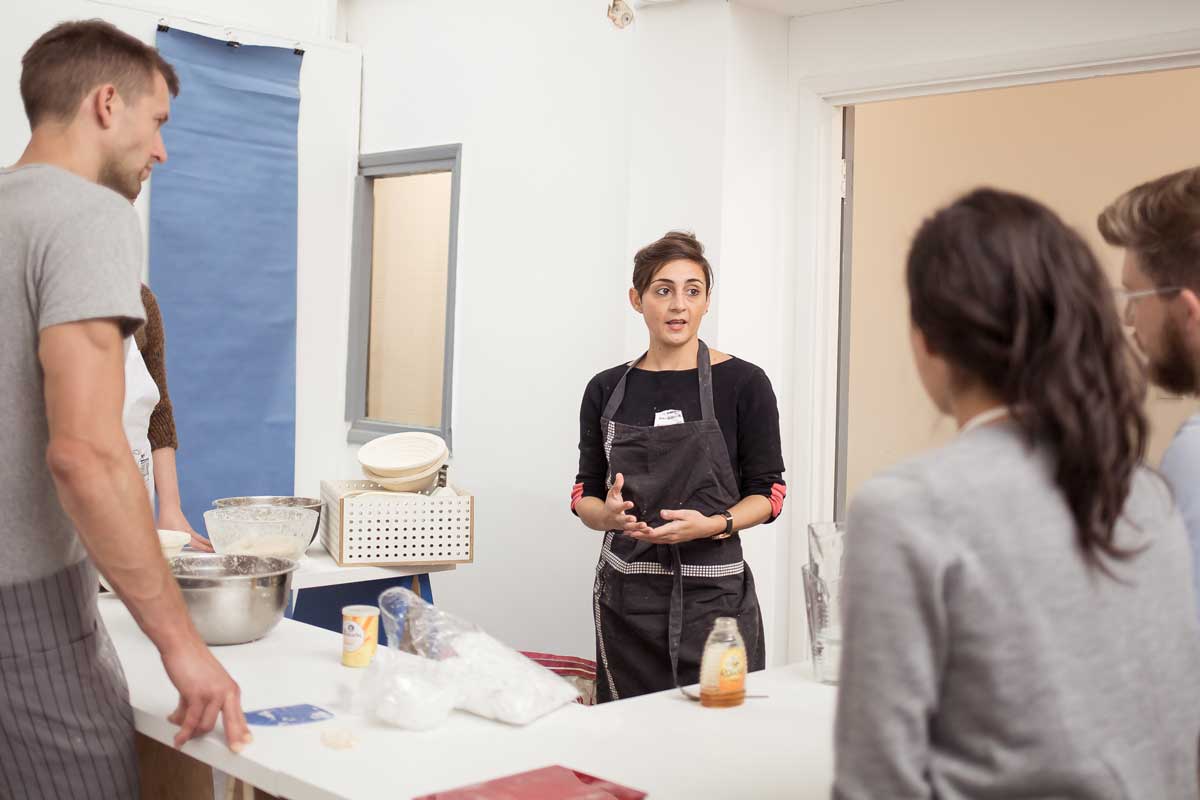 The Bread Companion is a nomadic, microbakery and educational tool. We travel around the UK encouraging people to eat, bake and buy Real Bread. We turn up at events and markets, light our mobile wood fired oven then bake and sell fresh bread. We also run workshops to teach people how to make their own homemade loaves.
The art of baking
It all began while I was doing my MA in design at the Royal College of Art. I was set the task to 'become an expert' about something. At a time when I was having a hard time with my studies, I was immediately drawn to Real Bread. Mastering baking gave me a bit of much needed confidence – it was a kind of therapy. After the brief was over, I kept on baking, spending Saturdays volunteering at the Better Health Bakery in east London. I also began to research global bread cultures, communal bread ovens of the past and, most importantly, the Chorleywood Process, which all ended up contributing to my graduating project.
After graduating in 2014, I continued baking in my spare time and launched The Bread Companion in May 2015. We have run a whole host of workshops and events, from day-long private group bookings to making focaccia on the Stamford Hill Estate's communal garden.
Making a difference
Our aim is actually bigger than bread. We want to encourage people to think about everything that they eat and bread is a really good gateway to that, mainly because it is so universal. Being able to provide for ourselves is very empowering but many people don't have the time or resources to grow their own veg or farm their own animals. Baking a loaf is completely doable and very accessible. Getting people making is also very important to us – a lot of people just don't do anything practical anymore but when we make something, it engages a different part of our brains and is very therapeutic.
As we are so new, the last six months has been an experiment to discover the best way to run our business. Aside from workshops, we also run markets, supper clubs and a small bread delivery service.
Spreading the word
In 2016, we'll be travelling to America for a bread related pilgrimage to various bakehouses and will be expanding our deliveries in the spring. We have even built another one of our specially designed ovens at a holiday camp in Sweden and will hopefully be returning this summer to teach holiday makers about all things dough. We also have big ideas for launching a cookware range and, even though we're nomadic, we're aching to put down roots and open a bakery in London by the end of the year.
2020 update
After six years of being on the road, teaching hundreds of people how to make their own loaf and baking/consulting for a number of clients, we have put our physical bakery to bed for a while, until the right moment arises. For now, we run as an online platform for breaducation that offers bread tips and recipes. We are working to launch an online mindful baking course and other bread making virtual workshops.
---
Originally published in True Loaf magazine issue 26, January 2016
---
SHARE