Biker baker
In 2011, Dave Foster set up his business with an ethos of promoting cycling whilst providing environmentally-friendly catering.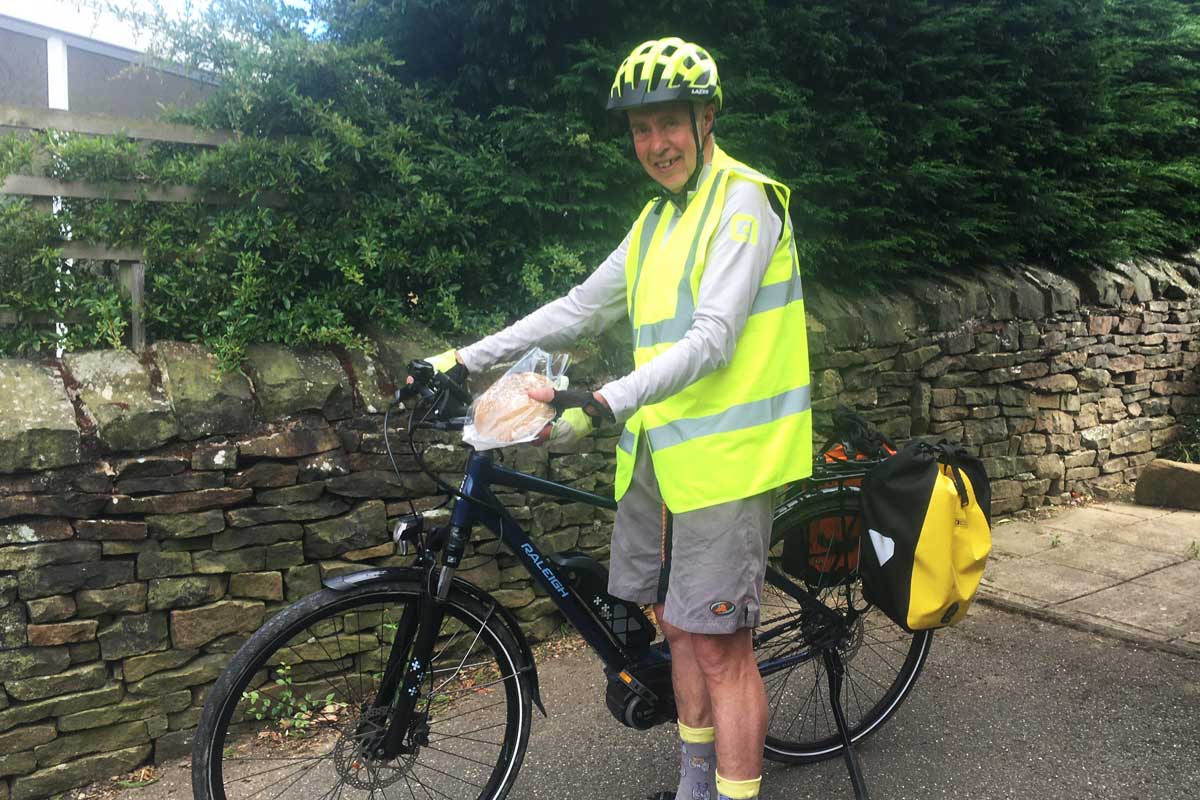 Stocksbridge is an outlying district of Sheffield, nestling in the hills between it and Barnsley, often forgotten by the bigger city. I wanted to promote healthy living in this rural community through good cooking and an environmentally-friendly delivery system.
In a former life I was a chef and I set up Chefonabike to provide a catering service to my neighbours in the hills, making deliveries by bicycle. Initially my main business was catering for BBQ's on the Trans Pennine Trail, birthday parties in people's back gardens and the occasional evening dinner.
Quickly this went by the wayside as baking Real Bread took over. I would cycle through rain, snow and heat to deliver to remote customers. Often a farmer would make a comment along the lines of: "tha'll niver get up my lane." Such challenges would be met and I can distinctly remember toiling up a hill in a blizzard with one loaf to prove someone wrong.
Real Bread spokesman
In those days sourdough was relatively unheard of in Sheffield and I soon found a good market both further afield. I attended country markets and built up my customer base. There was only one problem, the busier I got the less I used my bike and I would be met with the query: "where's tha bike?"
The bike became a feature on the occasions that I attended running and cycling events where my Real Bread would be offered as prizes. It was also present when I attended talks or did classes and when the Tour de France and the Tour of Yorkshire passed by my house, but for delivery it became less evident.
As I progressed I would use my evident oddness to promote cycling. I took my bike to primary schools and would get them to make a sourdough starter. I did talks at the Women's Institute, where I made a good case for bicycles as the primary means of transport in environmentally-challenged times. Quite clearly I wasn't really fulfilling the original intention of my business, though.
Going electric
I own three bikes and all have featured in my business. I have a Birdy Red folding bike that's good for getting most places but not so good on hills. I have a Boardman road bike that's fast and allows you to look sporty but it's not really a bread carrier. Then I have a Thorn Nomad touring bike with hub gears and S&S Couplings that allow me to take it apart, on which I can carry a full delivery of bread either in panniers or on my trailer.
These bikes all rely on the strength of the cyclist and the question 'would electric be better?' was always at the back of my mind. I looked into it and saw producers in other places delivering on electric cargo bikes. I took my Thorn Nomad along the Danube, to the Med and on visits to Holland, Portugal, Spain, Scandinavia, even Australia. Everywhere I sought out bakeries and environmentally-friendly delivery systems.
My venture into the use of electric bikes came after a chance encounter at a CycleSheffield Zoom meeting. Afterwards, Angela Walker from CycleBoost in Sheffield offered me the loan of an electric bike. This South Yorkshire scheme runs in Barnsley Sheffield and Rotherham, offering local residents a range of bicycles to promote active travel and to encourage people to use bikes instead of cars for short journeys. I was immediately interested and saw that it gave me the opportunity to try a 7-speed hub-geared Raleigh Motus electric bike before committing to spending around £2400 on one.
No sweat
I quickly got to work with my regular deliveries on the borrowed bike. One difference I found was the confidence that an electric bike gives me in traffic when carrying a load. There is less wobble as I get assistance going up hills making the ride more stable. Do not think that you can just sit back and the bike will go, however. They're known as electrically-assisted pedal cycles (EPAC) because you still need to pedal, allowing cyclists to gain some fitness from using them.
Less effort is needed with an EPAC, though. My usual rounds include the ascent of several major hills including Hartcliff and Underbank, both of which I can do but only with major effort. I returned from first delivery not my usual sweating, exhausted self, feeling like I had taken part in a stage of the Tour de France, but rather like someone returning from a pleasant cycle ride. Looking at my stats afterwards I found that my heart rate was down from the usual 150 bpm to 101bpm. The ride was good and took the hills well, averaging 10mph uphill and, although it was not particularly fast on the flat, on descents it rose to 30mph.
The future is electric
I would say that the use of an electric bike has made my life easier and I use it for my business far more regularly than I used a standard cycle. I believe this is the future for Chefonabike. I still get scoffed at by my more sporty friends but I have had the satisfaction of passing most of them uphill before they sail past downhill.
I can strongly recommend that everyone interested in a more sustainable form of transport for their businesses looks into the availability of electric bike loans in their area.
---
Originally published in True Loaf magazine issue 44, October 2020.
---
SHARE