By John Whaite.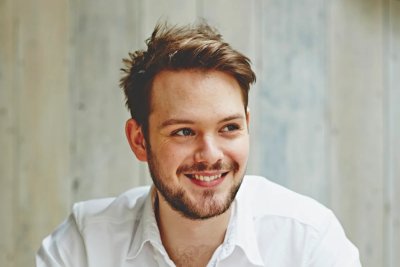 John Whaite in 2012. Copyright: Matt Russell
In 2013, John Whaite (winner of GBBO 2012 and future Strictly star) wrote this as the foreword to the Real Bread Campaign's Rising Up report on the therapeutic and social benefits of Real Bread making.
The downward spiral
As someone who lives with depression, I often find it impossible to like anything. There are a few rare days a year when I feel simply unable to do anything but lie on the sofa, staring through the television and feeling guilty because nothing pleases me. And so the downward spiral begins.
This spiral, however, is stopped in its tracks when I seek solace in my kitchen, particularly when I bake bread. There is something about the meditative process of bread making, that is to say the contemplation of what to do with the dough after the proving processes, that enables me to lift my mood and take control: one of the many powers that I lack when feeling glum.
Slapping the demon away
As well as control, bread making offers me various different outputs: artistic; expressive; creative. Speaking from experience, whenever those desperate insular pangs of depression take a sharp, vicious hold, these outputs are precisely what I need to slap away the demon. It really is breathtaking to witness this in other people too. It is really encouraging to see so many of my Twitter and Facebook followers keen to discuss how baking helps with their various mental health issues too. It seems that baking is emerging as a form of pill-less Prozac, which can only be a great movement.
Beyond measure I am excited by, and in full support of, the Real Bread Campaign's endeavours to enhance awareness. As someone who has been offered a range of cognitive behavioural therapies, I would truly love to see more people who suffer from mental health issues, or who are simply going through a tough time, get the chance to try their hand at baking Real Bread to see how it could help them, too.
Published online to coincide with Mental Health Awareness Week 2023, which runs from 15-21 May.
See also
Published 15 May 2023
Real Bread Campaign: The Real Bread Campaign finds and shares ways to make bread better for us, better for our communities and better for the planet. Whether your interest is local food, community-focussed small enterprises, honest labelling, therapeutic baking, or simply tasty toast, everyone is invited to become a Campaign supporter.
Support our charity
Your donation will help support the spread of baking skills and access to real bread.