Back to the urban grind
Once, more or less every town and city in Britain had a flour mill. Now, very few do. Mike Matters went to south London to find one of the exceptions.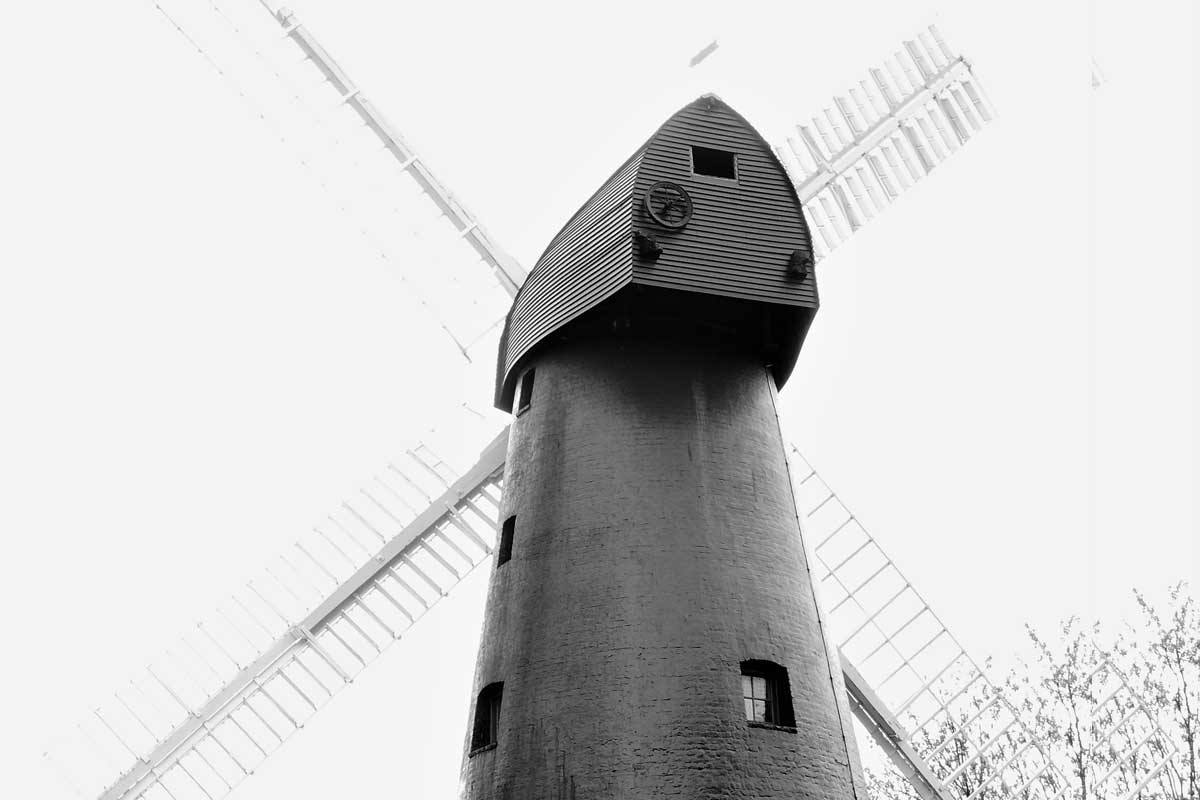 A black cone, three stories high, with white, shuttered sails, looms over a small park, between a prison and a playground, like the mothership of a nostalgic alien colony.
Jean Kerrigan, chair of the Friends of Windmill Gardens, arrives to give me a tour. Dedicated and knowledgeable, she is one of about one hundred volunteers responsible for the mill's revival. As we chat outside, two local women approach us, curious to take a look inside. Jean answers their questions, and sets about recruiting them as volunteer millwrights.
When they leave I ask if she gets that a lot. "Of course," says Jean, closing the door. "[The Windmill] is a part of the history of people who've lived around here."
Brixton is one of the few windmills still producing flour in a British city. If you throw in water mills, there are currently about a dozen working traditional urban flour mills: Holgate Windmill in York, Winchester City Mill, Sarehole Mill in Birmingham, a handful of others. Their quaintness elicits smiles from tourists and enthusiasts – the remnants of a way of life that has all but disappeared.
Dark satanic mills
The process of crushing wheat into flour is ingrained in our language. Its idioms dot our speech as mills once flecked our hills and rivers. It might be grist to your mill to tilt at windmills or separate the wheat from the chaff. We speak like this because milling grain has held a central place in British life for more than a millennium. The Domesday census of 1086 records more than six thousand mills throughout England – one for every three hundred people.
By 1800 people were clustering into cities at unprecedented rates. The sight of windmill sails – or sweeps as they were known in south London – was a common sight in British cities at this time. There were five windmills in Lambeth alone. Across the Thames, Albion Mills pulverised two acres worth of corn each hour between its twenty pairs of millstones, operated by five hundred millwrights. For poet William Blake, these were the incessant "dark satanic mills" that symbolised the dehumanising effects of the Industrial Revolution.
In 1816 crisis struck. Import restrictions and war choked Britain's access to French grain. That same year Mount Tambora erupted, blacking out the sky for a whole summer, and ruining harvests across Europe. Political protests over the cost of living were violently repressed. The poet Percy Shelley described "a people starv'd and stabb'd in the untill'd field."
Against this inauspicious backdrop, an entrepreneurial Quaker named John Ashby opened a windmill in Brixton. Inside, Jean shows me the ingenious system of Georgian engineering that he put together, which she and others have restored. Wind-power once winched heavy sacks of grain to the highest floor, where an intricate network of timber and metal cogwheels amplified the speed of the sails by a factor of eight. The grain tumbled down, buffeted to the centre by the shoe and the damsel, and crushed between the fixed, round bedstone and the spinning runner.
Against the grain
A century passed. The mill was passed from father, to son, to grandson. The prevailing wind was stymied by Brixton's growing sprawl of terraces and chimneys and eventually the mill's sweeps fell still. They were replaced by a more reliable steam power, then by gas. But still Ashby's could not compete with the huge, dockside mills that processed vast quantities of grain imported from around the Commonwealth.
"By the end of the nineteenth century, roller mills had come in and a harder grain was being imported from Canada," says Jean. White bread became more fashionable. The Ashby's stone-ground wholemeal seemed archaic by comparison.
The rationalised modern agronomy wielded a centrifugal force and rustic production methods were supposed to skitter into oblivion like flour from a bedstone. When Joshua John Ashby, John's grandson, died in 1934, no one was interested in taking over to keep the mill operating.
Churning out flour
Just as electricity took over from wind, water and steam, so the road became more important than the river or the port. Contemporary British mills are usually constructed on cheap land, near highways. They devour grain in the shade of towering silos, churning out flour for 130 million slices of – mainly industrial – loaves every day. The industry is worth more than £1 billion per year, with the four milling companies accounting for two thirds of UK flour production.
Brixton Windmill gathered dust and industrial city mills rose but then even they all-but disappeared. Baltic Flour Mill in Gateshead, where the silos once held 22,000 tonnes of flour, is now a contemporary art gallery. The old Victoria Mill in Grimsby has been repurposed as thirty-eight apartments. Once the guarantors of British sustenance, these industrial giants stalk the afterlife as parking lots and depots, galleries and theatres.
A second wind
Then, in 2016 a descendent of John Ashby cut the ribbon to mark the two-hundredth anniversary of Brixton Windmill. After years of painstaking restoration, it is milling flour again. Nowadays the system runs off the electrical grid, but the flour is still ground out between coarse French gritstone. You can buy it to bake at home and The Old Post Office Bakery, and several others locally, are making Real Bread from it.
Could this be a sign of a revival? Nick Jones of the Traditional Cornmillers Guild told me: "I gave a presentation to a mills conference a few years back based on an apocalyptic scenario where survival depended on renewable energy, local food, and simple technology, ie traditional milling! I think most people thought I was off the wall but our current long food chains, high tech complex processing and so on are potentially quite vulnerable." Empty supermarket shelves earlier this year seem to support this concern.
Jean is realistic in her expectations: "You can make a little stand yourself, but you're never going to make stone-ground flour on a mass-scale," she said. But, thanks to its friends, the windmill is at least becoming a focus for local life again. Mini-plots of wheat are appearing in Lambeth's green spaces. Primary school workshops introduce kids to the issues of urban development and food production. Though currently reliant on volunteers, Jean imagines that the Friends of Windmill Gardens will become a social enterprise in future. "It's a community project," she says. "There's no doubt about it, it brings people together."
Other working urban flour mills

Ellis Mill, Lincoln
Green's Mill, Nottingham
Eling Tide Mill, Southampton
Worsbrough Mill, Barnsley
Queen's Mill, Castleford
Ifield Water Mill, Crawley
Bradwell Windmill, Milton Keynes
---
Originally published in True Loaf magazine issue 35, April 2018
---
SHARE