Mill race for life
Campaign member Daniel Etherington talks to the owners of watermills around Britain about the appeal of grinding grain with water and stone.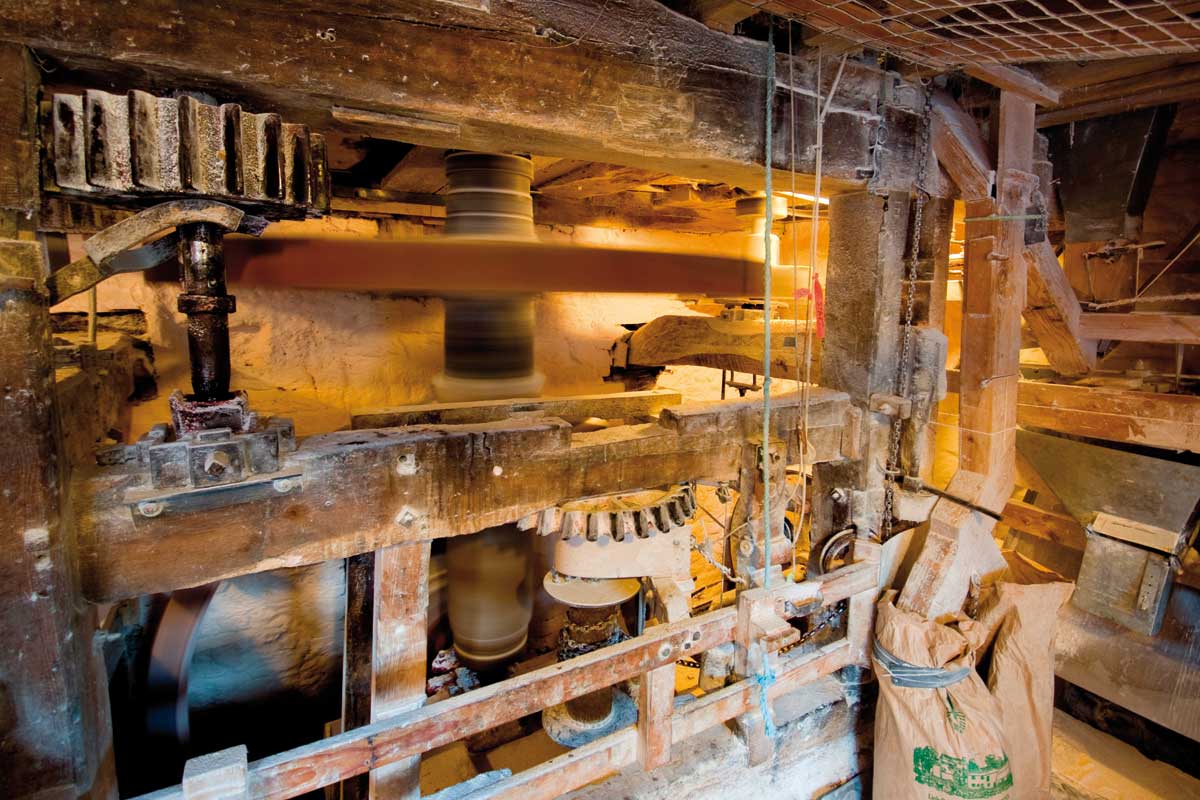 The watermill represents something very special. Not only does it remind us of a more human scale of industry from before the advent of steam, coal and oil power, it's a demonstration of how mechanical ingenuity can be combined with one of Britain's most commonplace, and green, natural resources: running water.
Wheels stopped by a revolution
The Industrial Revolution saw many of Britain's thousands of watermills falling into decline, as bigger, faster roller mills replaced traditional millstones for processing grain. Thankfully, according to Nick Jones of Little Salkeld watermill in Cumbria, 'There has been a resurgence in traditional milling in the past thirty years.' Nick is also chair of The Traditional Cornmillers Guild, which was founded in 1987, since when it has grown to have twenty watermills and nine windmills in its membership.
This traditional milling revival of course parallels the growth of the real food movement, and stoneground flour has a key role in the production of Real Bread. Caroline Spiller of Otterton Mill in Devon says, 'Stoneground flour appeals to artisan bakers primarily because it gives a much better end product in terms of flavour. Grinding the flour by stone releases the oils and enzymes within the grain, which gives a nuttier, richer taste.'
Nick says the difference between a loaf made with Little Salkeld's biodynamic, local grain, stoneground flour and one made with roller-milled flour is 'a bit like the difference between a good wine and plonk.'
Local grain
Many watermills use locally grown grain to produce their flour. Paul Nicholson of Plumpton Mill in Sussex, says, 'We use wheat and rye, both grown within twenty miles of the mill and both organically grown.' He says that stoneground flour with such provenance 'connects users back to nature in a way that higher volume manufacturers can't.' Caroline similarly says that their bakery's customers 'are fascinated by the bread's story, and the traditions that it represents. They also appreciate the traceability, and that the grain we use is an older variety called Maris Widgeon, grown specially for us by Tamarisk Farm, just over the border into Dorset.'
Nick says, 'We only mill and bake homegrown wheat here at Little Salkeld, and our customers can't get enough of it! Once you've tasted the quality you will understand why. But you need skill to get the best from British wheat, which is why we run bread making courses too.'
Our industrial heritage
Many of these mills are ancient buildings, and some of the sites even had mills that were mentioned in the Domesday Book. Both bodies such as the National Trust, and private individuals are working hard to retain this essential piece of our industrial heritage. At Felin Ganol in Ceredigion, Anne and Andy Parry are still restoring their mill, but have got both pairs of millstones up and running and are milling wholemeal wheat, rye and spelt flours. Anne says their aim 'is to be supplying excellent quality stoneground flours, milled from locally grown grains using sustainable water power to the home and craft bakers in our area.'
Sustainability is a significant factor in the appeal of these mills. Caroline says, 'The milling process itself is carbon-neutral.' It is perhaps most important of all that the revitalisation of this industry, with its emphasis on the local, is playing a part in building a low carbon future. As Anne says, 'We want the mill to be more than just a quaint historic curiosity, and be a thriving part of the local community again.' The success of these mills, and the growth of The Traditional Cornmillers Guild, is hugely encouraging for anyone interested in both Real Bread and a sustainable future.
---
Originally published in True Loaf magazine issue 7, April 2011
---
SHARE