Leo Kay explains how he is using sourdough bread making as a catalyst for collaboration, contemplation and conversation.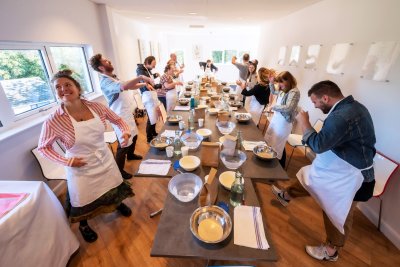 Leo Kay. Copyright: Valentine Manz
I am an artist. My current work is called The Bakery of Slow Ideas. It is a participatory social art practice and nomadic community bakery, with a number of projects sheltering under its umbrella. They include sauerkraut spell making sessions, Men Baking Bread, and an interactive sourdough installation called MUSH. All of the experiences are centred around the acts of, and metaphors within, wild fermentation.
Baking days are a central practice of The Bakery of Slow Ideas. Collaborating within a specific community context, we gather ten to sixteen people together to talk, make ritual, rest and bake bread. Each day has a pre-decided theme to be processed. Within this is a subtle effort to break down separation: between audience and performer, 'us' and 'them', human and nature. It also explores more regenerative and careful ways of communicating.
We live in troubling times. The Bakery of Slow Ideas invites people to 'stay with the trouble' as feminist theorist Donna Haraway puts it. Rather than running for solutions, we find contexts in which to collectively listen more deeply and feel into these shared problems.
Stages of life
I started out creating, performing and directing physical theatre, dance theatre, spoken word and live art. In around 2011, I began collaborating with the creative producer Anna Smith to form the company Unfinished Business. Our work fell off the stage into bedsits, broken spaces, community centres, church halls and bakeries. I moved away from character-based performance towards experiences in which audiences became participants, with food, dialogue and ritual serving as tools to help deepen our relationship to important issues of our time.
The Bakery of Slow Ideas is a response to a specific period of time in the world and our company collaboration. About six years ago we were producing many projects in the UK and internationally. I was in a tricky relationship and, in the middle of it all, my mother died. I wasn't finding joy in anything. I was experiencing what I have come to understand as adrenal fatigue. Nothing I was doing was fuelling me, everything was just depleting my resources. Anna was in a similar state. We decided to slow down and eventually stop our collaboration.
Ritual and resistance
I took the opportunity to undertake artistic research at the a.pass institute in Brussels, where I moved and started experimenting. Within the research I asked questions surrounding hyper productivity, my unearned privileges and responsibilities within our culture. I experimented with ritual as a mode of going deeper and gaining more from one experience, as opposed to our consumption-driven modality, where we are encouraged and rewarded for moving quickly through many things, materials, experiences, foods, as a way of satiating our desire for meaning.
I realised that the ritual that was giving me most meaning, and was least culturally appropriative, was the act of sourdough bread making. I have a wheat and mild gluten intolerance so had spent the whole of my adult life looking for alternatives to high gluten, wheat-based foods. As I began to research and continued to bake rye and spelt loaves, I began to understand the larger themes at play.
The Bakery of Slow Ideas is a critique and exploration of several elements. Firstly, it considers fermentation as a possible resistance to a society that has embraced what the social activist bell hooks (the pen name of Gloria Jean Watkins) calls 'the imperialist, white supremacist capitalist patriarchal' model, in which hyper-productivity is driving us towards burnout on an individual, societal and ecological scale.
Secondly, it attempts to address the extreme, negative impact that industrialisation has had on each of our microbiomes and the ecosystem that we all share. It explores fermentation as a metaphor for how we might consider our psychological reintegration into nature and witness the natural timescale of change, the cycle of life and death and the acceptance of migration as a natural process of survival and evolution. Within this, slowness and space for digestion are centred as necessary modalities for transforming raw experience and ingredients into more absorbable and nutritious food.
Community collaboration
Since I returned to England, Anna and I have renewed our focus on slowness, prioritising care for ourselves and everyone else involved. We have based the work predominantly in community spaces and church halls and posed a question relevant to the context. People leave fulfilled, energised and with their very own loaf of sourdough bread. In 2021, we worked with communities in collaboration with Derby Theatre and Derby Creative Arts Network, Rosehill Arts Centre in Cumbria, and the Cambridge Junction venue.
At the time of writing (November 2021), we have exciting stuff coming up. This includes the premiere of Rest and Rise Again, a documentary about the process by the filmmaker Sam Campbell, and working with Rosehill Arts Centre to run more Baking Days with frontline and support workers in Cumbria.
We are always looking for opportunities to collaborate and spread this work. We'd love to work with a vibrant bakery at the heart of a neighbourhood, for example, engaging with people in the local community and enriching the microbiomes of all involved!
Get in touch
If you have an idea for collaboration, would like to support The Bakery of Slow Ideas, receive support from them, or have any questions, you can contact Leo by email: leo@thisisunfinished.com
Originally published in True Loaf magazine issue 49, January 2022
Published 28 Mar 2022
Real Bread Campaign: The Real Bread Campaign finds and shares ways to make bread better for us, better for our communities and better for the planet. Whether your interest is local food, community-focussed small enterprises, honest labelling, therapeutic baking, or simply tasty toast, everyone is invited to become a Campaign supporter.
Support our charity
Your donation will help support the spread of baking skills and access to real bread.